Most Opioid Settlement Funds Aren't Going to Addiction Services
Despite what the media and politicians have said, that isn't how this works.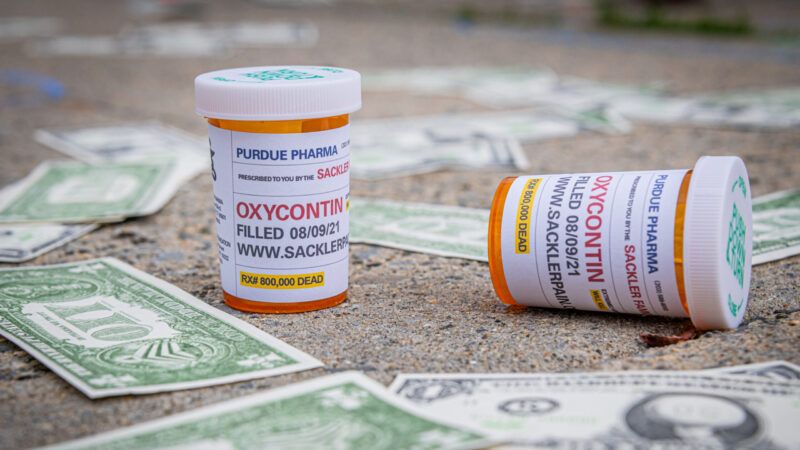 (Erik McGregor/Sipa USA/Newscom)
Attorneys general from across the country reacted to the opioid crisis by taking big pharmaceutical companies to court. The fund they won, they promised, would be spent on addiction services, thus working to end the crisis. "This settlement helps hold these companies accountable for their role in contributing to the opioid epidemic and will provide Floridians struggling with opioid addiction the services they need to recover," Florida Gov. Ron DeSantis declared in July, after agreeing to a massive settlement with the McKesson Corporation.
But that's not how the story has been working out.
Since 2011, the United States has seen spikes in fentanyl overdoses. They killed an estimated 93,000 people in the last year alone. The popular media narrative is that this crisis was caused by Purdue pharma's OxyContin and the company's marketing push to use addictive opioids to treat chronic and acute pain. This wrongly puts the blame on patients while ignoring public health authorities' role in creating this addiction epidemic. Nor does it recognize how public health agencies (in particular, the FDA) made an addiction crisis lethal by forcing Purdue to reformulate oxycontin to be abuse-deterrent, thus pushing millions of casual drug users onto more dangerous black-market substances. Nevertheless the pharma-only narrative has been a winner in court. Thousands of state and local governments have sued pharmaceutical manufacturers and distributors, winning billions.
The largest of these settlements is this year's McKesson/AmerisourceBergen/Cardinal Health settlement, worth $26 billion. Their alleged transgression, which the companies still dispute, is to not do enough to stop suspicious opioid orders. When the settlement is finalized, it will account for most of the 3,000 or so opioid lawsuits nationwide and will be the second largest settlement in U.S. history—with a whopping $2.3 billion allocated for lawyer fees and expenses.
Then there's the $12 billion settlement with Purdue pharma, over the company's negligence and mismarketing of Oxycontin and other drugs. Under the bankruptcy settlement terms, Purdue is dissolved, its assets are now managed by a public benefits firm, and the former owners (the Sackler family) are on the hook for $4.5 billion. Both settlements provide some protection from future litigation. However, the Justice Department is apparently miffed the Sacklers will not see jail time and is threatening to hold the Purdue settlement up. Even still, this is one of the most punitive settlements in legal history.
"As opioid settlements are reached, we must learn from the missed opportunity with tobacco," Sen. Dick Durbin (D–Ill.) wrote in Stat News earlier this year. "That means dedicating the funds from opioid settlements to build the public health systems our nation needs to respond to the opioid crisis and prevent future addiction."
But due to the separation of powers established in the Constitution, courts cannot dictate much about how the states use litigation settlement funds. Unless specified otherwise by state law, those funds are at the discretion of the state attorneys general, who must vet the funds for use in the general budget. Fighting addiction with settlement funds is a lie, and it always was.
This isn't the first time this con has been played. The largest settlement in U.S. history was the 1998 tobacco master settlement, which cost American tobacco companies $206 billion. Then as now, the narrative said the government was getting big bucks to stop America's cigarette habit. Despite those assurances, 98 percent of those funds ended up in states' general budgets.
Durbin and other politicians promise that this time it will be different. So far, 19 states have passed legislation designating settlement money as special funds, with another nine legislating allocation agreements. But those bills sound better than they really are.
For an example, look at Colorado. 
The Colorado Memorandum Agreement, which is more detailed than most states' measures, states how opioid settlement funds are to be divvied up. State coffers will receive 10 percent of the funds, then 20 percent for local governments. The lion's share, 60 percent, will go to different regions, whose leadership and advisory groups will—with broad discretion—determine how to spend the funds. Of the $400 million in settlement money coming their way, Coloradans can only be sure that $40 million, just 10 percent, will go towards "opioid abatement infrastructure projects."
Even then, it's unclear how that money will be spent and how effective it will be. While addiction experts generally favor harm reduction, state leaders of both parties are prone to advocating heavy-handed law enforcement policies, such as mandatory drug courts and further surveillance of physicians and patients. And even if you could push aside the drug crusaders, an anti-addiction policy might mean anything.
Consider just a sampling of the "anti-addiction" policies those settlements are funding. In West Virginia, addiction services mean more in education spending; in Oklahoma, it means more money for corrections. Oregon likes medical research and equity; Connecticut is particular to social services. In Minnesota, the focus is on non-narcotic pain treatments. Michigan's plans include efforts to help new mothers.
And there's a bigger problem: There is little to stop states from using those funds according to the established parameters, then shifting the regular budgeted funds elsewhere. After the McKinsey settlement, then–New York Gov. Andrew Cuomo notified the Office of Addiction Services and Supports that of the state's $32 million share, $21 million will be going to the state's general fund.
It could get worse. In 2007, then–West Virginia Gov. Joe Manchin tried to use settlement funds from Purdue Pharma to purchase a gubernatorial helicopter. Who knows what misappropriations could be on the way now? The public reaction to the misallocation of funds from the tobacco master settlement will be nothing compared to the angry response from the families of opioid overdose victims when they realize the healing and justice promised to them was a sham.