Pennsylvania's Liquor Control Board Will Ration Booze Sales Because It Won't Admit That Prices Work
Price controls fail for other products, and liquor is no different.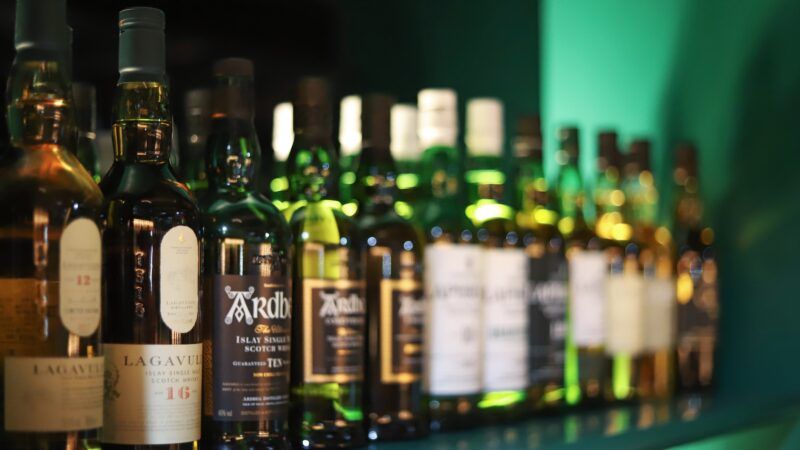 (Photo by Raychan on Unsplash)
Liquor stores in Pennsylvania will begin rationing limited supplies of dozens of varieties of booze this weekend—leaving not only consumers but also bars and restaurants hung out to dry.
The Pennsylvania Liquor Control Board (PLCB), which has monopoly control over the wholesale and retail of liquor in the state, announced Friday that it would impose a two-bottle-per-day limit on 43 varieties of alcohol—mostly champagnes, whiskeys, and bourbons. In a message to license holders, the PLCB blamed "sustained supply chain disruptions and product shortages" beyond the agency's control for the new rationing rules, which will remain in place "for the foreseeable future," according to Lehigh Valley Live.
It's true that high demand and ongoing pandemic-related supply chain issues have crimped the availability of some brands of alcohol in ways that are not unique to Pennsylvania. But the real culprit here is the PLCB itself, which sets prices for products via an arcane and bureaucratic process that does not allow for abrupt changes when the market shifts in unexpected ways.
One of the amazing things about prices is that they ration goods all by themselves in response to rising demand and limited supply. In New Jersey, for example, where independent liquor stores are reporting similar supply issues, The Philadelphia Inquirer reports that "some buyers are flipping their purchases [of alcohol] at high markups."
Good! Those higher prices will deter some buyers, leaving supplies available for those who are willing to pay.
Back in Pennsylvania, however, the state's top-down pricing schemes leave no room for such adjustments. As a result, buyers are rushing to buy as much as they can at relatively lower prices. "Some places are over-ordering bottles, which leaves us with none to purchase," Teddy Sourias, who owns a company that runs six Philadelphia bars, tells the Inquirer. Without being able to rely on prices to fix this mess, the PLCB is left with few alternatives but to ration purchases.
With almost any other product, this sort of bureaucrat-controlled pricing structure would be obviously absurd. Imagine if the state decided how much retailers must charge for groceries. (Actually, you don't have to imagine it, since there are plenty of examples for how that turns out.)
There's nothing magical about alcohol that makes it immune to the basic system of supply and demand that determines the price for any other product. But until states relinquish control, you can expect to see these same problems cropping up elsewhere.
Like in North Carolina, where a similar situation unfolded in July. Liquor stores there are run at the county level, but state laws impose "a uniform pricing structure to protect against price gouging and untimely price hikes," The Charlotte Observer reported at the time. State officials in charge of the monopolistic system once again blamed supply chain issues and surging demand in the months after COVID-19 restrictions on bars and restaurants were lifted. "We all are experiencing the supply and demand shortage," Zander Guy Jr., chairman of the North Carolina Alcoholic Beverage Control Commission, told the paper.
But across the border in South Carolina, where liquor stores are privately owned and free to adjust prices as necessary to keep their shelves stocked, the Observer found products that weren't available at the time in North Carolina. And, unsurprisingly, liquor store owners said they saw an uptick in buyers coming in from out of state.
In Pennsylvania, leaving the state to buy booze is a time-honored tradition—there's a massive Total Wine within spitting distance of the Pennsylvania-Delaware border in the Philadelphia suburbs. That's because the PLCB has never been particularly good at serving customers. Indeed, the governor who created the agency in the wake of Prohibition once claimed its mission was to make it "as inconvenient and expensive as possible" to buy liquor. Mission accomplished, I guess?
Alcohol rationing in Pennsylvania is bad news for bars, restaurants, and consumers in the state—but the power of markets transcends state lines, and that's probably good news for anyone who owns a liquor store just beyond the PLCB's reach.