Would the Mother of All NIMBY Ballot Initiatives Accidentally Allow More Development?
California activists have proposed a ballot initiative that would effectively strip the state government of the ability to regulate land use.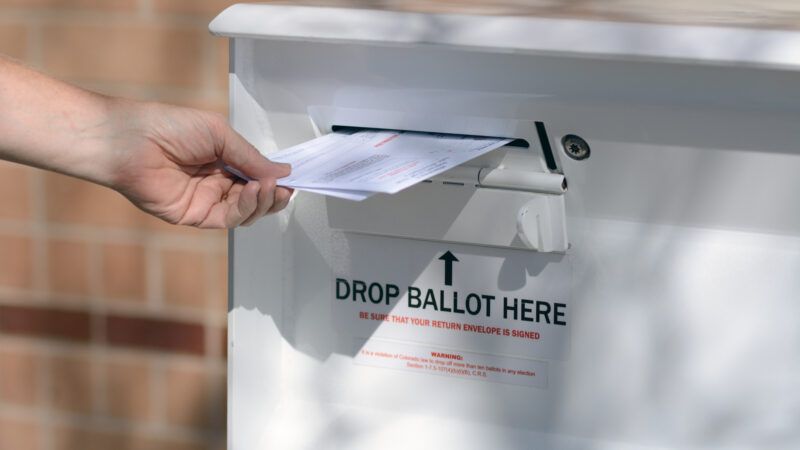 ( Dorothy Merrimon Crawford/Dreamstime.com)
In response to increasingly successful state-level efforts in California to nudge local governments into allowing more housing, anti-development opponents have introduced a sweeping ballot measure that would effectively strip the state of its ability to regulate land use.
This past week, activists submitted language for their "Californians for Community Planning Initiative" to the state's attorney general. Their measure would amend the state's constitution to specify that in the event of a conflict between state and local land use laws, local laws will prevail.
The immediate target of the initiative, according to the group's website, is a series of state bills—S.B. 9, S.B. 10, and A.B. 1401—that respectively legalize duplexes statewide, allow local governments to skip lengthy environmental reviews when zoning for small apartment buildings, and forbid local governments from requiring that new development near transit stops include parking spaces.
"For far too long, California has relied on a broken land use planning system driven by Sacramento politicians and special interests that incentivizes over-development of market rate housing," said John Heath, an initiative proponent and president of Los Angeles' United Homeowners' Association, in a press release. "We the people get to determine what our neighborhoods look like instead of relying on one-size-fits-all social engineering policies from Sacramento."
Both S.B. 9 and S.B. 10 passed the legislature this week. A.B. 1401 was killed in committee.
The idea behind these bills—alongside past state legislative efforts to legalize mid-rise apartment buildings near transit stops and job centers—is to route around local governments who too often stymie new housing development.
Bills that shift land-use decisions to the state level, where policy makers are theoretically more inclined to support new development, have popped up in state legislatures from Maryland to Oregon in recent years.
The preamble to the Community Planning initiative raises a number of issues with this approach. Local officials, it says, are better positioned to address the impacts of new development on infrastructure and the environment. Allowing denser apartments close to bus and rail stops will "eliminate the availability of low or very low income housing near public transit," it reads.
To that end, the initiative would render unenforceable any manner of state laws designed to boost housing production.
A homeowner trying to use the newly passed S.B. 9 to build a duplex on a plot the city has zoned for single-family housing would be stopped cold. Larger developers, meanwhile, would be prevented from making use of state "density bonus" laws that let them construct larger apartment buildings in exchange for including units that are below market rate.
The initiative would also take the teeth out of laws requiring local governments to allow accessory dwelling units. Those have proven remarkably successful at goosing new housing production. State laws that require local communities to plan for enough housing to accommodate population growth would also have to go.
The Community Planning initiative does carve out exemptions for state laws governing power plants, and water, communications, and transportation infrastructure. It would also leave in place state land use regulations of coastal areas, which are incredibly hostile to new development.
On the other hand, the breadth of the ballot measure's language would, perhaps unintentionally, also prevent the enforcement of state laws that limit the development of new housing.
That would include the California Environmental Quality Act (CEQA), a state law that requires government agencies to study and mitigate the impacts of a new development before approving it.
Because the law empowers third parties to sue if they think an agency hasn't studied a new development enough, activists and special interests frequently use CEQA to stop new construction or extract concessions from developers.
The ballot initiative—by overriding state laws when they conflict with local zoning codes—would therefore override local activists' ability to use CEQA to slow up development.
"Ironically enough, [CEQA] is something that has been widely championed by the interest groups that are usually on the opposition side of state housing legislation," says Christopher Elmendorf, a professor at the University of California Davis School of Law. "It's a law that procedurally, and through the requirement of mitigation conditions, substantively, regulates the use of land."
The Community Planning initiative wouldn't stop there; it would also potentially prevent the enforcement of new building code standards that require new construction to come equipped with solar panels, and which add an estimated $20,000 to the cost of a single home.
The state's rent control law, which arguably reduces developers' willingness to build new housing, would also be unenforceable. (The flip side is that state limits on a local government's ability to adopt stricter rent control policies would also be unenforceable.)
"It's uncertain how it would affect housing production in the aggregate," says Elmendorf. "It is likely to change the pattern of housing production so that there's more housing that's built in far-flung areas that tend to be relatively pro-growth and less housing to be built in existing residential neighborhoods where there tends to be organized homeowner opposition."
The ultimate scope of the initiative, he says, would end up being hashed out by the courts.
On Wednesday, supporters of the Community Planning measure filed their initiative text with the state's attorney general, who will then write a title and summary of the measure. Petitioners will then be allowed to start gathering signatures to get it on the ballot.
They say their goal is to get their initiative on the November 2022 ballot.