The Secret To Vaccinating Children: Off-Label Vaccinations
It's legal for doctors to give kids the Pfizer vaccine, but Pfizer isn't allowed to say so.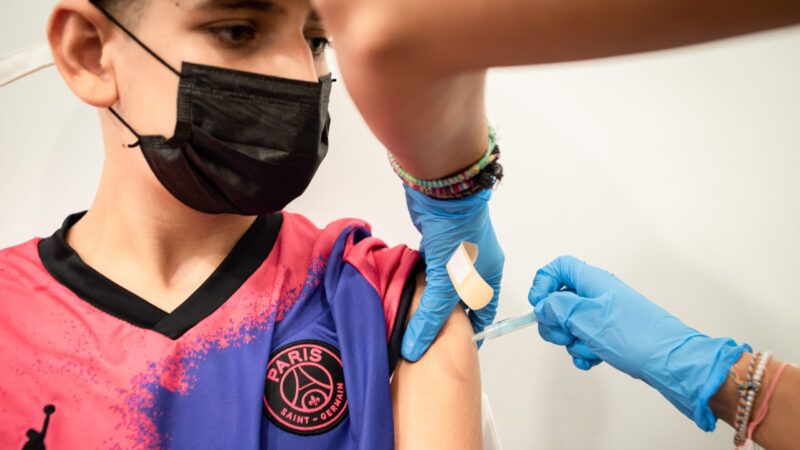 (Jordi Boixareu/ZUMAPRESS/Newscom)
With the Pfizer vaccine for COVID-19 granted full approval by the Food and Drug Administration (FDA) for use on anyone ages 12 and up*, pediatricians can actually now legally give it to patients under 12 years old, even though the drug is not yet technically approved for this age group. This is because once a drug is FDA approved, physicians can legally prescribe drugs off-label, beyond the scope of the drugs' initial approval, if they judge that it is medically appropriate. Yet while some parents have successfully scheduled vaccines for their younger children, pediatric vaccination is likely to remain unavailable to most families even as children return to school in communities that are facing a resurgence of COVID-19 cases and pediatric hospitalizations are on the rise.
Pediatric vaccination is unlikely to become widely available for two reasons. First, FDA marketing restrictions prevent manufacturers from publicizing information about off-label vaccination for kids younger than 12. Second, public health authorities at the FDA and the Centers for Disease Control and Prevention (CDC) are discouraging off-label prescribing, citing a lack of data regarding the safety and efficacy of vaccines for younger patients, and many parents and providers follow the guidance of those officials.
So, in essence, public health officials are censoring the information that would help people make an informed choice, and then saying that parents and pediatricians can't make an informed choice because they don't have enough information about off-label pediatric vaccination.
Off-label prescribing is very common for kids, since many drugs are not approved for pediatric prescribing. Pediatricians know that "off label is not synonymous with off evidence" and it's often worth it for doctors, parents, and patients to choose to use a drug in ways that differ from its approved use. But the FDA prohibits any drug marketing except for FDA-approved intended uses. This means that drug makers, like Pfizer, are prohibited from publicizing truthful information about the potential benefits of off-label prescribing, even when physicians and parents would benefit from knowing all of their options. 
Government restrictions on off-label marketing amount to content-based restrictions on speech that relates to lawful conduct. These restrictions are a form of government censorship that harms patients, physicians, and caregivers by keeping them in the dark about their medical options. With COVID-19, censoring information about off-label pediatric prescribing prevents parents and pediatricians from learning truthful information about the risks and benefits of vaccination from the people who are making the vaccines and running pediatric trials.
Off-label marketing restrictions are also plausibly unconstitutional. In the past decade, at least two federal courts have ruled that restrictions on non-misleading off-label promotion "run afoul of the First Amendment" and that this kind of marketing is not a form of misbranding. In both cases, the government did not appeal, allowing officials to avoid a Supreme Court case and thus leaving the current restrictions to remain largely unchallenged by risk-averse pharmaceutical companies. And while there is some indication that the government is no longer prosecuting people for providing truthful, non-misleading information, the government retains the right to do so and it has indicated that it will prosecute this kind of marketing if it poses a "public health concern."
For off-label pediatric vaccines, these restrictions mean manufacturers cannot market pediatric vaccines by publicizing the preliminary results of their vaccine trials for younger patients. Many parents and pediatricians would have a strong interest in seeing preliminary data from the 7,000 trial participants before making a decision about off-label vaccination for kids, even if the FDA wants more data before expanding emergency or final approval to children.
Not only are manufacturers prohibited from publicizing information about off-label vaccination, public health officials are actively discouraging parents from pursuing off-label vaccination for their younger patients. Officials at the FDA discouraged pediatricians and parents from seeking off-label vaccination for their children until the FDA grants an Emergency Use Authorization (EUA) for one of the available vaccines. This recommendation is based on a lack of information about the vaccines' risks to kids and optimal dosing. Yet parents and pediatricians lack this information and the people who have it are legally prohibited from publicizing it until the FDA grants an EUA.
Worse still, the CDC's provider agreement for health workers says that anyone providing off-label vaccinations to kids could lose access to vaccines and forfeit their legal immunity. This makes widespread pediatric off-label vaccination even less likely because off-label vaccine providers could face civil penalties associated with off-label vaccination and their patients may not be able to receive compensation from the federal government if they experience an adverse event associated with vaccination.
Some critics of off-label pediatric vaccination argue that the known risks of vaccines cannot justify off-label pediatric vaccination. Based on what we do know, there is some risk that vaccinating kids could slightly increase their risk of myocarditis, a rare heart condition. But this argument overlooks the risks of failing to vaccinate children. According to a recent study in the New England Journal of Medicine, COVID-19 puts children at an even higher risk of myocarditis.
Other critics of off-label pediatric vaccination argue that vaccines should be held to a higher standard of safety because they are given to children who are "perfectly healthy." But with kids going back to school while the delta variant is still surging and cases are still rising, children are just one back-to-school outbreak away from becoming unhealthy and contagious COVID-19 patients.
For these reasons, many parents reasonably think that the risks of off-label pediatric vaccination do not exceed the risks of pediatric COVID-19 infection. But public health officials are actively obscuring information about pediatric vaccine risks and won't let manufacturers publicize the information that pediatricians and parents need to make an informed choice.
Correction: This piece previously said the Pfizer vaccine was approved for use on anyone 13 and up. It was approved for those 12 and up.