California Judge Overturns Voter Initiative That Said Gig Workers Aren't Always Employees
Plus: You can't FOIA politicians' browser histories, Pentagon compels commercial airlines to evacuate Afghan refugees, and more...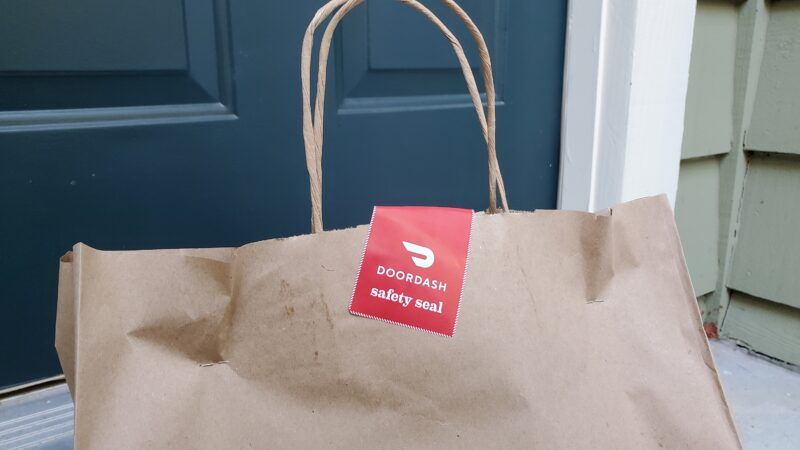 (Gado Images/Smith Collection/Gado/Sipa USA/Newscom)
Judge invalidates vote on gig economy drivers. Alameda County Superior Court Judge Frank Roesch says that Proposition 22, a pro–gig economy ballot initiative passed last fall, is unconstitutional since it interferes with the state legislature's ability to set rules around workers' compensation and collective bargaining.
Proposition 22 came in the wake of the California legislature passing Assembly Bill 5, a job-killing measure that forced all sorts of companies to classify independent contractors as employees with all the benefits and regulatory obligations the label entails. Proposition 22—passed by 58 percent of voters last November—let gig economy drivers and the companies that employ them get out of this.
But what California voters want with regard to companies like Uber, Lyft, Instacart, and DoorDash apparently doesn't matter much in the Golden State.
In a Friday ruling, Roesch held that Proposition 22 unconstitutionally limited "the power of a future legislature to define app-based drivers as workers subject to workers' compensation law." He held "that the entirety of Proposition 22 is unenforceable."
"If the people wish to use their initiative power to restrict or qualify a 'plenary' and 'unlimited' power granted to the legislature, they must first do so by initiative constitutional amendment, not by initiative statute," Roesch wrote.
"We believe the judge made a serious error by ignoring a century's worth of case law requiring the courts to guard the voters' right of initiative," said Geoff Vetter, a spokesperson for the Protect App-Based Drivers & Services (PADS) Coalition. "This outrageous decision is an affront to the overwhelming majority of California voters."
"We will file an immediate appeal and are confident the Appellate Court will uphold Prop 22," PADS said in a statement.
Uber also said it will appeal the ruling. Noah Edwardsen, an Uber spokesperson, told Bloomberg the judge's decision "ignores the will of the overwhelming majority of California voters and defies both logic and the law. Meanwhile, Prop 22 remains in effect, including all of the protections and benefits it provides independent workers across the state."
Veena Dubal, a professor at the University of California, Hastings College of Law, told Bloomberg that this marks an "important first decision in what will end up being a very consequential legal battle," noting that "there's not a lot of case law here to draw on" when it comes to the issues in this case.
---
FREE MINDS
You can't FOIA politicians' browser histories. A new ruling in Cause of Action Institute v. OMB says Freedom of Information Act (FOIA) requests don't apply to internet histories of individual federal officials because they are not agency records. "Interestingly enough, the court's reasoning suggests that the outcome could change were a federal agency to exercise greater control over government officials' internet browsing histories, such as by limiting the ability of individual officials to delete or modify their histories," writes Jonathan H. Adler at The Volokh Conspiracy. "I would not expect that to happen, however. Under the assumption that most federal agencies try to resist FOIA most of the time (a safe, if ungenerous, general assumption about agency behavior), the decision is also likely to dissuade agencies from adopting policies that could make internet browsing histories subject to FOIA in the future."
---
FREE MARKETS
The Biden administration is compelling commercial airlines to transport people out of Afghanistan. "The current activation is for 18 aircraft: three each from American Airlines, Atlas Air, Delta Air Lines and Omni Air; two from Hawaiian Airlines; and four from United Airlines," said the Pentagon in a statement.
"Civilian planes would not fly into or out of Kabul, where a rapidly deteriorating security situation has hampered evacuation flights," The New York Times reports. "Instead, commercial airline pilots and crews would help transport thousands of Afghans who are arriving at U.S. bases in Bahrain, Qatar and the United Arab Emirates."
---
QUICK HITS
Anyone looking for the edge of Trumpism just found it: Trump recommends the #COVID19 vaccine to a massive Alabama rally crowd, only to get shouted down with boos from the audience.

Not even Donald himself can get these folks on board with the vaccine.

— Max Burns (@themaxburns) August 22, 2021
• Afghan refugees are arriving at U.S. army bases in Wisconsin and Virginia.
• With return-to-the-office plans disrupted by the delta variant, companies worry that the eventual return to office life will be met with more resistance. "Even staffers who once bristled at doing their jobs outside of an office have come to embrace the flexibility and productivity of at-home life over the past 18 months, many say. Surveys have shown that enthusiasm for remote work has only increased as the pandemic has stretched on," The Wall Street Journal reports.
• How some governors are using federal pandemic aid to encourage school choice.
• Retirements are unexpectedly up, according to a report from The New School's Schwartz Center for Economic Policy Analysis. "Roughly 2 million more people than expected have joined the ranks of the retired in the pandemic," notes NPR.
• "To save California, sacrifice single-family zoning," suggests the Los Angeles Times editorial board. "For decades now, California leaders have been stuck in a low-density, single-family, not-in-my-backyard 20th century mindset. The result is a deep housing shortage that is driving more Californians into poverty, worsening inequality and hurting economic opportunity."