When De Blasio's Vaccination Passport Plan Went Into Effect Yesterday, One-Quarter of Adult New Yorkers Were Barred From Going Out
Going out in Manhattan the first night patrons were required to prove their vaccination status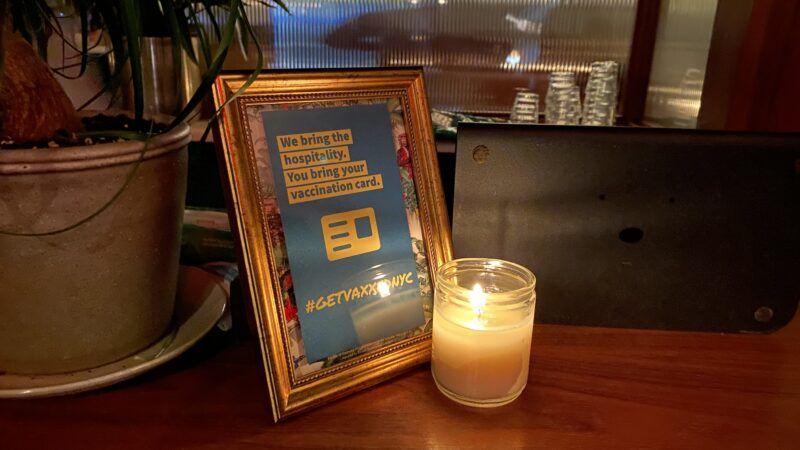 Last night, there weren't any street brawls on Manhattan's 8th Avenue. There wasn't mass civil disobedience in the streets. People didn't storm the doors or throw punches at bouncers, at least not where I was (Staten Island might've been a better bet for glimpsing such impassioned encounters). People's vows of resistance had proved toothless, for it was essentially a normal night out in Manhattan—except for the 25 percent of New Yorkers for whom going out was prohibited due to them being unvaccinated.
At the beginning of this month, New York City Mayor Bill de Blasio announced that he would be forcing pretty much all indoor dining, drinking, and entertainment venues—movie theaters, strip clubs, concert venues, museums, zoos, sports arenas, arcades, and pool halls, for example—to check for proof of vaccination from patrons. Businesses that refuse to comply will be saddled with fines of $1,000 for a first violation, which doubles on their second violation, and $5,000 each time they break the rules after that. Enforcement will start on September 13, but the order went into effect last night.
In the weeks since the executive was first announced, there's been a noticeable rise in venues checking vaccination status. When I went last week to Ramona in Brooklyn's Greenpoint neighborhood, they asked for proof of vaccination status before allowing entry. Last night, the tiki bar Jungle Bird on 8th Ave. asked for proof of vaccination; shortly after presenting it, my party shared a communal bowl of the bar's eponymous drink, the likes of which would strike fear in the hearts of public health authorities. Art Bar, where several patrons were graphically sucking face on the back patio, also asked for proof. 
Another bar on 8th Ave.—which shall remain nameless, since snitches get stitches—either forgot, was unaware of the rules, or happy to flout them. The doofy but friendly bartender seemed more interested in telling me, my husband, and our two friends about football fandom than making sure we were all in compliance with the city's new orders.
And when I asked one heavily accented bouncer, upon leaving a different bar, how enforcement had gone over the course of the first night of the new rules, he said he'd just had to turn a few people away, none of whom turned belligerent. "That's the law now," he said, gruffly, seeming more exhausted than relieved. 
In many ways, it was a normal night out in Manhattan. Had we not been four vaccinated people with our slips of paper to prove we're not lepers in de Blasio's New York, it would've been much harder. But just because the first night was one of routine encounters is no guarantee that the rest of them will be, or that all parts of the city will have the same experience with enforcement: in less vaccinated boroughs, like Brooklyn and the Bronx, this order serves as another blow for bars and restaurants that have already been through hell and back over the course of this pandemic. Not to mention that this mandate will effectively make it so that a whole bunch of poor minorities—which health data tell us have abstained from vaccination to a much greater degree than wealthier white New Yorkers—get excluded from public life.
The exemptions de Blasio has carved out also interestingly show that his staff thinks some people are above the rules: Nonresident performing artists and athletes, as well as nonresident individuals accompanying performing artists as part of their employment, will be allowed into indoor venues regardless of vaccination status.
De Blasio is telling on himself when he admits that this order might make it so that performing musicians and their crews can't get into New York's clubs, thus their super special status. His order may also suppress tourist demand, as many other countries have less robust vaccination campaigns, and will certainly make it harder for families, as the order says that children ages 12 and above must be vaccinated or else be denied entry into all manner of indoor establishments. "De Blasio Banishes My Kids From New York," reads an indignant Wall Street Journal headline.
To people who are vaccinated, and who are unencumbered by civil libertarian concerns about government overreach and health data privacy, this may not seem like a huge deal. But 25 percent of New Yorkers remain unvaccinated; that they are effectively barred from going out until they comply with the state's not-so-optional request is no small deal to them, or to the proprietors who were relying on them after 18 months of sluggish business, including the nine and a half weeks in spring 2020 during which they were barred from seating customers. It remains to be seen whether de Blasio's enforcement squad will be slapping minority business owners with fines in the coming weeks for the apparent crime of serving their communities without verifying their vaccination status.
Yes, there's a case to be made that these measures are important for getting as much of the population vaccinated as possible in order to reduce virus mutation and prevent more harmful variants from taking root. But as long as New York remains a metropolis with porous, penetrable borders, there will be unvaccinated people flowing in from other states and from abroad. COVID-containment measures may have some effect—the U.S. government currently requires that all people entering by air, regardless of citizenship, present a negative test received within 72 hours of boarding or proof of recovery from COVID within the past 90 days—but they're all blunt mitigation tools, not foolproof measures. Short of a full vaccination mandate for all people in the U.S., some holdouts will remain, and the current dominant strains of COVID will have the opportunity to morph into more severe forms.
Like so many other pandemic restrictions, it's jarring that New Yorkers appear to largely be lying down and taking it. Perhaps the most chilling thing about going out last night was just how easy it was to forget that the state had just been empowered with even greater ability to insert themselves in between business owners and their consenting customers, to purportedly protect people from themselves and each other whether they want it or not.