Joni Ernst Retains Iowa Senate Seat
Democrats had high hopes of flipping the state.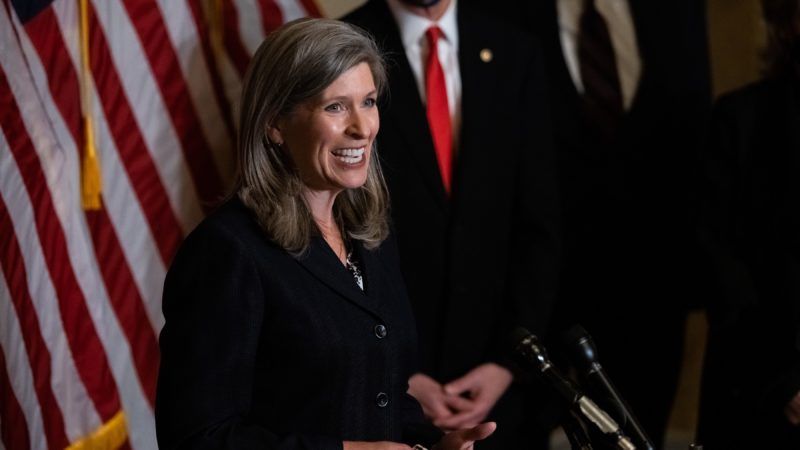 (CNP/AdMedia/SIPA/Newscom)
Sen. Joni Ernst (R–Iowa) has clinched victory in the Iowa Senate race, beating back challenger Theresa Greenfield, who was one of the Democrats' primary hopes for edging toward a Senate majority.
Polling throughout the race was quite competitive and often showed Ernst lagging behind. A final election poll, however, put Ernst on top. She has been a fairly reliable supporter of President Donald Trump but has taken some issue with his tariffs and their impact on farmers.
Sen. Kelly Loeffler (R–Ga.) and Democratic challenger Raphael Warnock will advance to a January runoff in the Georgia Senate election after no candidate could claim a majority on Tuesday night.
Rep. Doug Collins (R–Ga.) came in third.
Gov. Brian Kemp appointed Loeffler to the Senate this year to replace former Sen. Johnny Isakson (R–Ga.), who retired due to health reasons. She has been a vocal supporter of Trump.
Tommy Tuberville, a retired collegiate football coach, secured victory in the Alabama Senate race on Tuesday, beating out Sen. Doug Jones (D–Ala.) and flipping one Senate seat from blue to red.
Jones arrived on Capitol Hill after a contentious special election campaign against Roy Moore, who almost certainly would have won the spot were he not plagued with accusations of inappropriate sexual advances toward minors.
The seat was vacated in 2017 when Jeff Sessions became President Donald Trump's attorney general. After leaving that post, Sessions ran for reelection to his Senate seat but was bested by Tuberville in the primaries.
Sen. Lindsey Graham (R–S.C.) will keep his seat in South Carolina after facing an uncharacteristically competitive race against Democrat Jaime Harrison.
The Palmetto State is typically seen as a conservative stronghold. But the senator lost some popularity in the Trump era; according to a recent poll, he has an -8 net negative approval rating in the state, behind Trump himself, who is at zero. Though Graham harshly criticized then-candidate Trump during the 2016 election cycle, he became one of the president's staunchest defenders after Inauguration Day.
Former Colorado Gov. John Hickenlooper claimed victory in the state's U.S. Senate race, besting Sen. Cory Gardner (R–Colo.) and flipping the seat to blue.
Hickenlooper's positions include support for marijuana legalization, increased gun control, and creating a public health care option. He has referred to himself as a "fiscal conservative" when it comes to the debt and the deficit, and he says he is against the ballooning size of government. "I think what a lot of Americans want is better government, not bigger government," he told Politico last year.
Gardner was a Colorado state representative from 2004 to 2011 and a member of the U.S. House from 2011 to 2015 before beating Sen. Mark Udall, a Democrat, in the 2014 midterms.
In other Senate news, Sen. Mitch McConnell (R–Ky.) won his reelection race, defeating challenger Amy McGrath. It remains to be seen whether he will be Senate majority or minority leader in 2021.
His victory is hardly a shock: The polls consistently showed him ahead in the deep red state. As the leader of the Senate GOP since 2014, he has presided over a "legislative graveyard," refusing to bring a great deal of proposed legislation to the floor for debate.
Although he is known for creating some legislative gridlock, McConnell directs a great deal of his energy toward political strategy, helping corral support for Republicans nationally and pushing conservative federal judges through the nomination process. Along those lines, he blocked a vote on Merrick Garland, former President Barack Obama's nominee for the Supreme Court, and more recently pushed through the confirmation of President Donald Trump's newest nominee to the court, Amy Coney Barrett.
This post will be updated regularly throughout the evening.