Can the CDC Get Anything Right?
Plus: Trump's corruption surrounding TikTok, study supports decriminalizing prostitution, how "older people have become younger," and more...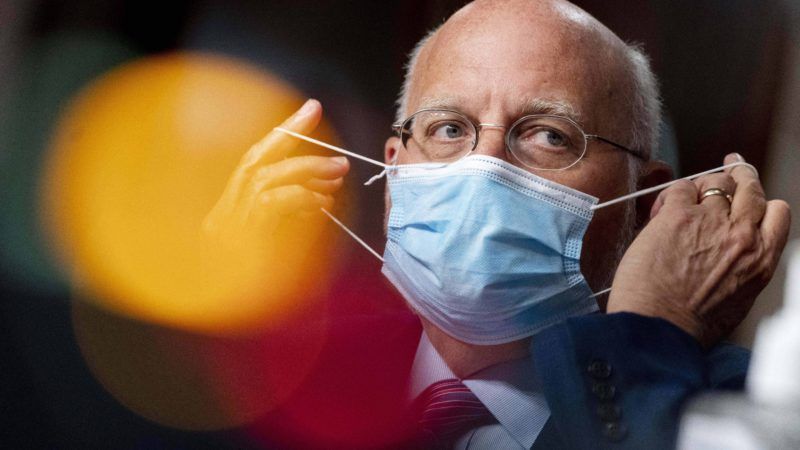 (CHINE NOUVELLE/SIPA/Newscom)
As the coronavirus pandemic rages on, the U.S. Centers for Disease Control and Prevention (CDC) can't stop proving itself useless and incompetent. In the latest debacle, the agency just posted new guidance on Friday saying that COVID-19 is primarily spread through airborne particles rather than through contact with infected surfaces—something the majority of scientists and public health experts have been saying for months, and a fact that's already trickled down to many Americans as conventional wisdom.
The CDC's long lag time on sharing correct information would be laughable if the topic wasn't so deadly serious. (And if folks weren't demanding that CDC guidance get priority treatment on social media).
As it stands, the nation's top public health agency has—for those inclined to listen to its advice—helped normalize ineffective "hygiene theater" such as incessant wiping down of public surfaces while downplaying or ignoring more relevant preventative measures (like masks, proper ventilation, and air circulation in buildings). The agency has been in the business of giving people a false sense of security while ignoring disease-reduction best practices as hundreds of thousands of Americans fall sick and die from the coronavirus.
But it gets worse. A few days after finally posting information about airborne spread, the CDC took down that information and said it was posted in error.
"The agency had posted information Friday stating the virus can transmit over a distance beyond six feet, suggesting that indoor ventilation is key to protecting against" it, notes The Washington Post. But by today, "all references to airborne spread, except for a disclaimer that recommendations based on this mode of transmission are under review," have been removed from the CDC website.
"Unfortunately an early draft of a revision went up without any technical review," Jay Butler, deputy director for infectious disease at the agency, said yesterday. "We are returning to the earlier version and revisiting that process. It was a failure of process at CDC."
This isn't the agency's first unexplained flip-flop. From the Post:
In May, the CDC updated an information page that suggested the coronavirus did not spread easily from contaminated surfaces. It also edited that revision after the update received widespread media attention to clarify that the tweak was "not a result of any new science."

And last week, the CDC reversed testing guidelines to again recommend that anyone, regardless of symptoms, who has been in close contact with an infected person be tested. The White House coronavirus task force had directed the agency to change those guidelines in August, allowing that asymptomatic people did not need to be tested.
Some have read into this a conflict between impartial scientific types at the CDC and more political types who want to keep the Trump administration happy. But "experts with knowledge of the incident said on Monday that the latest reversal appeared to be a genuine mistake in the agency's scientific review process, rather than the result of political meddling," reports The New York Times.
In any event, the CDC has lately been issuing warnings and publishing data as if the virus spreads through air anyway, despite the agency's lack of official acknowledgment of this. For instance, on Friday, the CDC published a study saying 15 people were sickened with COVID-19 after a passenger on a flight from London to Hanoi had it.
Media has been spreading the London-to-Hanoi flight study as if it's evidence that flying is totally unsafe right now. But it's important to note that this flight took place on March 1, back when information about how the disease spread was a lot less known and many current precautions surrounding airports and requirements for flight passengers weren't yet in place.
While publishing information about in-flight spread that took place nearly seven months ago, the agency has also been spreading the alarming-at-first-glance statistic that 11,000 people may have been exposed to COVID-19 while flying. But the CDC also states—in what has become much less headline-garnering news—that it has not confirmed a single case of in-flight transmission on a U.S. flight.
Some have taken this as evidence that flying is much less risky than the agency is making it out to be. Others see it as evidence that the agency just hasn't tried very hard to confirm cases of COVID-19 stemming from air travel and should be stepping up its contact tracing. But whichever way you look at it—and I think a little of both is at play—the CDC, once again, doesn't look so good.
---
FREE MARKETS
More on President Donald Trump's corruption surrounding TikTok (in which he threatened to ban the video app unless its owner sold it to a U.S. company, then insisted the federal government get a cut of whatever deal is brokered in order to fund Trump's "patriotic education" dreams):

Absolutely nothing about the Oracle/TikTok deal makes sense, UNLESS you view it through the lens of pure cronyism and corruption. Then it makes perfect sense, and should have everyone furious. https://t.co/rENEOt7zxS

— Mike Masnick (@mmasnick) September 21, 2020
I hope everyone who defended the idea of TikTok's undergoing a forced sale to an American company because of not-entirely-articulated security concerns has taken a look at the arrangement Trump finally approved. Still certain this was motivated by "national security"?

— Mike Godwin #WakandaForever (@sfmnemonic) September 22, 2020
For background, see:
---
FREE MINDS
More evidence in support of decriminalizing prostitution:
New @nberpubs: "Crimes Against Morality: Unintended Consequences of Criminalizing Sex Work" https://t.co/cVEnz2MY5Z pic.twitter.com/9NDUYIHHl5

— Scott Lincicome (@scottlincicome) September 22, 2020
---
QUICK HITS
• "Older people have become younger," Neuroscience News characterizes a new study from researchers at the University of Jyväskylä. "The physical and cognitive health of people aged 75 to 80 is significantly better than those of that age range thirty years ago."
• An interesting thread on the politics of Justice Brett Kavanaugh's confirmation and how it might affect the current Supreme Court nomination process:
I actually think this is true. But relatedly, I think conservatives are a little blasé about how radicalizing a confirmation here will be even for moderate Dems — especially given the decisions that may follow — and so unwisely assume there won't be the votes to pack the court. https://t.co/GTAJjgqxh3

— Josh Barro (@jbarro) September 21, 2020
• Jacob Sullum examines the record of Judge Amy Coney Barrett, who is rumored to be Trump's pick to replace Ruth Bader Ginsburg on the Supreme Court.
• "We're scarily seeing a repeat of the 1970s and 2000s when a falling dollar made housing the top asset class," warns John Tamny at Forbes.
• Vice talks to "five women who say they underwent gynecological surgery they either didn't want or did not fully understand while detained at the Irwin County Detention Center, which is run by the private prison company LaSalle Corrections and houses immigrants detained by U.S. Immigration and Customs Enforcement (ICE)."
• The period immediately following this November's election is going to be nuts:
MADISON, Wis. (AP) -- Federal judge in battleground Wisconsin extends deadline for receiving absentee ballots for 6 days beyond election.

— Kyle Griffin (@kylegriffin1) September 21, 2020
• "Florida prosecutors said Monday that they won't appeal a court's decision blocking video that allegedly shows New England Patriots owner Robert Kraft paying for massage parlor sex, making it likely the charges against him will be dropped," reports the Associated Press.
• See who's spying on you:
Using Blacklight, @ASankin found that some of the most sensitive websites on the Internet - banks, medical clinics, child safety – were sharing their users personal data with third parties.

SunTrust Bank was sending user passwords to a 3rd party!https://t.co/ZfAOc35Kvw pic.twitter.com/1o9UIWJMHm

— Julia Angwin (@JuliaAngwin) September 22, 2020
• Apparently there is "a non-profit that oversees emoji standards and is responsible for new releases."