Zoom Is Keeping Pandemic-Stricken America Connected. Cue Congress's Tech Panic.
Plus: Court upholds Texas abortion ban, Americans say they're choosing to stay at home, a doctor's view on hydroxychloroquine, and more...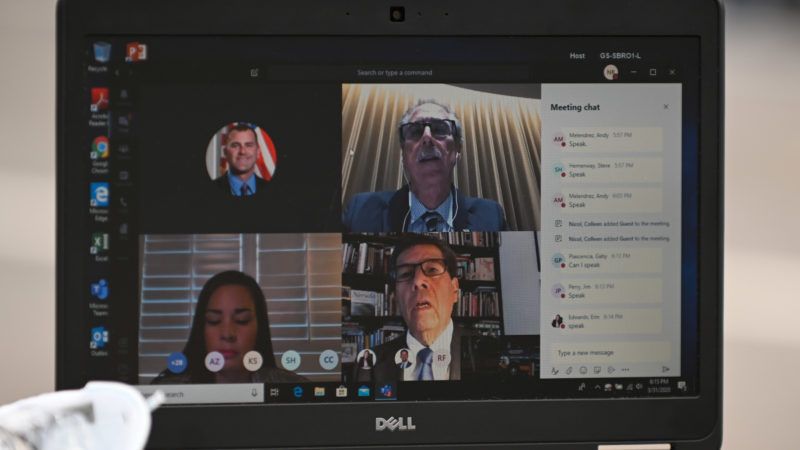 (Dylan Stewart/Image of Sport/Newscom)
---
FOLLOWUP
A federal court has upheld Texas' temporary ban on surgical abortion:
Breaking: 5th Circuit rules for Texas in case over coronavirus abortion ban. Judge Kyle Duncan, a Trump appointee, cites "the escalating spread of COVID-19, and the state's critical interest in protecting the public health."

Decision: https://t.co/1tjglkibPy

— Emma Platoff (@emmaplatoff) April 7, 2020
---
FREE MINDS
Eight in 10 Americans support stay-at-home orders. From a HuffPost/YouGov survey conducted last weekend:
An 81% majority of the public says it's currently the right decision for states to tell residents to stay at home unless they have an essential reason for going out. Just 8% say it's the wrong decision. An even broader 89% say they are personally trying to stay home as much as possible, with only 6% saying they're not making any such effort.
More here.
---
FREE MARKETS

Doctors, not politicians, should decide whether hydroxychloroquine is appropriate for COVID-19 patients, writes Jeffrey A. Singer, who has been a practicing clinical physician for more than 35 years. Adds Singer:
What I've seen about hydroxychloroquine makes me cautiously optimistic. Doctors should not be prohibited from using their best clinical judgment and recommending it to patients—especially considering the fact that these drugs have been around for a long time, which means we are familiar with their risks and complications. The government should stay out of this and let clinicians practice medicine, provided they get their patients' informed consent. Patients have a fundamental right to try drugs they think may save their lives. Doctors they consult must be free to give patients their best advice, unencumbered by government overseers.

Read the whole thing here.
---
QUICK HITS
In New York, "the state budget that leaders are now finalizing would allow judges to ban individuals convicted of some sex crimes in mass transit from using the system for up to three years," Politico reports.
An update from Sen. Rand Paul (R–Ky.), who was diagnosed with COVID-19 last month:
I appreciate all the best wishes I have received. I have been retested and I am negative. I have started volunteering at a local hospital to assist those in my community who are in need of medical help, including Coronavirus patients. Together we will overcome this! pic.twitter.com/9SeypT7rL6

— Senator Rand Paul (@RandPaul) April 7, 2020
Hillbilly Elegy author J.D. Vance tackles common-on-the-right coronavirus myths here:
I've been reading a lot of the contrarian (primarily from fellow righties) COVID19 opinions, and I wanted to work through them in good faith. I find most of them pretty unpersuasive. As they say, THREAD:

— J.D. Vance (@JDVance1) April 8, 2020
In the least surprising news of the year, the anti-smoking lobby thinks COVID-19 justifies the complete and permanent prohibition of cigarettes. https://t.co/gnkFpgtzak

— Christopher Snowdon (@cjsnowdon) April 7, 2020