Minneapolis' 'Green To Go' Ordinance Inadvertently Bans Starbucks Holiday Cups
The polyethylene lining on the cheery seasonal drink containers does not meet the city's exacting composting requirements.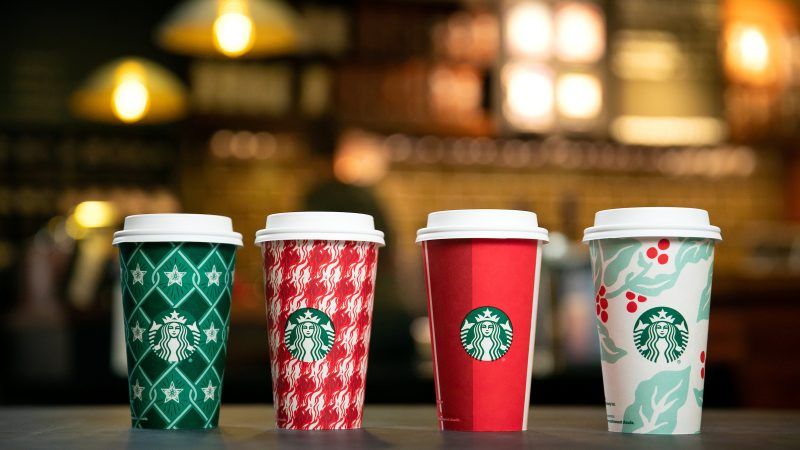 (ZCHE/Starbucks (Supplied by WENN)/Newscom)
Few things manage to escape controversy in these polarizing times, and Starbucks' "holiday cups" are no exception.
Since 2015, the Seattle-based coffee company has come under fire for putting out seasonal drink containers that aren't Christmasy enough, or maybe are a little too gay. As Eater has exhaustively documented, everyone from Very Online evangelicals to Donald Trump has declared the secular vessels a weapon in liberal America's War on Christmas.
Yet it is progressive Minneapolis, not some Bible Belt redoubt, that has banned the cups entirely.
Granted, that isn't what it set out to do.
In 2015, the city passed its Green To Go ordinance, which aims to increase the amount of commercial waste that is recyclable or compostable. The law has been phased in over time, and in April 2019 the city officially excised an exemption it had carved out for cups containing polyethylene. The common petroleum-based plastic is used as a liner in coffee cups to make them waterproof.
A spokesperson for Starbucks tells Reason that the company reacted to the new Minneapolis requirements by switching to to-go coffee cups lined with polylactic acid, a bioplastic typically made from corn-starch. But these cups were only available in plain white.
So the company didn't roll out its red and green holiday cups in Minneapolis. Coffee drinkers looking for a little Christmas cheer with have to look elsewhere, or perhaps drive out to the suburbs for their lattes.