Bipartisan House Agriculture Bill Is a Win for Both Farmers and Immigrants
The reform could help formalize immigrant farm labor.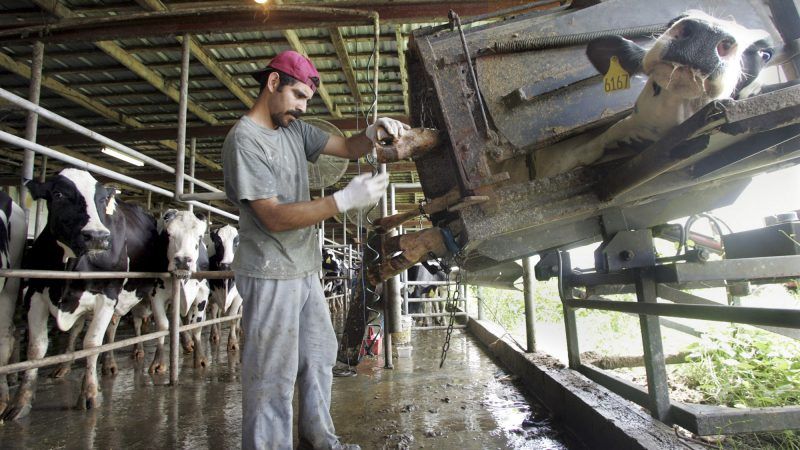 (Ronna Gradus/MCT/Newscom)
A bipartisan bill that would provide a path to legal status for undocumented immigrants who work in agriculture passed the House of Representatives on Wednesday, providing a glimmer of stability to America's farmers in the midst of an ongoing trade war and an immigrant labor crackdown.
The Farm Workforce Modernization Act passed the House in a vote of 260-165, with 34 Republicans voting in favor. In its current form, the bill would permit undocumented aliens to obtain permanent residence if they have worked in domestic agriculture for at least 10 years and are willing to continue working in the industry for an additional four years. After that period, they would be eligible for a green card and could seek employment in another industry. Immigrants with less than 10 years of experience would need to commit to working in agriculture for an additional 8 years to be eligible for permanent residence. 
The bill would also expand the H-2A visa program, which allows farmers to legally hire foreign guest workers. Farmers could employ guest workers year-round, rather than just seasonally. Although the former would be subject to an initial 20,000 visa cap per year for the first three years, it could expand after that period. The reform provides for 40,000 additional green cards for those working in agricultural, allows H-2A recipients to be sponsored for a green card, and permits them to apply for that legal status directly, all of which encourage them not to overstay their visas in violation of immigration law. It also cuts some of the red tape and bureaucratic overview processes that slow down such applications, decreasing time in processing and cutting the associated costs. A pilot program would increase flexibility to a small degree, allowing H-2A recipients to switch jobs if they are able to secure employment in their first two months in the U.S., provided that they continue to work in the agricultural sector.
"I want people to come into our country in the largest numbers ever, but they have to come in legally," said President Donald Trump during his 2019 State of the Union address. But migrants need a way to do that. At present, those opportunities are few and far between: A low-skilled immigrant from Mexico would have to wait an average of 131 years to successfully immigrate to the U.S. 
"If we want illegal immigration to end, Congress has to guarantee farmers a better way to follow the law," writes David Bier, an immigration policy analyst at the Cato Institute.
While some worry that these visas displace American workers, U.S. farmers are required by law to offer H-2A positions first to people who can already legally work in the U.S. They seldom find enough takers. The Cornell Farmworker Program found that dairy farmers rely on undocumented workers because they cannot identify a sufficient amount of U.S.-born employees to fill the positions. This might explain why approximately 50 percent of all farmworkers are undocumented immigrants, according to the Department of Agriculture.
Immigration enforcement against agricultural businesses has thrown the industry into disarray. Farmers have seen large portions of their workforce deported unexpectedly. When farmers can find American-born workers to replace immigrant labor, they face serious retention problems. These staffing problems have been made exponentially worse by the agricultural tariffs China imposed on U.S. products in response to Trump's trade war, which resulted in a bailout of $10 billion for just this year. 
Unfortunately, the House bill also includes an E-Verify requirement, which raises serious civil liberties issues. But the permanent residency opportunity is a welcome reprieve for American farmers and immigrant laborers alike.