Intel Committee Lawyers Went Toe to Toe in Latest Impeachment Hearing
Steve Castor and Daniel Goldman seem to disagree on most everything.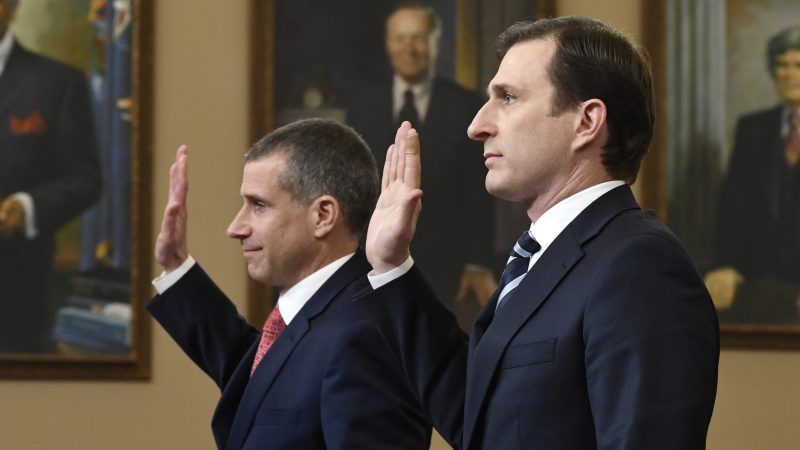 (SUSAN WALSH/UPI/Newscom)
The House Judiciary Committee convened another impeachment hearing on Monday that was heavy on the partisan fireworks and light on new information.
The witnesses before the committee were Steve Castor, counsel for the Republicans, and Daniel Goldman, counsel for the Democrats. Both men traded their seats on the bench for seats at the witness table to testify on the evidence for and against impeaching President Donald Trump based on allegations that he improperly leveraged the power of his office to pressure Ukraine into investigating his political rivals. The two men and the committee members who questioned them hashed and rehashed the testimony that's been provided to the committee by previous witnesses and offered canned rebuttals.
If you have not watched the impeachment hearings, here is where we stand: Trump is the subject of an impeachment inquiry over allegations that he kept from Ukraine $391 million in security assistance and a desired White House meeting in exchange for President Volodymyr Zelenskiy publicly announcing probes into Burisma Holdings—an energy company where former Vice President Joe Biden's son sat on the board—and a highly criticized theory that Ukraine carried out widespread election interference to benefit 2016 Democratic presidential nominee Hillary Clinton.
Democrats are pursuing the inquiry "because they disagree with his policies," Castor said Monday, casting the process as nothing more than a politically motivated sham. It's "baloney," he testified. The GOP counsel also maintained that Trump's skepticism of Ukraine was justified and that his desired probes into Burisma and Ukrainian election interference were acceptable diplomatic asks.
"There were certainly individuals in many other countries who had harsh words for both of the candidates," Dr. Fiona Hill testified in November, describing Ukrainian interference as a "fictional narrative" that serves Russian interests. The evidence of Ukrainian influence in U.S. politics consists of an op-ed, written by a Ukrainian government official, critical of Trump's position on Crimea; and an effort by some Ukrainians to disperse unflattering documents about Paul Manafort, Trump's former campaign chairman, who worked for pro-Russian political interests in Ukraine before joining Trump's campaign.  
Unsurprisingly, Goldman sought to counter Castor's talking points, telling the committee that "President Trump's persistent and continuing effort to coerce a foreign country to help him cheat to win an election is a clear and present danger to our free and fair elections and to our national security." Goldman also disputed criticisms that the recently released call records were inappropriate, telling investigators that the documents only confirm that calls and texts were exchanged but do not actually show the contents of the conversations.
The two men disagreed on even the most basic questions. Did Trump seek an investigation into the Bidens? Goldman said yes, Castor said no. (The rough transcript released by the White House shows Trump mentioning both Joe and Hunter Biden.) Is there enough evidence to proceed? Goldman said it is "overwhelming," Castor said there is "no direct evidence whatsoever." Castor also criticized the committee's reliance on the testimony of Gordon Sondland, Trump's ambassador to the European Union, who told investigators in November that there was a well-understood quid pro quo in exchange for the White House meeting.
Indeed, the two men not even agree on whether Biden is a frontrunner in the 2020 election. "It's too early," Castor said.
Republicans lodged procedural objections at the hearing's outset, with what appeared to be an intent to delay the hearing by calling constant points of order and insisting on roll calls. Republicans asked Chairman Rep. Jerry Nadler (D–New York) to schedule another hearing driven by the minority and if he would agree to strike testimony Republicans found demeaned the president's character. Republicans also questioned whether the witnesses had been correctly sworn in. 
The hearing comes two days after the Democratic majority released a report outlining a constitutional basis for potential articles of impeachment, invoking the country's founding and appealing to tenets of limited government. "Impeachment is the Constitution's final answer to a President who mistakes himself for a monarch," the report says. 
"A president who perverts his role as chief diplomat to serve private rather than public ends has unquestionably engaged in 'high crimes and misdemeanors'— especially if he invited, rather than opposed, foreign interference in our politics," it concludes.