Lawsuit Alleges 'Rampant' Sexual Abuse at Federal Prison
Those who reported sexual abuse were sent to a county jail, the suit alleges.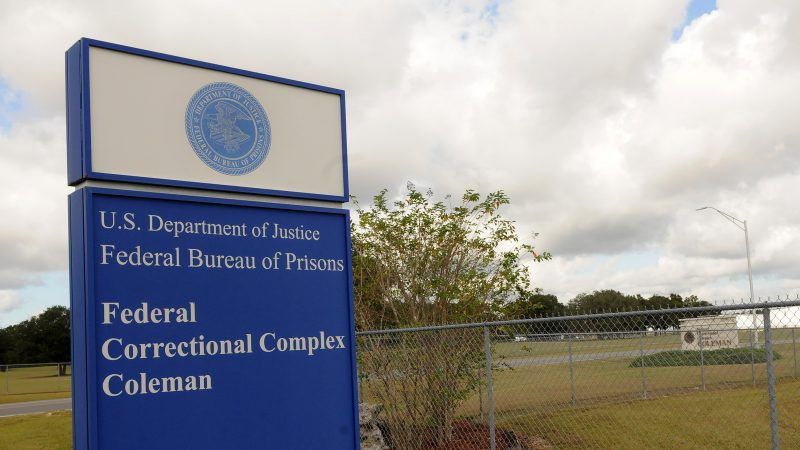 (Paul Hennessy/Polaris/Newscom)
Fourteen current and former inmates of a federal women's prison in Florida have filed a federal lawsuit saying guards subjected them to unending sexual abuse and threats. When the inmates tried to report the misconduct, the suit alleges, they were shuttled off to a county jail or put in solitary confinement.
The lawsuit, first reported by the Miami Herald, accuses eight correctional officers of numerous, detailed instances of rape. It also says the leadership at Coleman Federal Correctional Complex—a sprawling Bureau of Prisons (BOP) campus in central Florida—created a "sanctuary" for guards who were known sexual predators.
"The sexual abuse at these female prisons is rampant but goes largely unchecked as a result of cultural tolerance, orchestrated cover-ups and organizational reprisals of inmates who dare to complain or report sexual abuse," the suit says.
The suit is notable for its specific and disturbing claims, for the number of plaintiffs, and for the fact that all of the women went on the record with their full names.
Kara Guggino, 35, is a former inmate at Coleman and one of the plaintiffs. She tells Reason that sexual abuse is pervasive in the federal prison system.
"I was incarcerated for almost eight years, and I saw it at pretty much every single institution I was at," Guggino says. "I was at maybe six different places, and this was going on everywhere. But it was by far the worst at Coleman."
According to the lawsuit, Guggino was first abused by a guard at a federal prison in Tallahassee, Florida, who stalked, threatened, and forced himself on a regular basis for several years. She says prison administrators put her in solitary confinement three separate times as punishment for her nonconsensual encounters with the officer, while the officer escaped punishment altogether.
Guggino was eventually transferred to a federal women's prison in Alabama, where she says investigators began questioning her about the abuse again.
Fearing retaliation from the guard, who she says once pulled up a map of her family's house and showed it to her, Guggino at first refused to cooperate. As a result, she says, she was once again put in solitary confinement. 
Guggino says investigators from the Department of Justice Inspector General's Office threatened to keep her in solitary for the rest of her sentence—five years in a cell the size of a parking space, 23 hours a day—if she didn't cooperate. She relented, and says the next day she was released from solitary.
"They basically used that as a bully tactic to get me to comply," she says. "And then after all of this, nothing happened to the lieutenant. He still has his job in Tallahassee." 
Guggino, meanwhile, was transferred to Coleman's minimum security work camp for women. Coleman is the largest federal prison complex in the country, holding roughly 6,000 inmates in various facilities. Somehow, things were worse there.
The lawsuit describes a group of Coleman officers who assaulted women with impunity, trapping them alone in rooms without cameras, or taking them to the woods on the edge of the work camp, and forcing them to perform sex acts.
These demands were reportedly accompanied by threats. Coleman's correctional officers have control over inmates' lives, including coveted job assignments and vocational training. Two officers allegedly called one woman a "bitch" for not "playing ball" and removed her from her landscaping job.
The lawsuit claims that officers monitored victims' emails and phone calls, told them they know where their families live, and tried to force birth control on some inmates.
"You know they've accused me before of rape, but they're never going to believe you," one officer allegedly told one woman.
In 2003, Congress passed the Prison Rape Elimination Act (PREA). The law was supposed to create zero-tolerance policies for sexual abuse in U.S. prisons. But according to Guggino, the law meant nothing besides some signs on the walls.
"There's no safe outlet for you to go to speak about this if it's happening to you because everybody is hiding and protecting one another," Guggino says. "PREA, that's a joke."
The lawsuit alleges that, in addition to direct threats from guards, female inmates who reported sexual abuse were transferred to a local county jail in a systematic effort to cover up complaints and circumvent PREA.
"An example of that would be the 2018 audit that was conducted at Coleman where the audit itself mentions that they were not able to interview victims of sexual abuse because they had been transferred to the county jail," says Bryan Busch, the attorney representing the 14 women. "So there's nobody there to interview for PREA violations because they've all been shipped to more secure facilities as punishment for reporting any sort of misconduct."
Coleman management was negligent, the lawsuit argues, in allowing correctional officers who admitted to investigators that they were sexual offenders to continue abusing inmates, escape criminal prosecution, and in most cases retire with full benefits. 
Many of the women in the lawsuit say they now suffer from anxiety, depression, PTSD, and intense fear of being left alone with men.
The BOP is already under more scrutiny than usual, thanks to financier and sex offender Jeffrey Epstein's August death in a federal jail. Epstein's high-profile death put a spotlight on the dysfunctional federal prison system.
For the past several years, crippling staff shortages at federal prisons have led to auxiliary staff, such as nurses and cooks, being pressed into guard duty.
A report released in January by investigators for the House Committee on Oversight and Government Reform concluded that misconduct by senior BOP officials is "largely tolerated or ignored altogether." 
Last year the Justice Department Office of the Inspector General reported, in a rather impressive bit of bureaucratic understatement, that the BOP "has not been strategic in its management of female inmates, and BOP's programming and policies may not fully consider their needs."
A nationwide inmate survey by the Bureau of Justice Statistics found that in 2011–2012 an estimated 4 percent of state and federal prison inmates and 3.2 percent of jail inmates reported being sexually victimized by another inmate or by a member of the staff. By 2015, after stricter reporting requirements went into effect, allegations of sexual assault in prisons had tripled.
In a statement to Reason, a BOP spokesperson says the agency "takes allegations of staff misconduct seriously and, consistent with national policy, refers all allegations for investigation." 
"The allegations regarding staff misconduct at the Coleman Federal Prison Camp were properly referred and addressed consistent with Bureau policy and applicable federal regulations," the statement continues. "The Bureau is unable to comment further at this time."
The Miami Herald reports that the Bureau of Prisons denied its Freedom of Information Act requests for the personnel files of the officers named in the suit, saying it would be an "unwarranted invasion of privacy." Coleman officials also refused the newspaper's request to visit the plaintiffs who remain incarcerated there. 
Guggino was released from federal custody earlier this week, which is why she was free to speak out. Seven of the plaintiffs in the lawsuit are still incarcerated.
"It's forever changed my life, and not in a good way," Guggino says. "I understand that I made mistakes to go to prison, but those mistakes should not have led me to acquire all of this other stuff that I'm going to have to deal with for the remainder of my life. We should have to be punished for the things that we do, but the experiences that we have [in prison] should not hinder us further from recovery and from becoming better people and making a life for ourselves. It's just terrible, and I wish people would become aware of what's going on."