Feds Sue California City Over Law That Mandated Evictions for Criminal Activity—Even When No One Was Arrested or Charged
A Department of Justice lawsuit argues Hesperia's rental ordinance amounts to illegal racial discrimination.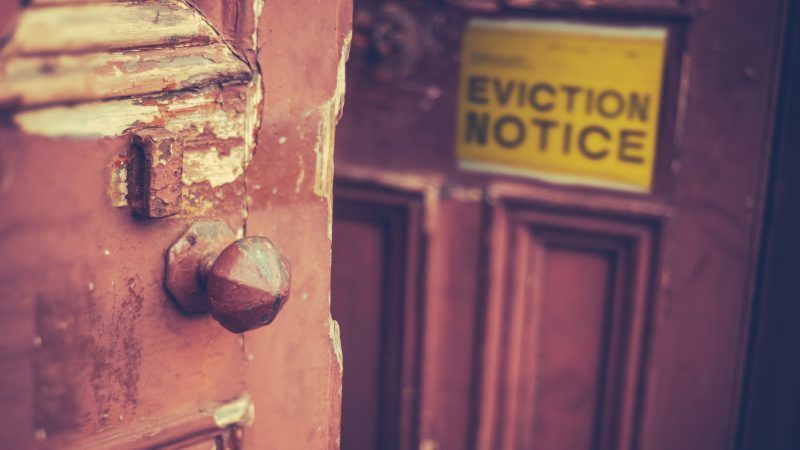 (Mrdoomits/Dreamstime.com)
The Department of Justice (DOJ) is suing the California city of Hesperia and the San Bernardino Sheriff's Department over a local rental ordinance, passed in 2016, that the DOJ says amounted to illegal racial discrimination.
The Hesperia law required landlords to register their rental properties with the city, submit the names of all adult tenant applicants to the sheriff's department for criminal background checks, and to include in their leases "crime free" addendums that mandate tenants be evicted for engaging in any criminal activity on or near their property, or in the case of drug crimes, anywhere at all.
In addition, the city's ordinance required every rental property to undergo an annual police inspection.
The DOJ is arguing that this heavy-handed ordinance was all an effort to keep black and Hispanic renters from moving to Hesperia in violation of the Fair Housing Act.
"Individuals and families have a right to live where they choose, regardless of their race or national origin," said Anna María Farías, the head of the Fair Housing and Equal Opportunity division of the Department of Housing and Urban Development (HUD) in a press release. "HUD applauds today's action and will continue to work with the Justice Department to address policies and practices that violate this nation's fair housing laws."
Rachel Molina, a spokesperson for Hesperia, told the Los Angeles Times that information on the DOJ's website was inaccurate and that the city intended to fight the lawsuit.
"We love and embrace diversity in Hesperia," said Molina to the Times.
In its lawsuit, the DOJ cites statements from Hesperia politicians during debates about the city's rental ordinance that allegedly reveal the discriminatory intent of the law.
One city council member said the ordinance would help "improve our demographic," according to the lawsuit. Hesperia Mayor Eric Schmidt is quoted in the lawsuit saying "the people that aggravate us aren't from here" and "[they] come from somewhere else with their tainted history."
The DOJ lawsuit argues the sheriff's department was given a huge amount of discretion in enforcing the city's rent ordinance, which it used "intentionally to evict and deny housing to African American and Latino renters."
The complaint lists data uncovered during a HUD investigation which found that black and Hispanic tenants were much more likely to be evicted than white renters, and that a disproportionate number of evictions occurred in majority-minority census blocks.
The lawsuit also details how law enforcement would issue "crime notifications" to landlords that required them to evict their tenants—even in the absence of any arrest or criminal conviction.
In one case cited in the DOJ lawsuit, sheriff's deputies insisted on the eviction of an elderly Hispanic couple after their adult son—who didn't live with them—was arrested. In another case, a woman and her three children were evicted after her husband beat her with a television cable. Law enforcement also allegedly told the landlord of a black domestic abuse victim he would have to evict his tenant if she let her abusive husband back in the house.
Hesperia's rental law has been controversial ever since it was first proposed, managing to unite landlords and tenant advocates in opposition.
The California Apartment Association argued the law was unconstitutional and subjected landlords to huge legal risks for fair housing violations and wrongful evictions, according to the DOJ lawsuit.
In 2016, HUD opened an administrative investigation into Hesperia's rental ordinance. That same year, a nonprofit housing provider and the American Civil Liberties Union sued the city over its law.
In response to that lawsuit, the city in 2017 begrudgingly amended its rental regulations to make tenant screenings and evictions for criminal activity voluntary.
"The government believes criminals are a protected class and law-abiding citizens are now the bad guys," then-Mayor Paul Russ told the Daily Press at the time.
The DOJ complaint argues that those changes still leave many of the law's offending provisions in place. The lawsuit demands an injunction to stop future discrimination, and that monetary damages be paid to tenants affected by the law.
Tenant advocates often argue for anti-discrimination laws on the grounds that some private landlords, left to their own devices, will refuse to rent to people because of their race.
Provided all the allegations in the DOJ lawsuit are true, the Hesperia law is an example of the opposite phenomena: city officials decided that landlords were not discriminating enough on racial grounds, and passed a law to make them do more of it.
The city's law could well turn out to be a violation of federal fair housing law. It is certainly a violation of property rights.