The Anybody-but-Warren Primary
Last night's debate started with attacks on Trump, but turned into a referendum on Elizabeth Warren.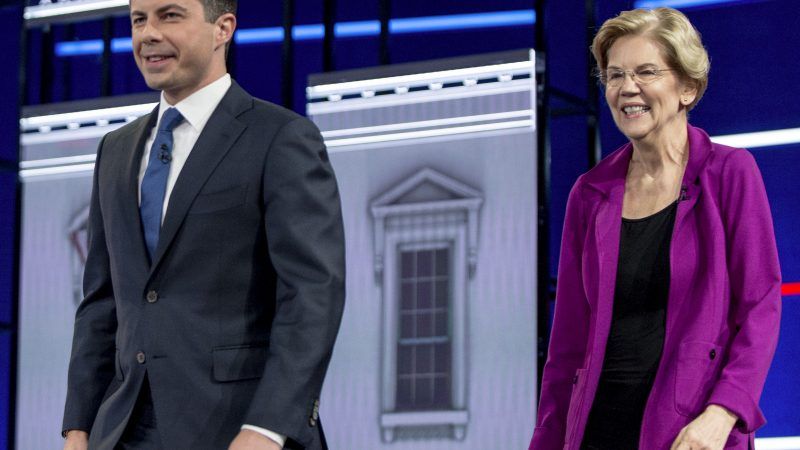 (https://reason.com/2019/09/10/elizabeth-warrens-plans-dont-add-up/)
Heading into tonight's Democratic primary debate, two major developments were in play. The first was the Medicare for All financing plan advanced by Sen. Elizabeth Warren (D–Mass.), and her subsequent introduction of a transition plan that arguably amounted to a retreat. The second was the rise of South Bend, Indiana, Mayor Pete Buttigieg, especially in Iowa, where he is now a top-tier contender.
What many observers expected, as a result, was that Buttigieg would be the primary target of the evening. Yet as the debate opened, it was Warren who took fire from all sides.
In a post-debate piece for The New York Times, I argue that the attacks on Warren indicate an increasing anxiety among Democrats about both her and her overarching political philosophy, which tries to unite the party's moderate and progressive wings by blending tax-the-rich populism with technocratic, or at least faux-technocratic, specificity.
Although Warren has risen to the top tier, her balancing act may topple in the end, as Democratic voters (and her primary rivals) go looking for someone, anyone, who can present a viable alternative.
Here's how the Times piece starts:
Although the Democratic primary debate began with a series of questions about impeaching President Trump, allowing the candidates to take shots at the Republican rival they all hope to face in the general election, it swiftly transformed into a referendum on another politician who has increasingly presented a challenge to the Democratic Party: Senator Elizabeth Warren.

Over the course of the year, the Massachusetts senator has vaulted into the top tier of Democratic candidates, and for the last several months she has vied for front-runner status. Yet in recent weeks, her momentum has seemed to slow as Democratic voters become anxious that her campaign for "big, structural change" is too liberal, too radical and too risky to trust in a high-stakes election against Mr. Trump.
You can read my feature on how Warren has used dubious academic research to fuel political goals in Reason's October edition.