At D.C. Rally, Activists Want Trump to Know That They Vape and They Vote
A pending ban on flavored nicotine vaping products would destroy most of their industry warn vaping advocates.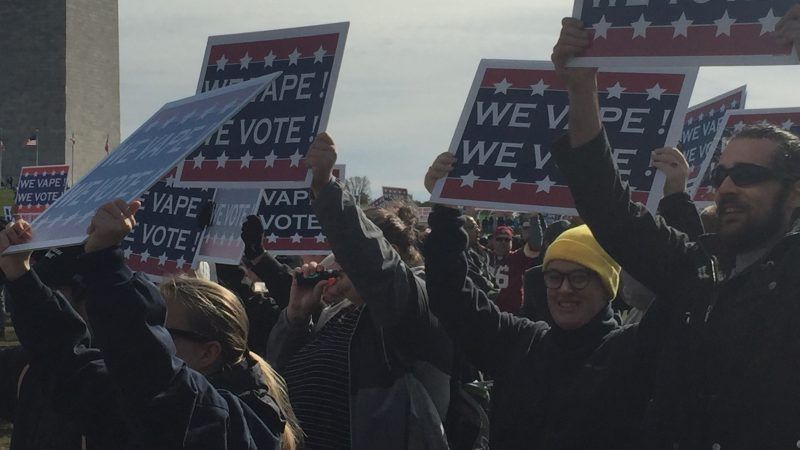 WASHINGTON, D.C.—Several thousand activists gathered Saturday on the National Mall to voice their opposition to a federal ban on flavored nicotine vaping products. The ban, they say, will be lethal for the vaping industry, and for millions of ex-smokers who have relied on these products to quit cigarettes.
The crowd was blanketed by a heavy fog of fragrant-smelling vape clouds, but the message was crystal clear: If President Donald Trump continues with his plans for a flavor ban, he risks alienating a large, motivated bloc of single-issue voters who might otherwise be in his camp.
"We have an audience, in the short term, of one," says Greg Conley, executive director of the United Vapers Alliance, which organized the rally. "Thousands of consumers and small business owners [have] made it very loud and clear that if [Trump] allowed this to go through, it could cost him reelection in 2020."
In September, prompted partly by a rise in teen vaping and partly by the spread of a fatal vaping-related lung disease, Trump announced that the federal government would ban most flavored nicotine vaping products and push forward the deadline for when vaping products are required to get FDA approval from 2022 to May 2020. Last Friday, the president also said that he would raise the age required to buy vaping products to 21.
But those laws are unlikely to stop the problems they are supposed to solve. A study from the U.S. Centers for Disease Control and Prevention, published last week, has given yet more support to the theory that the vaping-related lung disease is caused by a vitamin E acetate found in illicit THC vaping cartridges, not the flavored nicotine products that would be subject to Trump's ban.
For many at Saturday's rally, Trump's prohibitionist impulse is a stab in the back from a president they were counting on to take a deregulatory approach to their industry.
"I voted for Trump on the promise that he going to go in and undo regulations [and] allow small businesses to flourish," Matthew Kleizo, the owner of several Florida vape stores, told Reason. The president's support for a flavor ban, he warned, "will come back to bite him."
James Howard, who owns two stores with his wife in Colorado Springs, expressed a similar sentiment. "I'm a right-leaning independent. I support Trump. I 100 percent do not support this at all. This is not a conservative tactic," he said Saturday.
On a sound stage, speakers talked of being disappointed and even betrayed by Trump and his flavor ban, which they considered arbitrary and "un-American." In the crowd, store owners and others held signs that said, "We Vape, We Vote." A flavor ban, they warned, would be fatal to an industry that The Washington Post as recently as September dubbed "a miraculous small-business success story."
Analyzing data from the U.S. Department of Labor, the Post found that the number of tobacconists (a category that includes vape shops) had grown over 100 percent in the last decade, far faster than other retail. The number of people employed by these tobacconists had grown at a similar rate. Two-thirds of vape-shop workers are employed by businesses with fewer than 10 employees.
A study from the Vapor Technology Association (VTA), a trade association, found that the industry has created, either directly or indirectly, some 166,007 jobs.
For others, the issue of a flavor ban was more personal. Flavored nicotine vaping products had been essential in helping them quitting smoking. A ban, they said, might prevent others from doing the same, or even encourage some vapers go back to cigarettes.
Lots of attendees at the rally sported Mad Libs–style T-shirts on which they filled out their name, the number of years they smoked, and the flavor that helped them quit.
A group of thirtysomethings from North Carolina told Reason that they couldn't have quit without flavors, listing candy cane, apple butter toast, and "Propaganda Illuminati" (apparently a fruity flavor) as the ones that helped them the most.
"This is not a lifestyle, it's life or death," said one speaker from the stage. She asked if anyone in the crowd had lost a loved one to a smoking-related illness. Almost everyone had.
The individual anecdotes are backed up by the data, says Sally Satel, an addiction psychiatrist at the American Enterprise Institute who attended Saturday's rally.
"When flavors are threatened or aren't available, they'll return to smoking or they'll go to a black market vape in that situation," said Satel. "We've already seen what black market THC does. We're setting ourselves up for the same situation."
In January, The New England Journal of Medicine published a study that found those who used nicotine vaping products to quit smoking cigarettes were twice as likely to be smoke-free a year later, compared to those who used other cessation devices, such as nicotine gum or patches.
In addition to Saturday's rally, the VTA has run anti-flavor-ban digital ads around Trump campaign events and television ads on Fox News, all in an effort to reach the president.
"I think [Trump] is reachable. I think that once they sit down and really think through this, they're going to realize a flavor ban is not the right way to go for public health, and certainly not the right way to go for the economy," says Tony Abboud, executive director of the VTA.
Only time will tell how successful vapers' activism will be in staving off the pending ban. Even if the administration were to put a freeze on a flavor ban, the requirement that all nicotine vaping products receive FDA approval—which can cost as much as $500,000—will still kill off much of the industry.
This morning, Trump announced via Twitter that he would be meeting with vaping industry representatives and public health officials.
Will be meeting with representatives of the Vaping industry, together with medical professionals and individual state representatives, to come up with an acceptable solution to the Vaping and E-cigarette dilemma. Children's health & safety, together with jobs, will be a focus!

— Donald J. Trump (@realDonaldTrump) November 11, 2019
At the very least, Saturday's rally demonstrated that there is a whole industry and a whole community who want the government to leave them alone, and who are willing to travel to the capital from across the country to say so.