An 8-Year-Old Girl Says She Was Almost Kidnapped. Media and Parents Freaked Out. It Was a Hoax.
Two days later, the cops figured out the story was make believe.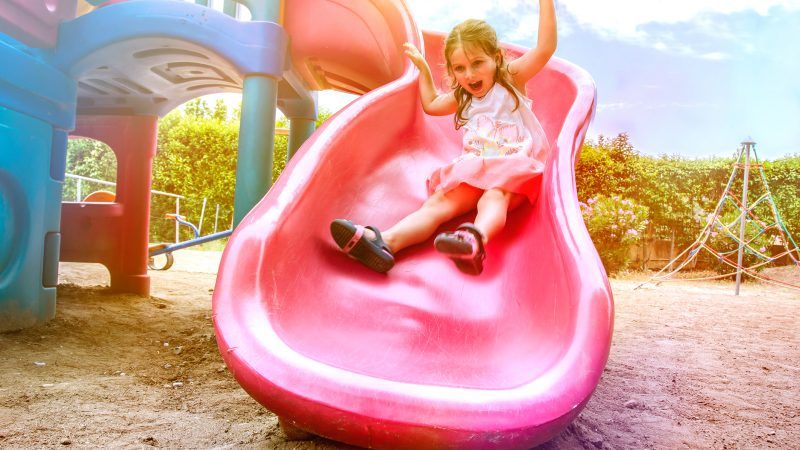 (Nemanja Mandic | Dreamstime.com)
When an 8-year-old Atlanta girl told local reporters that a strange man grabbed her while she was playing on the slide at recess, aimed a gun at her, choked her, and then ran off the minute the teacher blew the whistle to call the kids back inside, one veteran newsman doubted the sensational story.
Bill Torpy, a columnist at The Atlanta Journal-Constitution, immediately texted a friend that this tale sounded totally fabricated—"a figment" of the girl's imagination.
A stranger with a weapon on the playground in the middle of recess? Snatching, choking, armed—and no one else noticed? Even Liam Neeson might pass on that script.
But the school was so shaken, it went into lockdown mode. (I do wonder if administrators are allowed to keep calm and carry on, or if there is zero tolerance for skepticism along with everything else.) For its part, local TV couldn't wait to run with the story, and even stick the the girl's mom in front of a camera. She was horrified that the school was so unsafe, and that the recess area was not completely surrounded by fences. (In the mom's defense I'd be a wreck, too. I'd just wish someone had pulled me aside to say that there was an overwhelmingly strong chance this incident never happened.)
Two days later, the cops declared the whole thing "unfounded." They'd interviewed witnesses and reviewed the playground surveillance cameras.
No guy. No gun. No attempted anything.
Torpy is glad, of course, that nothing happened. But he was pretty annoyed by the media's gullibility, or at the very least their inability to wait a beat or two before terrifying viewers.
Torpy called me to recite the stats for him. Stranger danger is blessedly uncommon: The vast majority of crimes against kids are committed by people they know. This is the safest time to be a kid in America, ever. Statistically, a child would have to be left outside, unattended, for something approaching 100,000 years before a kidnapping would become likely.
In his book, How Fear Works, Frank Furedi writes that all cultures have storylines that become so popular, they just keep getting repeated because they are a sure thing. Stick to what sells. For instance, if you buy a romance novel and at the end the mousy secretary is scarfing a pint of Chunky Monkey at home while her billionaire boss elopes with the vice president of compliance, you'd throw that book across the room.
The news media is no different. They know what sells: Unfenced schoolyards, the hidden menace.