Congress Asked Mark Zuckerberg a Bunch of Really, Really Stupid Questions at the Libra Hearing
Another show trial for Facebook's beleaguered CEO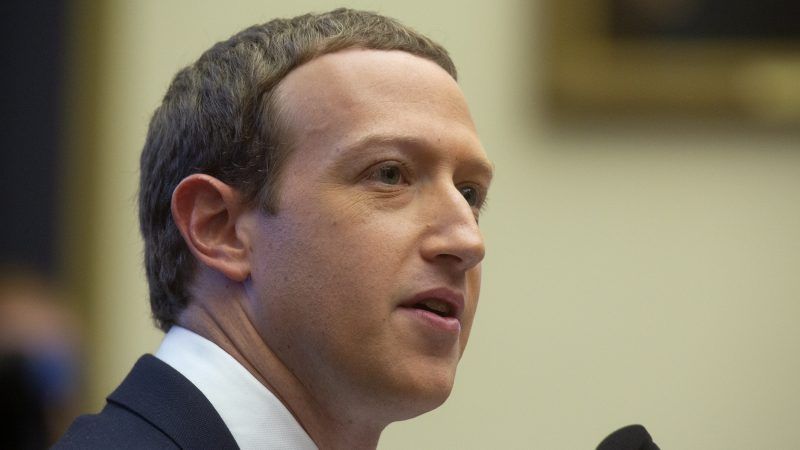 (Stefani Reynolds/picture alliance / Consolidated/Newscom)
Facebook CEO Mark Zuckerberg testified before the House Financial Services Committee on Wednesday. The hearing was supposed to be about his planned cryptocurrency, Libra, but the proceedings frequently felt like a show trial for Facebook's beleaguered CEO, who was repeatedly asked loaded gotcha questions.
"Have you learned that you should not lie?" asked Rep. Nydia Velazquez (D–N.Y.). It was a surprise she didn't add: And have you stopped beating your wife?
Rep. Alexandria Ocasio-Cortez (D–N.Y.) attacked Zuckerberg for allowing misleading political ads to appear on Facebook, something that has increasingly irritated high-profile Democrats as of late—most notably regulation-obsessed Sen. Elizabeth Warren (D–Mass.), who recently warned that "Facebook is actively helping Trump spread lies and misinformation. Facebook already helped elect Donald Trump once. They might do it again—and profit off of it."
"I'm not talking about spin, I'm talking about actual disinformation," said Ocasio-Cortez, as if these are two things that Facebook content moderators could both easily distinguish and police in a fair and unbiased way.
Zuckerberg responded that he believed "in a democracy, people should be able to see for themselves what politicians which they may or may not vote for are saying, and judge their character for themselves." Ocasio-Cortez then pivoted to interrogating him about his "ongoing dinner parties with far-right figures, some of whom advance the conspiracy theory that white supremacy is a hoax."
The idea that Facebook's misleading political ads are any more threatening to democracy than the hours of ideological, agenda-driven advocacy for one party or another that appear on television and the radio every day is a kind of moral panic. Social media is certainly the newer phenomenon, and that has made it the object of hatred for legislators who reflexively fear something they don't understand and can't control.
Many Republicans were also inclined to meddle in Facebook's affairs. Rep. Bill Posey (R–Fla.) criticized Zuckerberg for policing anti-vaxxer content. Rep. Patrick McHenry (R–N.C.), the committee's ranking Republican, said he had "qualms" about Facebook's practices, though he did not wish to side against "American innovation."
But some of the most absurd questions came from Reps. Maxine Waters (D–Calif.) and Al Green (D–Texas), who went after the CEO for not doing more to promote diversity. Green asked how many of the people working on the Libra project were members of the LGBTQ+ community, raising the question of whether Congress expected Zuckerberg to interrogate his employees regarding their sexuality.
.@RepAlGreen is incredulous Mark Zuckerberg doesn't know how many staffers working on Libra are LGBT pic.twitter.com/K6AJXFIZlp

— Tom Elliott (@tomselliott) October 23, 2019
Waters urged Zuckerberg to hit pause on Libra, saying: "As I have examined Facebook's various problems, I have come to the conclusion that it would be beneficial for all if Facebook concentrates on addressing its many existing deficiencies and failures before proceeding any further on the Libra project." One could have forgiven Zuckerberg if he'd curtly reminded the representative that Facebook is his company, not hers.