Ted Cruz's Gun Control Bill Would Encourage Enforcement of Restrictions That Make No Sense
The Texas senator wants to beef up a background check system that unjustly and irrationally deprives people of their rights.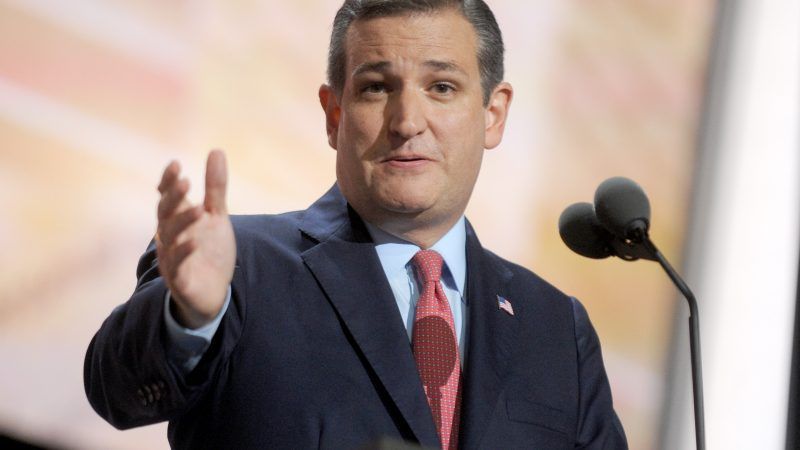 (Dennis Van Tine/LFI/Photoshot/Newscom)
If Republicans in the Senate respond to recent mass shootings with new gun control legislation, it is apt to look something like a bill introduced by Sen. Ted Cruz (R–Texas). Cruz's Protecting Communities and Preserving the Second Amendment Act of 2019 already has been criticized as inadequate by proponents of new gun controls. But in several respects it moves in the wrong direction, reinforcing an unjust and irrationally broad system of background checks for gun buyers without doing much to prevent mass shootings.
"I think we absolutely need to act to stop gun violence," Cruz said on Fox News recently. "I was in Odessa right after the shooting in Texas, I was in El Paso right after the shooting there. I've been in Sutherland Springs right after that shooting. I was in Santa Fe right after that shooting. These mass murders, there are too many of them, it is horrific, and we need to act to stop it, but the question is: What is effective to stop mass murders?" He said the solution he favors "targets felons, it targets fugitives, it targets those with dangerous mental illness, and it stops them from getting guns, and it puts them in jail for crimes they have committed before they can murder others."
The first problem with Cruz's approach is that the vast majority of mass shooters do not have disqualifying criminal or psychiatric records. Even in the cases mentioned by Cruz, only two involved gun purchases that should have been blocked by background checks based on current federal restrictions. And those two cases are not representative of mass shootings in general.
The Sutherland Springs shooter had been convicted in military court of crimes that disqualified him from owning guns, but the Air Force failed to share that information with the National Instant Criminal Background Check System (NICS). Congress responded with the Fix NICS Act, which created penalties for federal agencies that fail to share relevant information with NICS. According to Texas officials, the Odessa shooter was disqualified by a "mental health issue" that should have been flagged when he bought the rifle he used in the attack.
If the background check system were working as intended, both of those mass shooters would have been unable to obtain their weapons from federally licensed dealers. Perhaps that would have deterred them. Or perhaps they would have bought guns in private transactions that the government could not monitor even if it notionally required background checks for all firearm transfers.
The El Paso shooter bought his rifle legally, while the Santa Fe shooter used a shotgun and a handgun legally owned by his father. In other words, background checks were demonstrably no obstacle to those crimes, and in that respect they were typical of mass shootings.
Even if background checks seem relevant in only a small percentage of mass shootings, you might think, beefing up the system makes sense if it potentially could deter some would-be killers who are not sufficiently determined to buy guns from other sources when they are turned away by licensed dealers. And even if that doesn't happen, what's the harm in trying to improve enforcement of current laws, as Cruz wants to do?
The problem is that the current federal restrictions on gun ownership go far beyond people who have demonstrated violent tendencies. The disqualified classes include anyone who has been convicted of a nonviolent felony, anyone who has ever been legally required to undergo psychiatric treatment because he was deemed suicidal, anyone who is living in the United States without the government's permission, and unlawful users of controlled substances, including cannabis consumers in states where marijuana is legal and people who use medication prescribed for others or use medication prescribed for them in a manner not authorized by a doctor.
Even the American Civil Liberties Union, which maintains that the Second Amendment does not protect an individual right to arms, recognizes that "the categories of people that federal law currently prohibits from possessing or purchasing a gun are overbroad, not reasonably related to the state's interest in public safety, and raise significant equal protection and due process concerns." Beefing up the background check system means, first and foremost, magnifying the injustice of taking away people's Second Amendment rights even when there is no evidence that they pose a threat to public safety.
Through grants, reporting requirements, and the creation of a Felon and Fugitive Firearm Task Force, Cruz's bill aims to encourage federal prosecution of disqualified gun buyers who lie on firearm purchase forms, which is notionally a felony punishable by up to 10 years in prison. I say "notionally" because such people are almost never prosecuted. According to a 2018 report from the Government Accountability Office (GAO), "federal NICS checks resulted in about 112,000 denied transactions in fiscal year 2017." While "the Bureau of Alcohol, Tobacco, Firearms and Explosives (ATF) referred about 12,700 [cases] to its field divisions for further investigation," the GAO noted, U.S. attorney's offices had prosecuted only 12 of those cases as of June 2018.
Cruz thinks that's a scandal. But if you consider why these cases are rarely prosecuted, it seems more like a judicious use of law enforcement resources. ATF officials told the GAO that following up on these cases "has been time intensive and required use of their limited resources." Justice Department officials said "prosecuting denial cases can require significant effort and may offer little value to public safety compared to other cases involving gun violence" (emphasis added).
A 2004 report from the Justice Department's inspector general sheds further light on the sort of gun buyers who are typically flagged by background checks. If the FBI cannot complete a background check on a gun buyer within three days, the dealer is allowed to complete the sale, so the ATF, which is part of the Justice Department, is sometimes tasked with seizing guns after the fact from people who are not legally allowed to own them. The inspector general noted that there were often delays in retrieving weapons from prohibited buyers, partly because "ATF special agents did not consider most of the prohibited persons who had obtained guns to be dangerous and therefore did not consider it a priority to retrieve the firearm promptly" (emphasis added).
If these people were not actually dangerous, one might reasonably wonder, why were they barred from owning guns in the first place? If Cruz gets his wish, we will see more prosecutions of would-be gun buyers who are disqualified for reasons irrelevant to public safety. Will you feel safer knowing that medical marijuana users, illegal immigrants, and people treated decades ago for suicidal impulses are more likely to be imprisoned when they try to exercise the fundamental right to armed self-defense?
Cruz's bill also includes new grants and reporting requirements aimed at encouraging federal agencies to share "relevant" records with NICS. But those records are relevant only in a strictly legal sense. Given the unreasonable breadth of current restrictions on gun ownership, such information won't necessarily be relevant to the question of whether a would-be buyer is dangerous. Before trying to "improve" enforcement of those restrictions, Congress should take a fresh look at whether they make sense as part of a system that is supposed to "stop gun violence." As it is, Cruz is casting a very wide net that will capture far more harmless people than violent criminals.