The Department of Homeland Security Is a Mess of Misconduct and Ineptitude
Longstanding discipline problems at DHS provide a glimpse of what fans of bigger government on the right and left would inflict on us.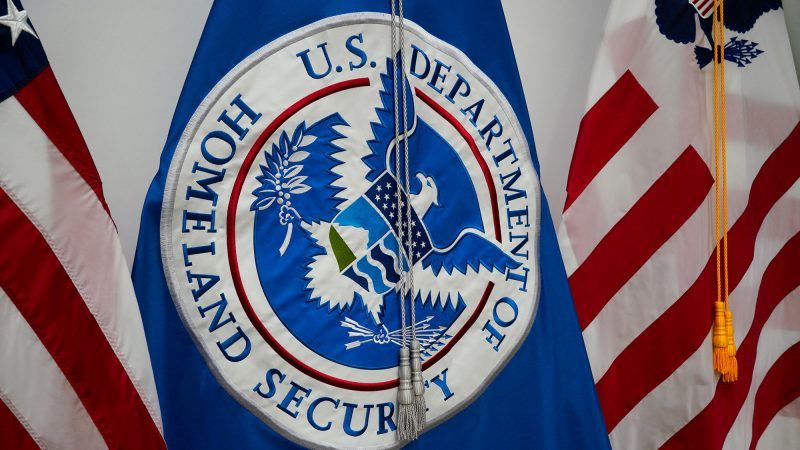 (Nelvin C. Cepeda/TNS/Newscom)
With bigger government now popular on both the nationalist right and the progressive left, it's an appropriate moment to review what constitutes existing government. A recent inspector general's report may offer some crucial insights. The report shows that the inner workings at the most recently created executive department—the Department of Homeland Security (DHS)—are a mess despite years of warnings about problems in its component agencies.
"The Department does not have sufficient policies and procedures to address employee misconduct," notes the new report from the DHS Office of the Inspector General (OIG), dated June 17, 2019. "Specifically, the Department's policy does not include procedures for reporting allegations of misconduct, clear and specific supervisor roles and expectations, or clearly defined key discipline terms used across the components."
As examples of what constitutes misconduct among DHS employees, the report mentions "being absent without leave, improper use of a government-issued credit card, and sleeping on the job." That sort of petty, but damaging, misbehavior probably represents the most common sort of misconduct. But bad behavior also includes much more serious issues, too.
Keeping a handle on that sort of misbehavior could potentially be a big job. "Although DHS has no department-wide misconduct allegation data, the Joint Intake Center for U.S. Customs and Border Protection (CBP) and U.S. Immigration and Customs Enforcement (ICE) received more than 16,368 allegations of misconduct and other reportable information in fiscal year 2014 alone," notes OIG.
Unfortunately, there's nobody really in charge of making sure DHS employees don't run amuck. The "Employee Relations office has limited staffing to perform these functions and staff do not believe they are responsible for managing the allegation process," states the OIG report.
This is a pretty remarkable state of affairs 17 years after the Department of Homeland Security was established in the wake of the 9/11 terrorist attacks. The department is now massive and includes such familiar agencies as CBP, ICE, the Federal Emergency Management Agency (FEMA), the Secret Service, the Transportation Security Administration (TSA), and the Coast Guard.
Agencies do have their own internal disciplinary procedures, as illustrated by the CBP and ICE misconduct numbers. Yet there's no DHS-wide standard for tracking or penalizing bad behavior by government employees. And the individual agencies can be very bad at policing themselves.
The Secret Service, for example, has a long and sordid record of scandals involving drinking on the job, abusing power, and simply dropping the ball. Employees also seem prone to looking for leverage over people who criticize that record. "A Secret Service database containing sensitive personally identifiable information (PII) pertaining to Congressman Jason Chaffetz, Chairman of the House Committee on Oversight and Government Reform, was accessed on approximately 60 occasions by Secret Service employees" after Chaffetz tangled with the Secret Service director during a hearing about agents' misconduct, the inspector general noted in 2015.
The Coast Guard also has problems that would seem to require external oversight. A whistleblower at the scandal-beset Coast Guard Academy suffered retaliation from her superiors after she reported racial and sexual harassment. An "investigation substantiated Complainant's claim that she was retaliated against on the basis of her complaints, in violation of the Military Whistleblower Protection Act," the inspector general found.
The Coast Guard has also been remiss about "properly reporting service members who are prohibited from possessing a firearm"—a hot button issue at a time when politicians are constantly bloviating about the alleged evils of armed civilians.
Meanwhile, at CBP, data showed "that arrests for corruption of CBP personnel far exceed, on a per capita basis, such arrests at other federal law enforcement agencies," according to one 2015 report by the Homeland Security Advisory Council. A subsequent report cited a "broken disciplinary process," "endemic corruption," and "unlawful and unconstitutional use of force" at CBP. It recommended changes including shifting CBP personnel to "excepted service" status to streamline crackdowns on serious misbehavior. But that didn't happen, and the CBP remains beset by problems.
Across DHS agencies, a little adult supervision would seem to be in order. But it seems the department simply isn't up to the job of providing such oversight. The problems at the component agencies of the DHS, and at the DHS itself, have been headline fodder for years.
Jeh Johnson, the Obama administration's Secretary of Homeland Secretary, was openly frustrated with the hot mess over which he presided. But the most that came out of that frustration were committees acknowledging problems and recommending reforms which would fail to be implemented.
Nonetheless, there's a growing fetish on the nationalist right and the progressive left for a more active federal government. Both the nationalists and the progressives want federal authorities to reshape the economy and our personal lives, and both want to regulate our speech.
All that molding, reshaping, and regulating is going to require a lot of new government employees. And there's no reason to expect those employees would behave better than their colleagues in the various agencies under current executive departments.
Any new Departments of Telling You What to Do for Your Own Good are bound to produce instances of misconduct petty and great, just like the Department of Homeland Security does now. So, if you want to know what sort of fate the latest prophets of big government have in mind for us, peruse that inspector general's report on disciplining misconduct at DHS and look through all the reports that came before. And then brace yourself for a rough ride.