Military Kids Born Abroad Are Not Being Denied Citizenship
Plus: Gillibrand ends presidential campaign, trouble for Forever 21, and more...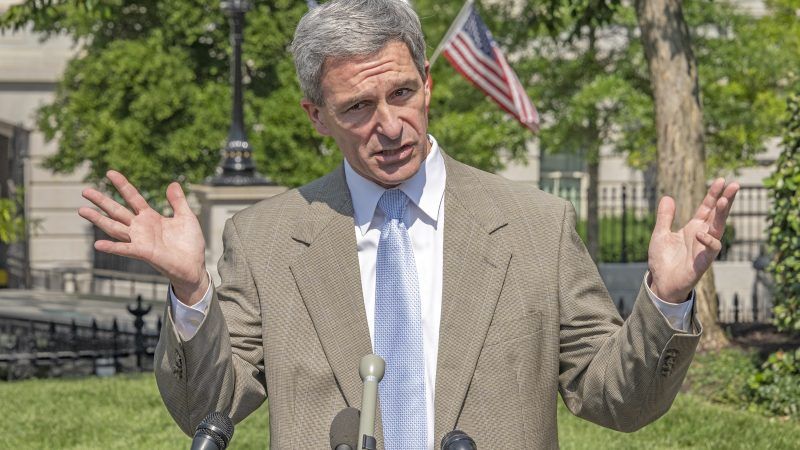 (Ron Sachs - CNP/Newscom)
File under "not a good change, but not nearly as bad as we were initially told." No, the Trump administration won't start making members of the military jump through special hoops to get citizenship for any of their children born abroad—despite early bungled reports that this was new U.S. Citizenship and Immigration Services (USCIS) policy. 
"As of October 29, children born to U.S. service members outside of the U.S. will no longer be automatically considered citizens," tweeted NBC reporter Ken Dilanian yesterday afternoon. "Parents will have to apply for citizenship" for any kids. 
Such a shift would have been weird, worrying, and outrageous. But it turns out Dilanian (and others) got it wrong. 
"Correction," he tweeted about an hour after his initial tweet. "Experts who have looked at new USCIS policy say it applies if a service member adopts a child overseas, but children born to service members on deployment would still automatically get citizenship." 
The change will not apply to children born to any U.S. citizens serving in the military or otherwise working abroad. It will apply only in cases of foreign adoption by U.S. citizen parents, or children born to parents were not U.S. citizens at the time of the child's birth. A Department of Defense spokesperson said the shift would affect about 100 children annually. 
Acting USCIS Director Ken Cuccinelli clarified that the policy "does NOT impact birthright citizenship." 
It also does not mean that the children will be denied citizenship, just that parents have to submit an application. The change was made to bring the definition of residence in the immigration law in line with State Department guidance, USCIS told CNN.
The station also reported that distorted news about the change "was injecting serious stress among military spouses." A Navy officer told CNN: "You should go onto a spouse Facebook page and see the freakouts." 
But while the policy may not be as bad as initially reported, some are questioning why we are suddenly making any parents take this extra step. 
"The fact that those of us who deal with immigration law all the time can read this memo and immediately point out plausible scenarios leads me to believe it's going to impact some number of people," said Martin Lester of the American Immigration Lawyers Association's Military Assistance Program. "Impacting one person is too many."
---
ELECTION 2020
Kirsten Gillibrand is out. 
Today, I am ending my campaign for president.

I am so proud of this team and all we've accomplished. But I think it's important to know how you can best serve.

To our supporters: Thank you, from the bottom of my heart. Now, let's go beat Donald Trump and win back the Senate. pic.twitter.com/xM5NGfgFGT

— Kirsten Gillibrand (@SenGillibrand) August 28, 2019
In other campaign-ish news… 
This might be the most interesting crosstab I've ever seen in any poll. pic.twitter.com/UcSmvpVDPI

— Neoliberal ???? (@ne0liberal) August 28, 2019
Results seem about right, no?  
---
FREE MINDS
11th Cir. joins all of the other circuits to consider the question and declines to suppress child porn evidence obtained by the FBI when it planted malware on a child porn server it ran.

Holds good faith exception applies to the Playpen warrant. https://t.co/ithGpUX0o8 pic.twitter.com/bv74YPuwdh

— Gabriel Malor (@gabrielmalor) August 28, 2019
---
FREE MARKETS
RIP, Forever 21? The store is reportedly filing for bankruptcy, after growing from a small, Los Angeles–based family business to a millennial "fast fashion" empire with 800 outlets around the world. After seemingly single-handedly bringing young millennial women into traditional malls, it's "now threatening to become the next major trouble spot for already ailing mall operators," says the Los Angeles Times. 
---
QUICK HITS
More on the Amazon Ring fiasco: 
Post Exclusive: A doorbell-camera company owned by Amazon founder and Post owner Jeff Bezos has secretly cut deals with 400 police departments to feed video from people's front doors to cops who request it, creating "a wholly new surveillance network." https://t.co/Cjiet7uARy

— Marc Fisher (@mffisher) August 28, 2019
The number of incarcerated women has grown over the past four decades, but "policy and practice at correctional institutions haven't met the needs of female prisoners when they require specialized treatment, preventative care and emotional support as they age behind bars,"

writes

Cassie M. Chew at The Crime Report. New research provides some look at the inadequate treatment right now.
An unarmed Chinese immigrant who was fatally shot by police in California did not speak English and probably didn't understand instructions to show his hands, say lawyers for Li Xi Wang's family, who have filed a lawsuit against Chino police.

"More Britons believe sex workers should not be punished for operating out of brothels or on the street than those who think they should," according to a new poll from RightsInfo.