The DEA Says It's Finally Moving Forward on Research Cannabis Applications
The agency takes one small, mostly symbolic step for kind bud.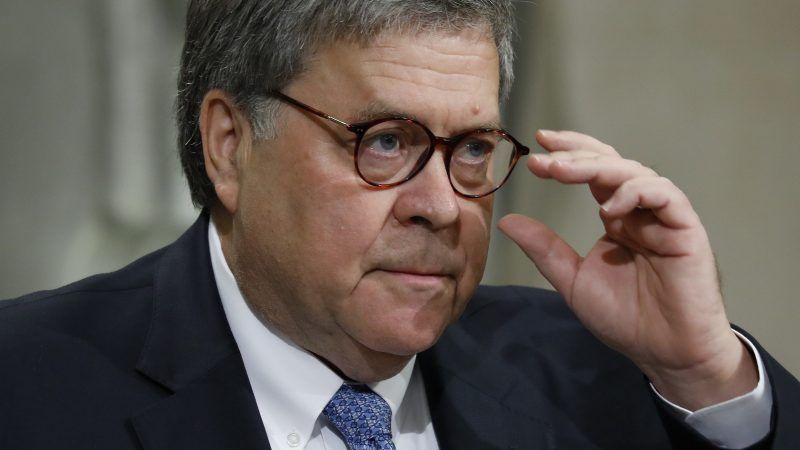 The Drug Enforcement Administration (DEA) announced today that it will "facilitate and expand scientific and medical research for marijuana in the United States" by publishing "notice of pending applications from entities applying to be registered to manufacture marijuana for researchers."
It's a step in the right direction, albeit a mostly symbolic one. 
The DEA usually publishes notice of applications to manufacture controlled substances within weeks of receiving them. But two dozen of the applicants revealed today in the Federal Register applied for a license to grow research cannabis more than two years ago. They've been on hold ever since. They'll probably be on hold a little longer.
"I am pleased that DEA is moving forward with its review of applications for those who seek to grow marijuana legally to support research," Attorney General William Barr said in a statement. "The Department of Justice will continue to work with our colleagues at the Department of Health and Human Services and across the Administration to improve research opportunities wherever we can."  
The DEA first announced it would license additional cannabis growers here in the U.S. in August 2016. At the time, cannabis advocates interpreted the notice as an acknowledgment that America's sole legal grower of cannabis—the University of Mississippi, which has a DEA license and a contract with the National Institute on Drug Abuse—was incapable of serving the needs of researchers and drug developers. 
That hope was misplaced. Under Attorney General Jeff Sessions, the Justice Department brought the process to a halt. Sessions told Congress that it was not clear additional research cannabis was necessary, and that approving new manufacturers might violate the United Nations' Single Convention on Narcotic Drugs. This was pure stonewalling. There is nothing in the U.N. treaty that prohibits licensing additional cannabis growers, and it has been clear for years now that Mississippi's monopoly on legal cannabis production has stymied medical research. 
In June, one of the applicants sued the DEA and the Justice Department, seeking a "writ of mandamus" from a federal court that would compel action on the applications. The Scottsdale Research Institute, a Phoenix-based clinical trial company that applied in 2016 for a DEA manufacturing license in order to grow its own cannabis for an ongoing study of medical marijuana as a treatment for veterans suffering from PTSD, argued in its suit that federal law requires "that the Attorney General, upon receiving an application to manufacture a Schedule I substance for use only in a clinical trial, publish a notice of application not later than 90 days after accepting the application for filing." 
In July, the U.S. Court of Appeals for the District of Columbia Circuit ordered the Drug Enforcement Administration to explain why it has yet to respond to nearly two dozen researchers around the U.S. who applied three years ago for a license to grow research cannabis. 
The court gave the DEA a deadline of August 28. Today's announcement is the first time since 2016 that the agency has beat a deadline. (Sessions blew several of the deadlines Congress set for the Justice Department on this very issue.) 
Applicants are not out of the woods yet. There are now 33 entities requesting a federal license to manufacture research cannabis, and the DEA will almost certainly not approve all of them. The agency also plans to modify and reissue the notice that was sent out by President Barack Obama's Justice Department in 2016: "Prior to making decisions on these pending applications, DEA intends to promulgate regulations that govern the program of growing marihuana for scientific and medical research under DEA registration." The Federal Register notice published today says the DEA will propose those new regulations "in the near future."
The DEA is also allowing any applicant who wants a license to grow hemp—which is no longer a controlled substance, thanks to the Agriculture Improvement Act of 2018—to withdraw their application and have the application fees returned. Applicants wishing to receive a refund of their fees must notify the DEA in writing by November 1, 2019.