Professor Forced to Resign Because He Supports Antifa
By punishing Jeff Klinzman, Kirkwood Community College has dealt a blow to free speech.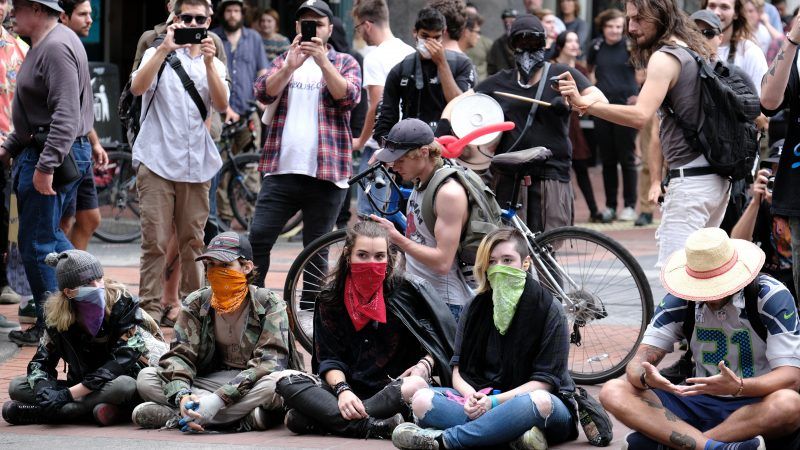 (Alex Milan Tracy/Sipa USA/Newscom)
In yet another example of campuses prioritizing nebulous safety concerns over free speech, a community college has pushed a professor to resign for stating his alignment with antifa.
"I affirm that I am antifa," Jeff Klinzman, an adjunct professor of English literature at Kirkwood Community College in Iowa, told local reporters last week after some of his controversial social media posts came to the public's attention.
In response to a tweet from President Donald Trump calling antifa "gutless Radical Left Wack Jobs who go around hitting (only non-fighters) people over the heads with baseball bats," Klinzman had written, "Yeah, I know who I'd clock with a bat…" on Iowa Antifa's Facebook page.
On Friday, Kirkwood announced that Klinzman had resigned. While the college did not immediately respond to a request for comment, the official statement certainly makes it sound like this was a forced resignation:
The school has stated that the professor was not removed due to his views or his right to express them. Kirkwood says their decision is based solely on their commitment to harboring a safe learning environment for our students, faculty and staff.

The college has also stated: "However, when the expression of views by him or any member of our community is perceived as placing public safety in jeopardy, or hampers our ability to deliver on our mission, we will always do what is necessary in service to our students' pursuit of a higher education."
This is a troubling confession. "When the expression of views by him or any member of our community is perceived as placing public safety in jeopardy," college officials believe they must take action, even if that perception is wrong, as it was in this case. Neither Klinzman's support for antifa nor his stated interest in hitting someone (implied to be Trump) with a bat represents any actual threat.
Antifa is an illiberal movement that doesn't believe in extending free speech rights to its opponents, and thus it's always somewhat ironic to watch this perspective used against them and other far-left anti-free-speech folk. Nevertheless, even those who do not recognize free speech as a right should still enjoy its benefits. Getting rid of Klinzman was a serious mistake, and a powerful example of what happens when administrators interpret a mandate to protect students' safety as an excuse to censor provocative speech.
For more about antifa, order my new book, Panic Attack: Young Radicals in the Age of Trump, which contains a chapter about the movement's tactics, goals, and belief system.