Children Left Crying in Streets After ICE Arrests Parents in Massive Mississippi Raid
Plus: Chelsea Manning's latest motion is denied, Prager University's Google lawsuit is nonsense, and more...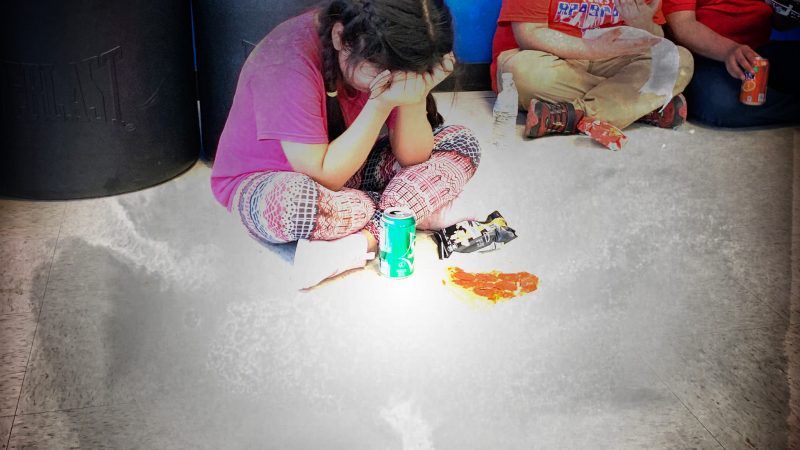 (modified from @alexlovewjtv/twitter)
An immigration enforcement operation in Mississippi has led to 680 people being detained. U.S. Immigration and Customs Enforcement (ICE) conducted the raids at seven food processing plants around the state Wednesday.
"The raids happened in small towns near Jackson with a workforce made up largely of Latino immigrants. The towns hit include Bay Springs, Carthage, Canton, Morton, Pelahatchie and Sebastapol," the Clarion Ledger reports.
In Scott County alone, at least six families with school-age children had parents taken in yesterday's ICE raids, says the paper. "Reports from the scene of the raids mentioned children waving goodbye to their parents as the adults were taken into custody. It is not publicly known how many children are being impacted by the arrests."
In Forrest, Mississippi, the "children of those who were arrested are left alone in the streets crying for help," tweeted WJTV 12 News staffer Alex Love. "Strangers and neighbors are taking them to a local gym to be put up for the night."
Later, from the gym, Love reported that many of the kids there—some of them only toddlers—were "left scared & crying after coming home from school & being locked out without their parents. Donated food & drinks are being provided."
One 11-year-old girl cried: "Government, please show some heart. Let my parent be free." (More here.)
These children will go to sleep tonight with no idea when, or if, they'll see their parents again. This is being done in our name—and it's on all of us to end it. https://t.co/1LrSmiDRC3

— Beto O'Rourke (@BetoORourke) August 8, 2019
Acting Director of ICE Matthew Albence bragged to the AP that this was biggest workplace sting operation conducted in more than a decade and likely the largest ever conducted in one state.
Those apprehended are being processed at a military facility in Flowood. The AP "witnessed dozens of agents ready to process the workers…with seven lines, one for each location."
Some local reporters got video of the raids:
Workers here at Peco's in Canton are being escorted inside buses in an immigration raid. This one guy was allowed to leave. I witnessed the tears in his eyes as he walked out of the gates. @WJTV pic.twitter.com/pNGHk5HfOI

— Shay O'Connor (@SOCONNORNEWS) August 7, 2019
"Federal agents have issued a warrant and now raiding PECO foods in Bay Springs. It looks to be ICE. There looks to be no danger, but Federal agents and a helicopter are flying over PECO."https://t.co/0A0Wi3MQGW

— WJTV 12 News (@WJTV) August 7, 2019
---
FREE MINDS
Chelsea Manning's motion to reconsider the steep sanctions imposed on her has been denied:
The Judge denied her motion without holding a hearing on the matter, although both parties had consented to and anticipated an opportunity to present further evidence and argument. In a footnote, Judge Trenga explained his unexpected decision by saying "The Court…finds, based upon the nature and volume of documents proffered, that a hearing would not aid the decision process and therefore decides the Motion without a hearing."
---
FREE MARKETS
Walter Olson offers some caveats about Prager University's lawsuit against YouTube:
YouTube's optional "restricted mode," meant to limit kid viewing, isn't important or much used (only 1.5% of users enable it). The PragerU shows at issue did have some content about topics like rape, murder, and genocide that might disturb younger children. And many other well-known shows see a larger share of their episodes put into restricted mode. Thus 12% of Prager U. videos have been put in restricted mode, compared with 24% of History Channel videos, 28% of Vox videos and 54% of Daily Show videos….One irony I see in this is that conservatives up till recently have tended to favor promoting parental-control modes in social media, or even making them the default, and have accepted the inevitability that the automated algorithms that inevitably drive these modes when applied to large bodies of material may sometimes sweep broadly enough to screen out even some responsible, sober, and fact-based discussions of topics to which parents might not want to expose younger teens. Having now seen these modes in action, they seem to be having second thoughts.
---
QUICK HITS
Thank you @MikeGravel. You've dedicated your life to fighting for the best of what our country is and can be—a government of, by and for the people and a force for peace in the world. I'm thankful for your voice and example and humbled by your endorsement. https://t.co/JObohyNJ3w pic.twitter.com/AmtTYnmusz

— Tulsi Gabbard (@TulsiGabbard) August 8, 2019
Human Rights Watch endorses the decriminalization of sex work. Meanwhile:
Expectation: L.A. is arresting human traffickers and rescuing victims; Reality: Sex workers - many of them women - are arrested far more often than traffickers, which leaves them with "severe consequences for their lives." https://t.co/ELNym5TQUo

— Elizabeth Chou (@reporterliz) August 7, 2019
Six terrible new tech bills in Congress.
A 41-year-old man who spoke no Arabic, was born in Greece, and had been living in the U.S. since he was a baby was deported to Iraq (where he had never lived) in June. His family reports that he has died there from complications trying to obtain his diabetes medication.
Bill de Blasio is in a very stupid Twitter spat with Rudy Giuliani:
You sure you wanna bring up the topic of marriage right now, Rudy? https://t.co/XNpoMPLM7Y

— Bill de Blasio (@BilldeBlasio) August 8, 2019
Google searches for "lesbian" will get less pornographic.
Huck magazine profiles porn star and sex worker rights activist Conner Habib.
A new show on Fox will feature the former cast of Beverly Hills, 90210 reuniting to play themselves reuniting for a fake version of the show.
Cheers:
Five Libertarian Party state affiliates have at least 1 percent of the active registered voters in their respective states.

Less than 10 years ago, only one affiliate, Alaska, had at least 1 percent of the state's registered voters.

— Libertarian Party (@LPNational) August 7, 2019