The Escalating Trade War Is Bad News for Pretty Much Everyone
Stocks plunge as China cuts off purchases of American agricultural goods, U.S. responds by labeling China a "currency manipulator" because the Chinese government is no longer artificially propping up the yuan.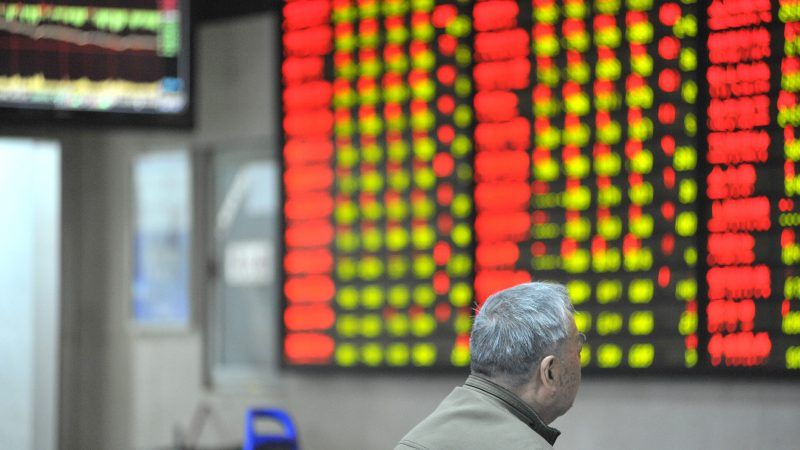 Tensions rose and stocks fell on Monday as the trade war between the U.S. and China escalated to a dangerous new level.
There have been three major developments in the past week—all of which have moved the two sides farther apart, marking a clear end to what had been a months-long truce and stoking fears of a recession if two of the world's largest markets can't work out their problems. On Thursday, President Donald Trump announced a new round of tariffs hitting about $300 billion of un-tariffed imports from China. China responded on Sunday by announcing that it would cut off all purchases of agricultural goods from the United States. On Monday evening, the U.S. responded again by officially labeling China a "currency manipulator"—a move that expands the trade war into a new arena.
That series of events sent markets (and market-watchers) into red alert. The Dow Jones Industrial Average suffered its sixth-worst single-day points loss on Monday (though the Dow regained about 170 points within the first half hour of trading on Tuesday). The Dow is down 6 percent since July 15—and the market has now fallen below the level it was at when Trump launched his trade war in early 2018.
The stock market is now back at the same level it was in January 2018 -- when Trump put his 1st tariffs on washing machines + solar panels. https://t.co/N5xzIE8oXK #stocks #trade #realitycheck pic.twitter.com/DJMVr9QPzD

— Heather Long (@byHeatherLong) August 5, 2019
Another ominous indicator for a president who has tied his administration's success to the stock market's performance: The yield on 10-year bonds issued by the U.S. Treasury, a safe harbor for investors fleeing turbulent markets, has now fallen below its level on the day Trump was elected. (Unlike stocks, bond prices fall when they are in greater demand.)
Worse could be coming. In an economic analysis, investment bank Goldman Sachs said "we no longer expect a trade deal before the 2020 election" in light of recent developments, starting with Trump's announcement of additional tariffs last week. Former Treasury Secretary Larry Summers said Monday's developments put the U.S. in "the most dangerous financial moment since the 2009 Financial Crisis." And analysts from Morgan Stanley, another investment bank, fretted that a global recession could be less than a year away.
While none of the actions taken in the past few days have been immediately damaging to either country—the threatened tariffs won't hit until September, and the "currency manipulator" label is mostly a symbolic thing—the reaction is a good reminder that trade wars are psychological events as much as anything. Investors and markets are clearly rattled at the moment, as hope for a quick resolution of the fight between the world's two biggest economies appears to be fading.
"It's never been more clear that tariffs are a failing strategy," says Jonathan Gold, spokesman for Tariffs Hurt The Heartland, a coalition of more than 150 trade associations that oppose the president's trade policies. "Behind today's market turmoil are real Americans who have been used as bargaining chips in this trade war."
"Both sides need to return to the negotiating table immediately," cautions Gold. "Nobody wins in a trade war, and right now, everyone is losing."
Farmers, again, could be hit the hardest. China's decision to cut off all agricultural purchases from the United States means the complete loss of a $20 billion export market. There is not enough welfare or bailouts that can make up for that.
The immediate loss of China as an export market is bad enough, but there's also little prospect for restoration. As I've written before, one of the main casualties in a trade war is trust—something that is also essential for two economic rivals to reach a trade deal. Now? China "no longer expects goodwill from the United States," tweeted Hu Xijin, editor in chief of the Global Times, a Chinese newspaper published by Chinese Communist Party. Does that sound like a government ready to make a deal?
It's hard to imagine how any of this is good news for Trump. News coverage this week has focused on a mass shooting where the killer namechecked Trump in his "manifesto" and on a massive drop in the stock market brought on by the president's trade war—a conflict Trump promised would be "good and easy to win" at its outset.
As the trade war escalates to a new level, that claim looks more ridiculous than ever before.
"We're learning that maybe China has a higher pain threshold than we thought here," Stephen Moore, Trump's economic advisor during the 2016 election and a close (though unofficial) advisor to the president, told The Washington Post.  "It's kind of a mutually assured destruction game right now."