Trump Administration Has Separated 900 More Children From Their Parents, Says ACLU
An ACLU lawsuit argues that the government is using minor criminal histories to take children from their parents.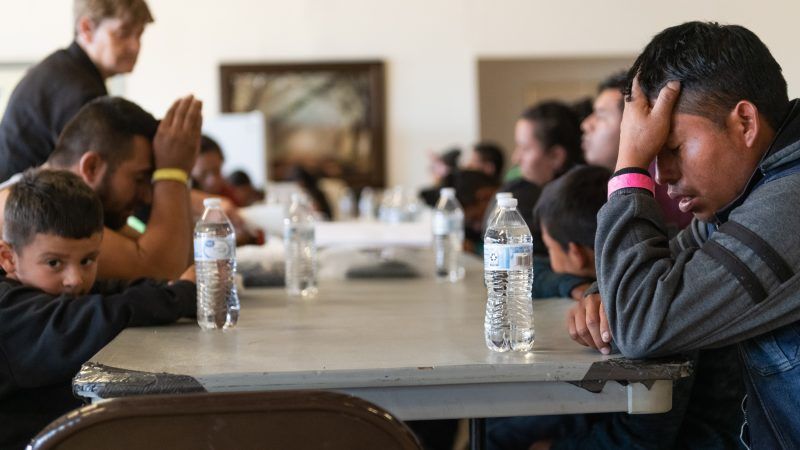 (JUSTIN HAMEL/UPI/Newscom)
Over 900 children were separated from their parents at the border between June 28, 2018 and June 29, 2019, the American Civil Liberties Union (ACLU) argued Tuesday in a new lawsuit against the Trump administration.
Filed in the U.S. District Court of San Diego, the suit says that families are still being separated, even after the same court issued an injunction against the practice in June of last year. According to the ACLU, the federal government has been taking children away from their parents "based on minor criminal history, highly dubious allegations of unfitness, and errors in identifying bona fide parent-child relationships."
Attorneys for the ACLU argue that the Trump administration has quietly weaponized exceptions for parental criminal records made under the injunction in order to systematically continue family separations. The nonprofit is subsequently requesting that a federal judge issue more concrete guidance on the conditions under which removing a child from his or her parents is permissible.
"It is shocking that the Trump administration continues to take babies from their parents," Lee Gelernt, the lead attorney on the lawsuit, said in a statement Tuesday. "Over 900 more families join the thousands of others previously torn apart by this cruel and illegal policy. The administration must not be allowed to circumvent the court order over infractions like minor traffic violations."
The federal government is now circumventing "traditional due process and child custody standards," the suit says, in order to maintain President Trump's "zero-tolerance" policy meant to dissuade migrants from crossing the border.
The lawsuit comes amid an onslaught of immigration headaches for the Trump administration. Most recently, media reports widely criticized conditions at border detention facilities, where detainees, including children, are crammed into crowded cages and denied showers and hygiene products. Trump has also implemented the Migrant Protection Protocols (MPP) program, which requires asylum seekers to stay in Mexico while waiting for their immigration court date. The labor union for federal asylum officers said that, under the directive, migrants now "face persecution because of their race, religion, nationality, political opinion, or membership in a particular social group."
The latter measure is closely related to Trump's zero-tolerance approach, which his administration argued was required by the 1997 Flores agreement. The terms of that court settlement, they said, mandate a 100 percent prosecution rate for all illegal border crossers. That mandate, in turn, means children are not permitted to stay with their parents in detention centers while their parents await trial.
But as Ilya Somin points out at Reason, "federal officials inevitably have vast discretion in determining which offenses to pursue and to what degree." Illegal entry is a misdemeanor carrying a sentence less than that of marijuana possession. Even former Attorney General Jeff Sessions, who argued for the 100 percent prosecution rate, would find it infeasible and wasteful to prosecute every single person ever found with marijuana.
Ironically, the Flores agreement also dictates that the government "place each detained minor in the least restrictive setting appropriate" and that they be placed with a family member or guardian "without unnecessary delay." It further says that the government will "treat all minors in its custody with dignity, respect and special concern for their particular vulnerability as minors." But as Somin says, being separated from your parents—over something as minuscule as a traffic infraction—is hardly a display of dignity.