Review: Once Upon a Time…in Hollywood
Quentin Tarantino journeys into the movie-biz past and replays the Manson murders.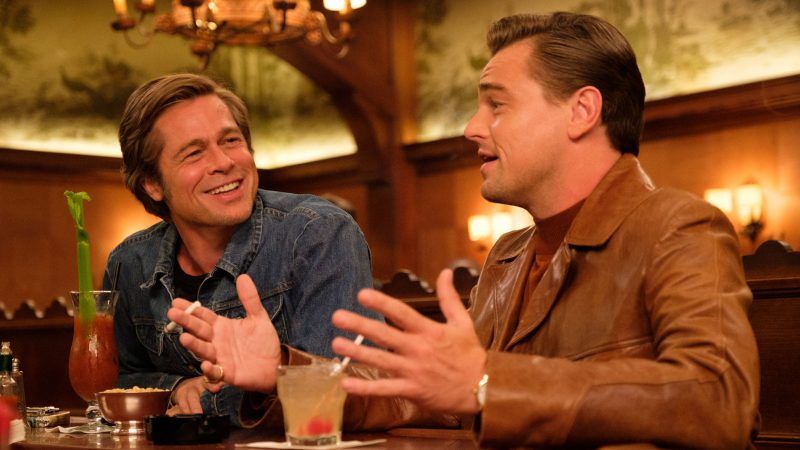 Once Upon a Time…in Hollywood is being marketed as "The 9th Film from Quentin Tarantino"—a shoulder-tapping reminder that the golden age of punk-savant cinema that the director inaugurated 27 years ago with Reservoir Dogs, and has since decided to limit to 10 pictures, will soon be over. Well, so he keeps saying.
Number nine is a baggy, meandering movie, but it's leagues better than its predecessor, the constipated Hateful Eight. This one is filled with wonderful stuff—mesmerizing stretches of narrative invention and a raft of memorable performances, most notably by its stars, Leonardo DiCaprio and Brad Pitt, who've rarely if ever been more magnetic.
Unfortunately, there's a lot of other stuff packed into the movie, too, none of it nearly as wonderful. The picture is long (although two hours and 40 minutes is hardly an extreme length in the Tarantinoverse), and because of the director's unebbing obsession with movie-biz minutiae it sometimes drags. Being handed $90-million of Sony production money and set free for the first time from the old Weinstein budget brakes and runtime cautions have encouraged Tarantino's worst instincts. But the movie is redeemed by the affection with which he recounts his audacious story, and by its unexpected, summery charm (a sunny yellow is its keynote color).
We are in 1969, the year of both Woodstock and the Manson murders (which we can feel lurking at the movie's end). It's a time of roiling change, not least in the movie industry, in which past-his-peak action star Rick Dalton (DiCaprio) and his longtime stunt double, driver and de-facto gofer Cliff Booth (Pitt) now find themselves rudderless. Rick had a hit western series called Bounty Law on TV a few years back (Tarantino shows us more of it than we might wish to see, and has actually talked about turning it into a real, here-and-now TV show), but he screwed that up, and now he's a choking smoker with a heavy whisky-sour habit who gets by doing guest bad-guy cameos on other people's shows. A friendly producer (Al Pacino) advises him to get in on the spaghetti-western boom, but Rick thinks those movies are beneath him. (You can imagine onetime TV cowboy Clint Eastwood being similarly dismissive before flying off to Rome in 1964 to start making spaghetti classics with director Sergio Leone.)
DiCaprio's portrayal of desperate insecurity—of a man whose wilting smile reveals his terror of losing his grip on stardom, however middling—is fully fleshed out: it's both moving and funny, especially in a terrific scene with a chirpy eight-year-old actress (the amazing Julia Butters) whose unsolicited on-set reassurance about Rick's talent brings him to tears.
Although he contentedly functions as Rick's aide-de-camp, Pitt's Cliff Booth is nothing like a satellite character—this is definitely his movie, too. The actor's stoic solidity flows naturally from the classic movie-western tradition, and he lights it up with effortless, full-voltage star power. Cliff sees nothing unjust in the fact that Rick lives in a swell house up in starry Benedict Canyon, right next to newly arrived starlet Sharon Tate (Margot Robbie) and her hot-director husband Roman Polanski (Rafal Zawierucha), while he inhabits a cramped trailer out in the Valley, right next door to—what else?—a drive-in movie lot.
Cliff's own career has been hobbled by persistent gossip that he killed his wife and got away with it (an aspersion that Tarantino tags with a quick flashback suggesting that if it's true, Cliff was probably justified). Like any vintage man-of-few-words, Cliff is a guy with unstated limits beyond which he won't be pushed. We see this in a singularly funny scene in which Cliff, having secured a rare stunt gig on the Green Hornet TV series, finds himself pushing back hard against wiseass goading by one of the show's stars, future martial arts icon Bruce Lee (a whip-crack performance by Mike Moh). And we see it again after Cliff picks up a pretty hitchhiker called Pussycat (Margaret Qualley, virtually popping off the screen with dizzy charisma) and takes her where she wants to go—the Spahn Movie Ranch, a location-for-hire that Cliff knows from his earlier stuntman days. Now it's home to Pussycat and her many friends—mostly young women—who hover dead-eyed and creepy as Cliff makes his way across the decrepit property.
These are the Manson girls, of course, and with their introduction the movie begins to grow dark and foreboding. Although we eventually do get a very brief glimpse of Manson himself (Damon Herriman), it's these feral kids, with their infantile whining and heavy graveyard vibe, who most disturbingly foreshadow the horror we know must come.
Up to this point Tarantino has allowed us only intermittent visits with Robbie's Sharon Tate, whom he keeps tucked away in a space outside of the main story. This is an interesting decision, allowing Tate to function as an ambient sunbeam flickering freely through the picture. We see her happily partying at the Playboy Mansion with a herd of celebrities that includes Steve McQueen (Damian Lewis) and Mama Cass (Rachel Redleaf). And in the movie's most radiant scene, we see her inside a theater watching her latest (and last) American film, The Wrecking Crew, and beaming each time the audience laughs appreciatively at her comic performance. (Despite being given so little to bite into, Robbie is enchanting here, especially in a scene at the theater box office when she tells the cashier, "I'm in the movie," and points to a still photo—"That's me!" Rarely has a character's sweet spirit been so fully served-up in so few words.)
The overflow of technically precise Rick Dalton film and TV content here, while admirably "authentic," grows numbing. (Although there's a cute echo of Tarantino's Inglourious Basterds in a flamethrower scene from a fictitious Dalton war movie called The 14 Fists of McCluskey.) And while the sprawling cast might have become unwieldy—it's a large assemblage of unexpected actors both familiar (Timothy Olyphant, Dakota Fanning, the late Luke Perry) and not so much (Mikey Madison has some strong scenes incarnating goofball Manson psychopath Susan Atkins)—even the smallest roles receive maximum energy. There's also pricey production design (Tarantino overhauled a block of Hollywood Boulevard to restore such long-gone LA landmarks as the big Peaches record store and the Pussycat adult theater). And the director's pop-music nerdery is once again in full effect, conveyed in an avalanche of period radio hits by Roy Head, Deep Purple, Paul Revere & the Raiders, and longtime Quentin fave Neil Diamond (whose 1969 "Brother Love's Traveling Salvation Show," with its sultry lyric about a "hot August night," takes on an ominous specificity at the end). Tarantino has even managed the unlikely feat of wedging "California Dreamin'" into this increasingly uneasy film—bypassing the chiming Mamas and Papas original and going instead with the darker José Feliciano cover version.
As the movie winds on and on, you keep wondering how Tarantino is going to connect this basically loose and amiable story with the ferocious horror of the Manson Family murders of Sharon Tate and four other people in the early hours of August 9, 1969. His solution is an exercise in empathetic imagination, and it's not only cleverly turned, but—(believe it) very funny, too. The movie ends in a gush of wild designer violence, of course—although probably not the one you were expecting.