Review: David Crosby: Remember My Name
Portrait of a man running out of road.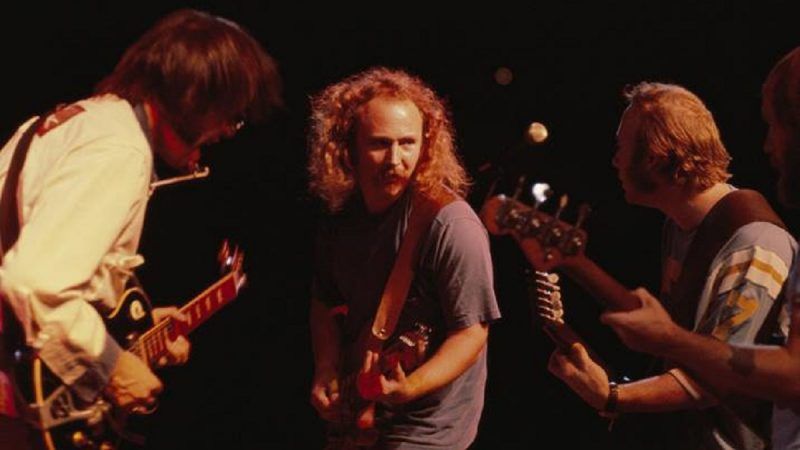 David Crosby has been many interesting things over the course of his 77 years: a founding member of the Byrds—the band that created folk rock—and of the subsequent super-duper group variously known as Crosby, Stills & Nash (CSN) or Crosby, Stills, Nash & Young (CSNY). He has also been a junkie, a fugitive, a convict and a world-class pain in the ass. The new documentary David Crosby: Remember My Name lays out this story in ways that are often moving and, as you'd expect, never dull. (Some rarely seen club and concert footage helps a lot.)
The Crosby of today—his freak-flag hair now snowy but still flying—is a man battered but unbowed. He's had "two or three" heart attacks, he says, and there are eight stents inserted in that weary organ—the maximum number possible. Hepatitis C destroyed his liver, which required a transplant, which has been chugging along for 25 years now. He is also diabetic.
"But I'm happy," he tells interviewer Cameron Crowe (who first interviewed Crosby for Rolling Stone in 1974). "Yeah, I've got a huge regret about the time I wasted bein' smashed. I'm afraid of dyin', and I'm close. I'd like to have more time—a lot more."
He's making up for as much lost time as he can. He feels he still has things to say musically, and in the last five years, he's recorded four solo albums with younger musicians. But he also needs to stay out on the road touring, because unlike Steven Stills (author of "Suite: Judy Blue Eyes"), Graham Nash ("Teach Your Children") and Neil Young ("Ohio"), Crosby didn't write any of the big hits of the groups with which he's most closely associated. So he has to keep finding ways to pay the mortgage on the tranquil ranch he shares with his wife, Jan, and their horses, who also have to eat.
So it's tough. And kind of lonely. "All the main guys that I made music with won't even talk to me," Crosby says. "All of 'em. McGuinn, Nash, Neil and Steven all really dislike me. Strongly."
He doesn't blame them. Byrds guitarist Roger McGuinn—the man whose jangly 12-string has become a garage rock readymade—grew tired of Crosby's lefty political blathering, especially after he launched into a conspiracy rant about the Kennedy assassination onstage at the 1967 Monterey Pop Festival. "David had become insufferable," McGuinn says in the film. "He was hard to hang out with. You didn't want to be around him."
After being fired from the Byrds, Crosby fell in with Steven Stills, whose own band, Buffalo Springfield, was just then falling apart. They were soon joined by English singer and songwriter Graham Nash, who'd grown bored scoring beautifully crafted pop hits with the Hollies. The first CSN album—distinguished by Graham and David's angel-high harmonies—was a smash. Then it was decided to expand the group's lineup, and Crosby recalls a one-on-one audition with, Young, another Springfield refugee, sitting on the trunk of a car late one night strumming through new songs like "Helpless" and "Country Girl." Déjà Vu, the first CSNY album, was an epochal money-gusher, and it triggered auxiliary solo careers for each of the group's members. (Crosby's first solo album was the 1971 If I Could Only Remember My Name.)
Crosby found a way to screw these good times up, of course. ("I was a difficult cat—big ego, no brains….") Now, along with tossing off colorful bits of period reminiscence throughout the film (Jim Morrison: "what a dork"), he cops to every bit of bad luck he created for himself and for others: the girlfriends he led down a dark path of drugs and sorrow, his own ruinous heroin addiction, and his unauthorized flight from a drug-rehab facility, which led to a five-year prison sentence (of which he served only five months—long enough to kick his heroin habit).
Through all of this, CSN and CSNY wobbled on, amid much bickering and recrimination. Then, in a 2014 press interview, Crosby described Neil Young's new girlfriend (and now-wife), the actress Daryl Hannah, as a "poisonous predator." Crosby says he thought the remark was off the record, but he knew it was way out of line in any case. Young hit the roof, and let it be known that CSNY was over. A number of other unpleasant things surely went down as well. "He tore the heart out of CSN and CSNY in the space of a few months," says a bitter Graham Nash, adding that he wrote a song called "Encore" with Crosby in mind: "Who are you when the lights have gone out and the audience has left? Are you a decent person? Or are you a fucking asshole?" Nash says that he hasn't spoken with Crosby—a man he talked to every day for four decades—in several years.
What may turn out to be the last CSN performance ever took place at the National Christmas Tree lighting ceremony in Washington, DC, in 2015. We see it in the film: the three of them standing out in the cold, struggling to harmonize a simple rendition of "Silent Night," and failing. "We were fuckin' terrible," Crosby admits.
So is that it? The end? Crosby hopes not. "I think you should be able to say goodbye, and tell them what they meant to you," he says. He knows time's getting tight, though.