Rand Paul Was Right to Delay Vote on Funding Bill for 9/11 First Responders
The Kentucky senator wants the Senate to consider offsetting spending cuts before approving limitless, automatic spending for the rest of the century.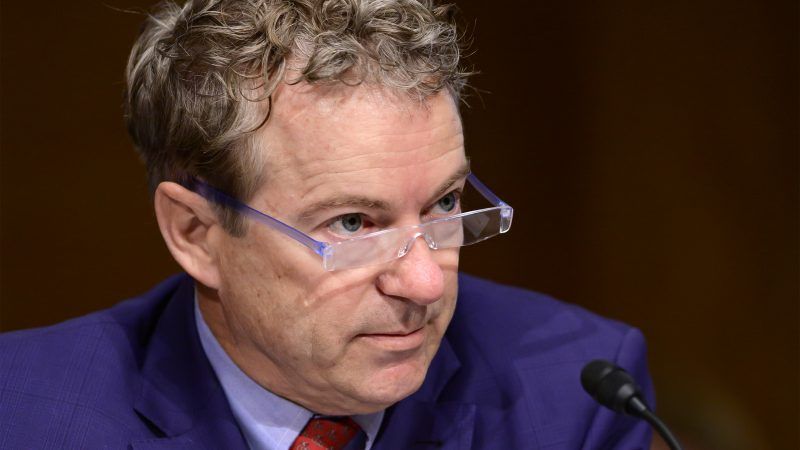 (Ron Sachs - CNP/Sipa USA/Newscom)
Sen. Rand Paul (R–Ky.) is catching a lot of flak for demanding that the Senate actually debate an open-ended extension of the September 11 Victims Compensation Fund.
On Wednesday afternoon, Paul objected when Sen. Kirsten Gillibrand (D–N.Y.) attempted to pass the bill by unanimous consent—an expedited process that does not require each senator to record his or her vote.
"Any new spending that we are approaching, any new program that's going to have the longevity of 70, 80 years, should be offset by cutting spending that's less valuable," said Paul on the Senate floor. "We need to at the very least have this debate. I will be offering up an amendment if this bill should come to the floor, but until then I will object."
Sen. Mike Lee (R–Utah) also opposed passing the bill by unanimous consent.
The bill, H.R. 1327, would extend the life of the Victims Compensation Fund to 2090. (The fund is currently set to stop accepting claims by the end of next year.) It would also do away with any limited appropriations for the fund, instead paying out however much is necessary to cover eligible claims through 2092.
The Congressional Budget Office estimates that the bill would cost $10.2 billion over the next decade.
The first 9/11 Victims Compensation Fund operated from 2001 to 2003, and awarded $7 billion to the families of the 2,880 people killed in the attacks on that day, plus another 2,680 who were injured.
In 2011 the fund was renewed and expanded to cover anyone injured during the rescue and recovery efforts at the targeted World Trade Center, as well as those in proximity to the attacks who were injured or came down with other health problems, including cancer.
Since 2011, the fund has since given out $5.2 billion to nearly 29,000 claimants.
Despite Paul's objections, the permanent extension of the victim's fund will almost certainly pass. The Senate's reauthorization measure currently has 73 co-sponsors, and Senate Majority Leader Mitch McConnell (R–Ky.) has said he will put it to a vote before the August recess.
On Fox News, former Daily Show host and 9/11 first responder champion Jon Stewart accused Paul of "fiscal responsibility virtue signaling," saying the Kentucky senator's current concerns about the deficit were hypocritical in light of his support for 2017's tax cuts.
Stewart was not alone in this line of criticism.
If, God forbid, Rand Paul is ever trapped in a burning building, maybe a $1 trillion tax cut will run in to save him. https://t.co/H3QGH1cc1F

— Arianna Huffington (@ariannahuff) July 18, 2019
So let me get this straight: @RandPaul has no problem voting for billions in tax cuts for the wealthy and corporations, but votes against providing health care for 9/11 first responders because he's worried about the debt.

— Robert Reich (@RBReich) July 17, 2019
These condemnations skate over Paul's rather reasonable position that the Senate should actually debate the bill and consider fiscal offsets before approving nearly a century's worth of effectively unlimited spending.
Rep. Justin Amash (I–Mich.) made this same point last week when explaining why he voted against the victim fund's extension in the House:
Our Constitution empowers Congress to appropriate money. Typically, this means we must vote annually to spend on a particular object. This process holds government accountable to the people. The 9/11 VCF works differently by authorizing 70+ years of unlimited, automatic spending.

— Justin Amash (@justinamash) July 12, 2019
And while it's true that Paul voted for a deficit-increasing tax cut, he has also consistently introduced legislation to cut spending across the board. Just last month, the Senate rejected a budget plan authored by Paul that would have cut federal spending by $183 billion in the coming fiscal year.
Libertarian-leaning folks like Paul want less spending, lower taxes, and smaller deficits. The senator has a record of supporting all three policies, even though the rest of Congress seems only able to muster support for one.
---
FREE MINDS
President Donald Trump's attacks on "Squad" member Rep. Ilhan Omar (D–Minn.) escalated markedly Wednesday night at a North Carolina rally. Trump went on an extended rant against the congresswoman, declaring that she "looks down with contempt on the hardworking Americans, saying 'ignorance is pervasive in many parts of this country.'" He also said that "Omar has a history of launching vicious anti-Semitic screeds."
The president's riff sparked a chant of "send her back" from the crowd, which Trump did not discourage.
WATCH: A Crowd in North Carolina chants "Send her back!" as Trump spends 3 minutes criticizing Rep. @IlhanMN pic.twitter.com/BT9lM0HZmE

— Bloomberg TicToc (@tictoc) July 17, 2019
Both right and left condemned the crowd's behavior on Twitter:
I know I'm a broken record. But there is nothing in American patriotism that could create an argument for "send her back." There is plenty in nationalism that would demand it. Oh, FWIW I think Omar's views run the gamut from silly to reprehensible. But she's an American. Period.

— Jonah Goldberg (@JonahNRO) July 18, 2019
On some level "send her back" sounds similar to "lock her up." But here is how it is worse to my ears. Now they don't even have the false pretext of alleged corrupt behavior. They are just telling an American with whom they disagree to go back to Africa.

— Brian Schatz (@brianschatz) July 18, 2019
Omar herself responded Wednesday night, tweeting a quote from poet Maya Angelou.
You may shoot me with your words,
You may cut me with your eyes,
You may kill me with your hatefulness,
But still, like air, I'll rise.

-Maya Angelou https://t.co/46jcXSXF0B

— Ilhan Omar (@IlhanMN) July 18, 2019
---
FREE MARKETS
The House voted to repeal the Affordable Care Act's "Cadillac tax" on high-end health plans by a commanding 419–6 vote. That measure, passed as part of the initial Obamacare legislation, imposed a 40 percent tax on employer-sponsored insurance plans worth $11,200 for individuals and $30,100 for families. It was scheduled to go into effect in 2022.
Both unions and businesses opposed the tax, as it raised the cost of providing fringe health benefits to employees.
Free marketeers are split on the tax. Many view it as just another way the government makes health care coverage more expensive. But some libertarians have offered tentative support for it. By taxing wages but not health benefits, they argue, the current tax code encourages an expensive, inefficient system of employer-sponsored insurance coverage. The "Cadillac tax" amounts to a partial rollback of this distortionary tax policy, the thinking goes.
Libertarian-leaning Rep. Justin Amash (I–Mich.) voted against the tax's repeal.
---
QUICK HITS
20 candidates have qualified for CNN's upcoming Democratic primary debate, including for the first time Montana Gov. Steve Bullock.
BREAKING: Here are the 2020 Democratic candidates who qualify for CNN's debate https://t.co/ygcYjBNOqe pic.twitter.com/ugNSOcTG7B

— CNN Politics (@CNNPolitics) July 17, 2019