Rand Paul Wants To Be Trump's Man in Iran. That Would Be Good News for Peace.
Serving as an alternative voice to the likes of Lindsey Graham and John Bolton could keep the U.S. out of unnecessary wars.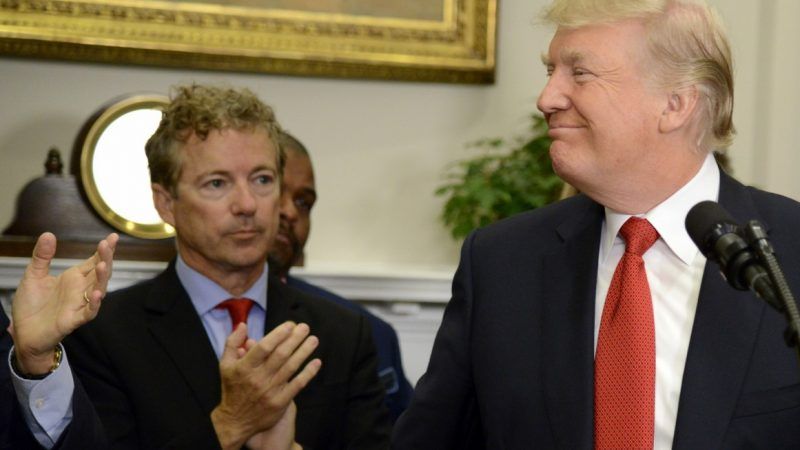 (MIKE THEILER/UPI/Newscom)
On Monday, Sen. Rand Paul (R–Ky.) tweeted about playing golf with President Donald Trump and Sen. Lindsey Graham (R–S.C.) over the weekend. Graham and Paul don't see eye-to-eye on military intervention in the Middle East, and they've essentially been the angel and devil on Trump's shoulder when it comes to foreign policy. Paul's tweets made it clear that he's still encouraging the president to pull American troops out of war zones and bring them home:
Proud that @realDonaldTrump and I argued with you against endless wars! @POTUS made it clear to all of us at the table, we are getting out of the Middle East quagmire. We've been there too long. Time to bring our troops home. https://t.co/trO0aIHbzk

— Senator Rand Paul (@RandPaul) July 15, 2019
Today, Politico reports an interesting agenda on Paul's end. Paul is looking to serve as Trump's diplomatic emissary to Iran to try to serve as a counter to the many, many advisers in Trump's orbit (like Graham and National Security Advisor John Bolton) trying to rev the engines for a brand new war. Politico notes:
Paul has been among the most prominent voices warning against military intervention. When Trump last month called off retaliatory military strikes against Iran after an Iranian military official downed a U.S. drone over international waters, Paul went on the president's favorite television network to offer unqualified praise. "It really takes a statesman to show restraint amidst a chorus of voices for war," Paul told Fox News' Martha MacCallum.

He also took a jab at the administration's policy, arguing that Iranians view the punishing sanctions imposed by the Trump administration as "an act of war." …

Earlier this year, Paul pressed [Secretary of State Mike] Pompeo on whether the administration believes it has the authority to battle the Iranian regime under a 2001 law that allowed the U.S. to pursue the fight against al Qaeda and affiliated terrorist groups in Afghanistan and beyond.

When Pompeo tried to sidestep the question, Paul warned the administration not to pursue such a conflict, at least not without Congress' imprimatur.

"You do not have the permission of Congress to go to war with Iran," Paul told Pompeo during the April hearing on Capitol Hill. "Only Congress can declare war."
The hawks consulted by Politico are not happy that Paul might succeed here and whined to Politico about how this could weaken their bargaining position.
But this is good news for anybody who wants our country to seek peaceful resolutions to conflicts rather than threaten—and declare—war. Trump backing off on a militarized response to the downing of a drone off the coast of Iran was the right thing to do. If Paul being friendly with Trump can keep America out of a new war, the relationship is worth more than its weight in blood and treasure.