The White Nationalist Who Drove His Car Through Charlottesville Protesters Gets Another Life Sentence
James Alex Fields Jr., who killed Heather Heyer in the fatal Charlottesville car attack, is sentenced to life plus 419 years.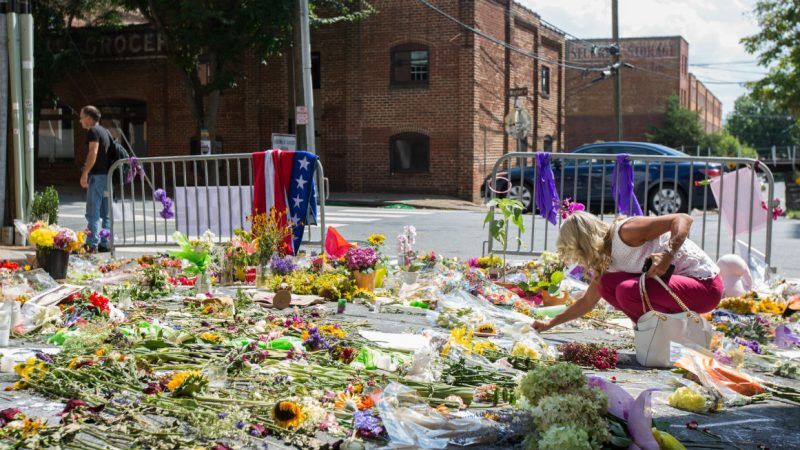 (ERIN SCHAFF/UPI/Newscom)
The driver behind the fatal Charlottesville car attack has received a second sentence.
The attack took place during an alt-right ally in Charlottesville, Virginia, in 2017, when James Alex Fields, Jr., now 22, purposefully sped his car into a crowd of counterprotesters. One woman, 32-year-old Heather Heyer, died after he hit her. More than two dozen were injured.
On Monday, Judge Richard Moore of Virginia handed Fields a sentence of life imprisonment plus 419 years for Heyer's death. Moore did so based on a recommendation from a state jury.
The ruling is essentially symbolic, since Fields has already received another life sentence. After pleading guilty in March to 29 of the 30 federal hate crimes charges that he faced in connection to the attack, Fields was sentenced to life in prison.
"Every day I think about how things could have gone differently and how I regret my actions," Fields told the court during his June sentencing. "I'm sorry."
Susan Bro, Heyer's mother, said that she was "relieved" after Monday's sentencing.
Heather Heyer's mother Susan Bro said she feels James Fields life plus 419 year sentence will send message to other white supremacists that it's unacceptable in Charlottesville and elsewhere. pic.twitter.com/LfD4Tgtk2q

— Neal Augenstein (@AugensteinWTOP) July 15, 2019