Trump's Proposed Tariffs on Tea and Fireworks Are Doubly Awful on Independence Day
Tariffs on tea have never caused any problems, right?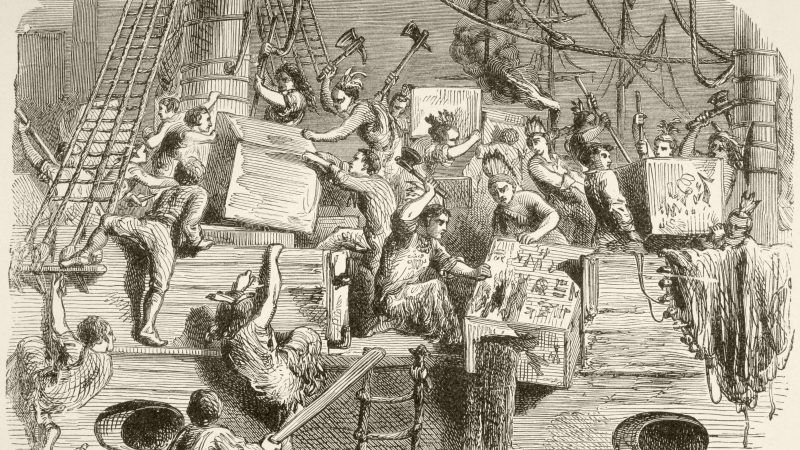 It's a good thing no one has ever gotten upset about taxes on tea.
As President Donald Trump celebrates the Fourth of July with a "Salute to America" celebration including tanks and fighter jets, his administration is preparing to slap new tariffs on—among many other things—both imported tea and fireworks.
Talk about unpatriotic.
On May 10, the Trump administration released a list of some $300 billion in annual Chinese imports that could be subject to new tariffs. With the conclusion of public hearings on the proposed tariffs last month, a formal announcement of the new import taxes could be coming at any time.
"If the tariffs go through, ultimately the consumer will pay the price," Peter Goggi, president of the Tea Association of the USA, Inc., told the Office of the U.S. Trade Representative during those hearings. "It's the consumer that gets hurt."
The United States is the world's largest importer of tea, according to World Tea News, and China is the world's largest exporter, having sold more than $1.8 billion to other countries in 2018.
Meanwhile, the proposed tariffs on fireworks demonstrate the cronyism of Trump's economic nationalism. Ohio-based Phantom Fireworks donated $750,000 worth of exploding palms, willows, and chrysanthemums to Trump's shindig on the National Mall—and, ABC News reports, the owner of the company used the donation to personally lobby for relief from Trump's proposed tariffs.
But why would an American company need to lobby the president for relief from tariffs when, as Trump regularly claims, Americans aren't paying for them? It's an Independence Day mystery!
All told, the Trump administration's new tariff list would amount to a $90 billion annual tax increase on Americans—the largest single tax increase since before World War II.
"President Trump taking aim at things like tea and fireworks proves that this is not about making America stronger, but a misguided effort to harm American allies," says Bryan Riley, director of the National Taxpayers Union's Free Trade Initiative. "Although there have been reports of a temporary break in the escalation of the U.S.-China trade war, the threat of new tariffs remains in place."
There are still other ways that Trump's trade war could affect your Fourth of July celebrations. Everything from patio furniture to hot dogs could be more expensive, thanks to the trade war, writes columnist Christine McDaniel.
But at least Trump doesn't have to worry about people getting upset about taxes on tea. Americans would never do that.