House Votes Down Amash's Attempt To Stop Warrantless FISA Surveillance
Don't blame him for any FISA abuses. He's been fighting it for years.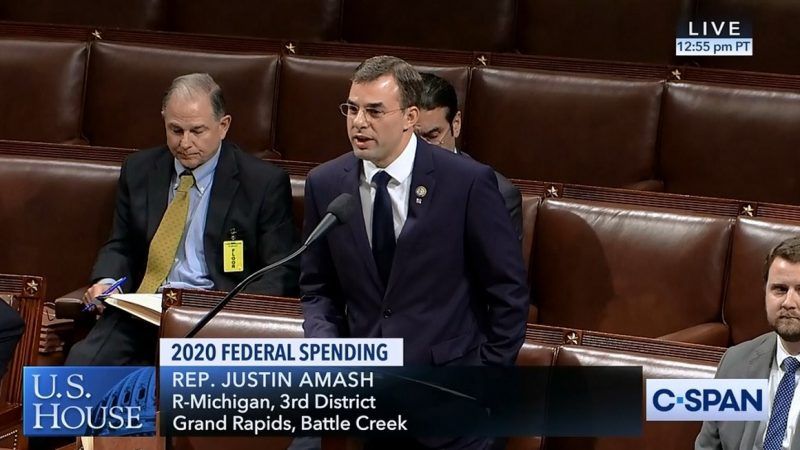 Yesterday evening, an amendment to restrain domestic surveillance under Section 702 of the Foreign Intelligence Surveillance Act (FISA) crashed and burned in the House, failing by a vote of 175-252. Proposed by Reps. Justin Amash (R–Mich.) and Zoe Lofgren (D–Calif.), the amendment's numerous no votes were split almost evenly among Democrats and Republicans.
The amendment was attached to a spending appropriations bill (HR 2740) and would have forbid the use of any funds to submit a surveillance request under Section 702's guidelines unless the requesting organization—the National Security Agency (NSA)—certifies that the surveillance is not "to acquire the communications of a particular, known person reasonably believed to be in the United States, any acquisition of a communication as to which no participant is a person who is targeted pursuant to the authorized acquisition, or any acquisition of a communication known to be entirely domestic."
Translation: The purpose of Section 702 of FISA is intended to authorize warrantless secret surveillance of foreign targets of interest in other countries who may be plotting against the United States. In practice, we know that the NSA has been collecting significant amounts of domestic communications of American citizens, without warrants, in violation of the Fourth Amendment. This was the surveillance that Edward Snowden helped expose, and we've been arguing over it ever since.
Despite repeatedly and loudly complaining that he and his aides had been illegally surveilled under FISA as a candidate, President Donald Trump has done nothing to actually restrain these surveillance powers. Last year, given the opportunity to rethink the limits of Section 702 when it was up for renewal, Congress and Trump instead expanded its authority to snoop on Americans.
So this year, Amash and Lofgren embarked on a new effort to stop the NSA from secretly collecting Americans' communications. Amash spoke passionately in defense of his amendment on the House floor last evening:
We can see what's wrong with Washington right here. We have Republicans for months saying "We're worried about FISA abuse. FISA's out of control!" Here we are trying to limit FISA and they're running against it. They're saying "No, we can't limit FISA!" Democrats say, "We want to hold the president in check. Executive power is out of control." We have an amendment to hold the president in check. This is our time to stand up for the American people. I'm sick of going home and telling them that neither side wanted to defend their rights.
But it was not to be. The amendment got all of 10 minutes of debate and was defeated.
Of interest: Rep. Jim Jordan (R–Ohio) and Amash have been at odds over Trump's behavior to the point that Amash has left the House Freedom Caucus they both helped found. Nevertheless Jordan showed up to declare his support for Amash's amendment, speak in favor of it, and vote for it. On the other side of the aisle, notable Democrats supporting Amash included Democratic presidential candidate Tulsi Gabbard of Hawaii and Rep. Alexandria Ocasio-Cortez of New York.
The roll call of votes can be found here.