Trump Threatens Mass Immigration Action Next Week, Though No One's Sure What He Means
Plus: Amash's anti-surveillance measure is up for a vote, Facebook launches its own cryptocurrency, and more..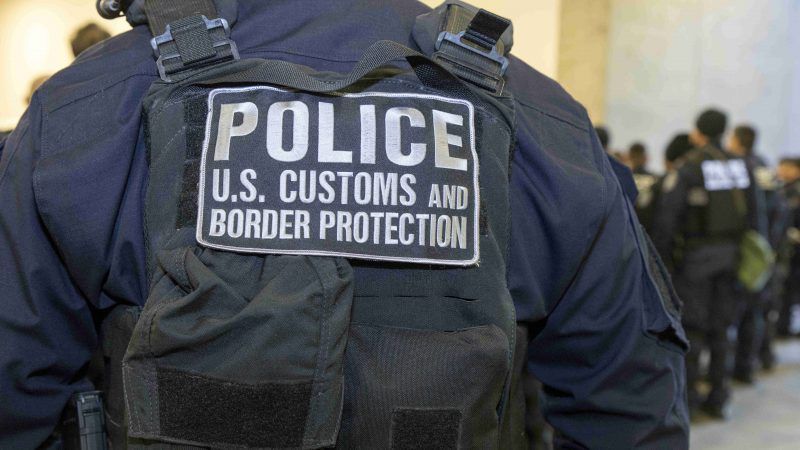 (Mani Albrecht/ZUMA Press/Newscom)
President Donald Trump is threatening a new round of action targeting undocumented immigrants, starting next week. "Next week ICE will begin the process of removing the millions of illegal aliens who have illicitly found their way into the United States," Trump tweeted Monday evening, promising that "they will be removed as fast as they come in."
A little over two weeks ago, the president insisted that Mexico was so willfully negligent at stopping illegal border crossings that the U.S. would impose escalating tariffs on all Mexican goods. Yesterday, however, Trump praised the work Mexico is doing at "stopping people long before they get to our Southern Border" and the progress being made by Guatemala.
But someone must be blamed for the manufactured crisis Trump has devoted his presidency to, and this week it is apparently congressional Democrats' turn. "The only ones who won't do anything are the Democrats in Congress," Trump tweeted last night. "They must vote to get rid of the loopholes, and fix asylum! If so, Border Crisis will end quickly!"
Some are taking this latest round of Trump tweets as a threat of massive new coordinated raids on immigrant homes or workplaces. And, yes, there are the inevitable Hitler analogies, including a lot of Kristallnacht references…
my god, he's announcing kristallnacht on twitter. https://t.co/TU68sAXE0V

— Matthew Cortland, esq (@mattbc) June 18, 2019
It's not clear just what Trump actually meant in his Monday tweets, as there has been no official statement from the White House or immigration officials yet and the president is prone to bluster via Twitter. But Washington Post reporter Nick Miroff suggested Trump is referring to a thwarted April enforcement operation targeting undocumented immigrants who had failed to show up for scheduled hearings. From the Post piece on that plan:
According to seven current and former Department of Homeland Security officials, the administration wanted to target the crush of families that had crossed the U.S.-Mexico border after the president's failed "zero tolerance" prosecution push in early 2018. … The sprawling operation included an effort to fast-track immigration court cases, allowing the government to obtain deportation orders against those who did not show for their hearings — officials said 90 percent of those targeted were found deportable in their absence. The subsequent arrests would have required coordinated raids against parents with children in their homes and neighborhoods.
However, "a U.S. official says deportations described by the president in this tweet aren't imminent," ABC's Meredith McGraw said on Tuesday morning.
---
FREE MINDS
FISA amendment vote coming up:
AS SOON AS TUESDAY EVENING, the House will be voting on the Amash-Lofgren amendment to limit the warrantless collection of Americans' communications (including content) under Sec. 702 of FISA.

— Justin Amash (@justinamash) June 17, 2019
Here's the full amendment text. And here are Amash's statements about the bill, called the "Ending Mass Collection of Americans' Phone Records Act," upon its introduction in March.
---
FREE MARKETS
Facebook wants you to trust it with your money. The site is launching its own cryptocurrency, called Libra. From The Verge:
The currency is designed not to be a speculative asset, like Bitcoin, but a form of digital money backed by a reserve of assets. You will one day be able to use Libra as payment for online and offline services, Facebook executives say. At the beginning, the company imagines Libra will be used mainly to transfer money between individuals in developing countries who lack access to traditional banks. Eventually, the goal is to create the first truly mainstream cryptocurrency: a decentralized global form of payment that is as stable as the dollar, can be used to buy almost anything, and can support an entire range of financial products — from banking to loans to credit.
---
QUICK HITS
????????Gorsuch in Gamble v. US: "It is not for this Court to…make the prosecutor's job easier…When governments may unleash all their might…exhausting themselves only when those who hold the reins of power are content with the result, it is the poor and the weak…who suffer…"

— Alex Yelderman (formerly Levy) (@alexflevy) June 17, 2019
Holy moly! My book is done & at the printers! The opportunity to preorder & get your name printed inside will run out at midnight on June 30th. A reminder I'm splitting all preorder profits with Basis Sex Work project - so get your order in now!
????????https://t.co/bj4yL7oQom

— Whores of Yore (@WhoresofYore) June 17, 2019
If you saw this commercial as a child, it's not an entirely implausible take:
millennials don't own homes because this quiznos commercial put a hex on us as children pic.twitter.com/Cmg6QcyYHW

— Erin Sullivan (@sullivem) June 17, 2019