Violent Crackdown In Hong Kong as Residents Protest Bill Allowing Extradition to Mainland China
Also: Mike Lee says Congress must reassert power over the presidency. And so long to Sarah Huckabee Sanders.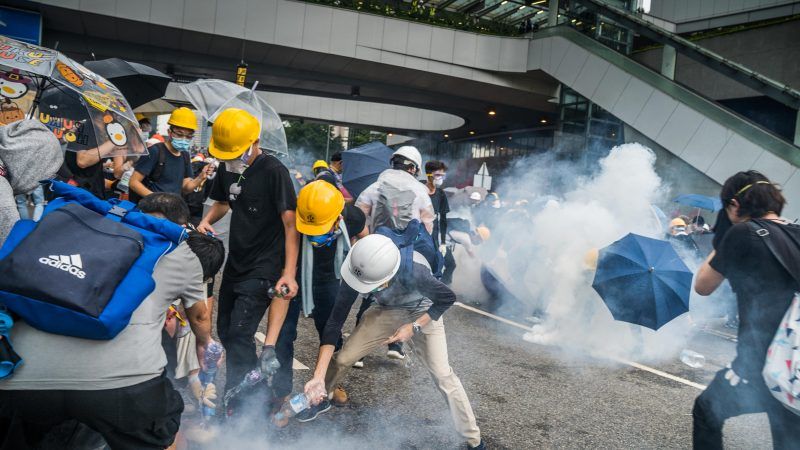 (Geovien So / SOPA Images/Sipa US/Newscom)
Thousands of protestors took to the streets of Hong Kong this week. Police responded with tear gas, rubber bullets, and pepper spray against the umbrella-wielding crowds gathered near the province's legislature to protest a bill that would allow extradition to mainland China.
Residents of Hong Kong see the extradition bill as a major erosion of the city's quasi-independent status. Since Great Britain returned it to China in 1997, Hong Kong's justice system has been fully independent from its parent country's. That has made the city an appealing destination for those fleeing prosecution in China. While Hong Kong's judicial system is widely regarded as one of best in the world, China's ranks 82nd out of 126 nations in the World Justice Project's Rule of Law Index, scoring particularly poorly for "fundamental rights." Prosecutors in mainland China achieved a 99.9 percent conviction rate last year, which should explain why Hongkongers are worried.
"Even if we're not doing anything drastic—as simple as saying something online about China—because of such surveillance they might catch us," a 25-year-old protestor told Agence France Presse.
If the proposed bill becomes law, it would compel Hong Kong judges effectively to rubber-stamp extradition requests to mainland China—even if the charges are bogus. Martin Lee, the founder of Hong Kong's Democratic Party, warns that this could have consequences that reach beyond the tiny island. "If this extradition law is passed, Americans, Canadians and many other nationalities could become potential hostages to extradition claims driven by the political agenda of Beijing," he writes in The Washington Post. The U.S., like Hong Kong, does not have an extradition agreement with mainland China.
In Washington, D.C., a bipartisan group of lawmakers introduced a bill Thursday affirming Hong Kong's autonomy. If passed, the measure would allow the U.S. to freeze assets and deny travel visas for anyone "involved in forcibly removing people from Hong Kong," Bloomberg reports.
At least 79 people were injured in violent clashes with police on Wednesday. On Thursday, Hong Kong police said they had made 11 arrests in connection with the protests. One of those arrested is a 22-year-old man who runs an encrypted chat service via Telegram, according to CNN, which also reports that he was charged with "conspiracy to commit public nuisance."
Some surreal things happening now in Hong Kong protests pic.twitter.com/JDDrGHgjO7

— Strategic Sentinel (@StratSentinel) June 12, 2019
Organizers say more than a million Hongkongers have taken to the streets since last weekend. Civil Human Rights Front, the group organizing the protests, is planning to hold another major demonstration on Sunday.
FREE MINDS
"It is not possible to articulate a similarly simple level or rate of marijuana consumption and a corresponding effect on driving ability," the Congressional Research Service concludes in a report released Thursday.
There is evidence that driving while high increases the likelihood of a car accident (don't do it, kids), but the fact that there is no clear or consistent relationship between THC in the blood and THC in the brain has short-circuited the development of a "weed breathalyzer," a sort of holy grail for cops in states with legal marijuana.
Nevertheless, many states do impose legal limits on THC in the blood. According to the National Organization for the Reform of Marijuana Laws,
Six states—Illinois, Montana, Nevada, Ohio, Pennsylvania, and Washington—impose various per se limits for the presence of specific amounts of THC in blood while twelve states (Arizona, Delaware, Georgia, Illinois, Indiana, Iowa, Michigan, Oklahoma, Rhode Island, South Dakota Utah, and Wisconsin) impose zero tolerant per se standards. In those states, it is a criminal violation of the traffic safety laws to operate a motor vehicle with any detectable levels of THC in blood. Colorado law infers driver impairment in instances where THC is detected in blood at levels of 5ng/ml or higher.
FREE MARKETS
It's time for Congress to revoke presidential authority over trade (and more!), Sen. Mike Lee (R–Utah) writes in USA Today:
From trade to energy to health care to transportation, Congress has given far too much legislative power to the executive branch. Instead of taking the time and responsibility to make hard choices and take tough votes, Congress has instead chosen to avoid accountability by giving power to faceless bureaucrats in Washington.
In January, Lee introduced the Global Trade Accountability Act, which would require congressional approval of any trade action taken by the president. He says that would help restore the balance of powers enshrined in the U.S. Constitution, which explicitly gives Congress authority over trade and tariff issues.
Meanwhile, 661 American businesses and trade associations signed a letter urging the White House to avoid escalating the trade war with China. The letter warns that "both sides will lose."
QUICK HITS