Shock Poll: Amash Down 16 Points in Republican Primary
First survey since the libertarian's impeachment comments shows big lead for pro-Trump challenger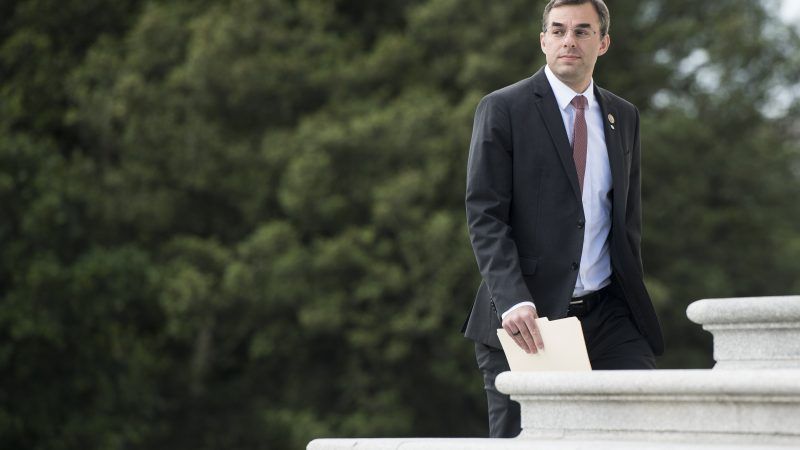 (Bill Clark/CQ Roll Call/Newscom)
When asked during a town hall meeting last month whether he fears his pro-impeachment comments could leave him vulnerable to a primary challenge by Michigan State Rep. Jim Lower, Rep. Justin Amash (R–Grand Rapids) smiled and said, "I am not concerned about it."
It may be time to dial up the concern-o-meter.
In a June 5-9 Practical Political Consulting (PPC) and MIRS survey of just 360 likely GOP voters announced Tuesday (though not yet available online), Lower thumped Amash in a head-to-head matchup, 49 percent to 33 percent. According to MIRS News, the poll also found that if President Donald Trump campaigned in the district for Lower, "the challenger's margin actually goes down 43 [percent] to 32 [percent]."
The poll did not include former Army National Guardsman Tom Norton, who has also filed to run. As Hot Air's Allahpundit notes, "That's Amash's best hope for a victory — draw more pro-Trump, anti-Amash candidates into the race, hope that the majority of Republican voters splinter among them, and win the nomination with a plurality."
The news comes amid fresh reporting by Politico that Trump is considering a rare early intervention into a GOP primary against a Republican incumbent. "Trump has raised the primary challenge idea with Vice President Mike Pence and North Carolina Rep. Mark Meadows, a close Trump ally who co-founded the conservative House Freedom Caucus with Amash," Politico reported. "Trump has also addressed the subject with Republican National Committee Chairwoman Ronna McDaniel, a former Michigan GOP leader who remains influential in the state."
The Meadows conversation is the latest sign that Trump has effectively domesticated the House Freedom Caucus (HFC), an influential bloc co-founded by Amash and Meadows and seven others in 2015 to be a check on executive branch power and a force for cutting the size and scope of government. The president last year backed (at the last minute) a successful primary challenge against HFC member and close Amash friend Mark Sanford, whose vanquisher went on to lose the South Carolina seat to a Democrat. Meadows and Rep. Jim Jordan (R–Ohio) have become leading Trumpian attack dogs on all things related to Special Counsel Robert Mueller's recently completed investigation and were quick to rebuke their colleague when he went rogue on impeachment.
Amash resigned from the Freedom Caucus Monday, saying "I have the highest regard for them, and they're my close friends….I didn't want to be a further distraction for the group."
Amash successfully fended off a GOP establishment-backed challenger in 2014. That year, the Michigan Chamber of Commerce teamed up with foreign policy/surveillance hawks such as Karl Rove and Rep. Mike Rogers (R–Mich.) to back Brian Ellis, who infamously accused Amash of being "al-Qaida's best friend in Congress." Not only did the libertarian beat the neoconservative by 14 percentage points, he delivered one of the more righteously angry victory speeches you'll see in American politics, telling Ellis "You owe my family and this community an apology for your disgusting, despicable smear campaign."
But back then Amash had one thing he can't count on today—support from Michigan's deep-pocketed DeVos family, which has stopped backing him. (Politico reported that "last week Jase Bolger, a DeVos confidant and former state House speaker, traveled to Washington for meetings with senior Republican officials where Amash was discussed.") Amash's top career contributor, The Club for Growth, was highly critical of his impeachment heresy and is giving standoffish-sounding quotes while backing challenges to insufficiently Trumpian incumbents elsewhere.
Amash's tenuous status within Trump's GOP is matched by his precarious positioning vis-à-vis the 2020 Census: Michigan is expected to lose one congressional seat in 2022, and it's hard to imagine a likelier congressional district to be euthanized than his.
All of which contributes to speculation that the Republican who prefers the word "libertarian" over the phrase "libertarian-leaning conservative" will finally bolt the GOP and compete for the 2020 presidential nomination of the Libertarian Party (a prospect even his potential competitors in the L.P. are cheering on).
There has been one poll taken with Amash as a third-party challenger, and the results may surprise you: 10 percent of the 600 likely Michigan voters surveyed May 28-30 say they'd vote for the local boy, which sounds reasonable enough, but Joe Biden's lead over Donald Trump is just six percentage points with Amash in the race, 12 points without. If such results are repeated in subsequent polls, it won't just be Trumpites hollering for Amash's scalp.