Justin Amash: The Libertarian Party Shouldn't Nominate a 'Squishy' Republican in 2020
"That's me!" jokes Bill Weld, while calling Amash a "hero" and encouraging the congressman to run.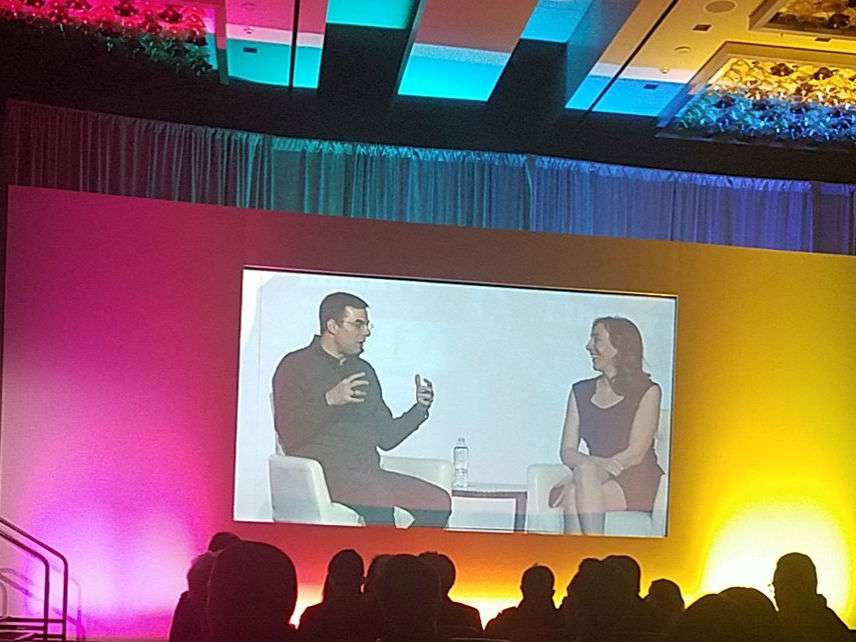 Ask a Libertarian which candidate he or she would most like to see run for president in 2020, and the name that will come up more often than not is Rep. Justin Amash (R–Mich.). Amash, who prefers the term "libertarian" over "libertarian-leaning Republican" and is fond of tweeting stuff like "Both parties mislead, misdirect, employ double standards, and lie," had an interesting response at LibertyCon Friday night when asked by Reason Editor-in-Chief Katherine Mangu-Ward to describe his ideal third-party candidate.
"He wears Air Jordans," Amash began. (He was wearing Air Jordans.)
Then, without mentioning 2016 vice presidential nominee and likely 2020 candidate Bill Weld by name, Amash warned against the party choosing an insufficiently libertarian Republican.
"Well, I think an ideal third-party candidate, especially a Libertarian Party candidate—that's what I'll talk about—I think the ideal candidate has to be very libertarian, because if you're running in the Libertarian Party, you better be a libertarian," he said. "But it has to be a person who is persuasive to other people, can bring Republicans and Democrats on board, or bring a large part of the electorate on board, because you can't just appeal to diehard libertarians and win the election."
Amash, who declined Mangu-Ward's offer to announce his candidacy on stage, spoke like someone who has nevertheless thought the question through.
"I think that too often the party has made concessions to have more sort of squishy Republican candidates run as the Libertarian Party candidate, and then destroy the Libertarian Party base," he said. "So you have to have the base align with the candidate, but that candidate has to be appealing to people beyond the base."
When informed of Amash's "squishy" comments Saturday night on the same LibertyCon stage, Bill Weld shot his hand up and said "That's me!" I then asked the former Massachusetts governor if he would encourage Amash to run. "Absolutely," he said. "Justin is a hero."
But even if Amash throws his hat in the ring, that doesn't mean Weld will stand down. "It helps the Libertarian Party to have three or four strong candidates up there," he said, hinting that we'll soon hear the name of another prominent candidate. (Overstock's Patrick Byrne, maybe?) "I am very interested in 2020," Weld declared, stopping just short of making an official announcement. "I am going to be involved in 2020."
One reason Amash has stayed in the GOP despite describing himself as "the only libertarian in Congress" is that Michigan is one of just a handful of states that have the straight-ticket ballot option, by which citizens can choose a political party's entire slate of candidates by filling in just one blank. "Straight-ticket voting makes it prohibitive to run outside of the major parties," Amash told me last August.
The 6th Circuit U.S. Court of Appeals struck down Michigan's straight-ticket system last September, but voters reinstated it two months later, 67 percent to 33 percent. The electoral track record of elected officials who switch to the Libertarian Party once in office is not good, even in states without straight-ticket voting.
Another factor potentially complicating Amash's political future is redistricting. Michigan is expected to lose a congressional seat after the 2020 Census, and there has been ongoing litigation and reported settlement negotiations stemming from GOP-led gerrymandering in 2011 (of which Amash has been a lonely Republican critic). Even if the new map-drawing process is maximally independent and fair, it's not hard to imagine a pox-on-both-houses type suffering a disproportionate impact from the rule changes.
The Amash and Weld comments at LibertyCon had the Libertarian Party attendees at the conference buzzing with speculation. In a campaign where the main declared candidates so far are serial arrestee Adam Kokesh, abrasive controversialist Arvin Vohra, and "whale-fucking" enthusiast John McAfee, there may soon be more traditionally impressive résumés in the mix.