Colorado's Jared Polis Is the Latest Governor to Embrace Licensing Reform
Polis vetoed licensing requirements for HOA managers, sports agents, and genetic counselors. That's not sitting well with some members of his own party.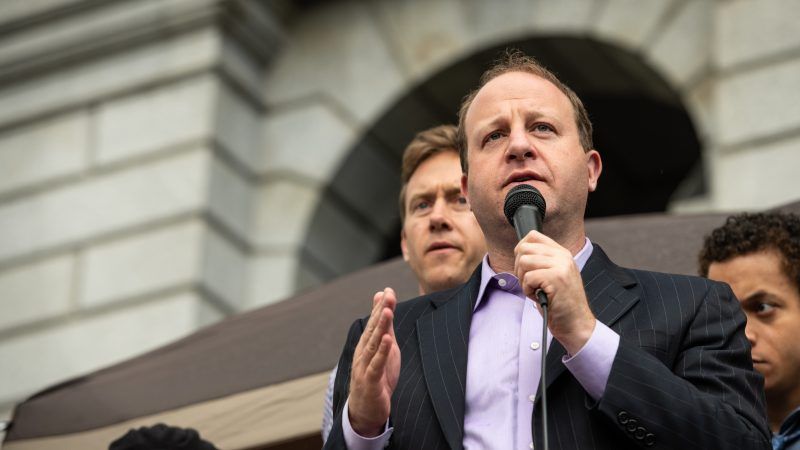 (Tyler Tomasello/ZUMA Press/Newscom)
The idea that the managers of Colorado's more than 8,000 homeowners associations (HOA) will no longer be regulated by the state is sending some state lawmakers into a tizzy.
"We have no consumer protections at all for HOAs, no licensing, no complaint process, no background checks—none of what was in place requiring transparency and requiring them to look out for the consumer," Rep. Monica Duran (D–Denver) told The Colorado Sun.
Duran is unhappy with Gov. Jared Polis, the libertarian-leaning Democrat who earlier this week vetoed legislation that would have continued requiring a state-issued license for homeowners association managers. But if Duran had looked more closely at the numbers, she would have seen that Polis was right to question why that particular license was necessary in the first place. In 2017, for example, state regulators only denied one license and revoked one other, while also issuing seven fines, totaling a mere $5,750. In other words, there were no real dangers that consumers needed to be protected against.
In a letter attached to his veto of the HOA manager licensing bill, Polis wrote that "high HOA costs and a lack of transparency" can make home ownership more difficult and less affordable. He also signaled his support for further reforming Colorado's occupational licensing laws, arguing for "removing existing or outdated or counterproductive licenses." At the same time, Polis also vetoed new occupational licensing requirements for sports agents and genetic counselors.
Occupational licensing laws have expanded greatly since the 1950s, when only roughly 5 percent of American workers needed a license to do their jobs. Today, between 25 and 29 percent of the workforce needs an occupational license. Such requirements have numerous negative consequences.
By requiring hundreds of dollars in fees and years of training, these regulations create barriers to entry for workers looking for new opportunities. Furthermore, there's little evidence that such licenses improve safety or service quality for consumers or workers. And by forcing people to comply with these unnecessary regulations instead of providing services on the market, such laws reduce the U.S. gross domestic product by $203 billion annually.
Colorado is no exception. The Institute for Justice, a public interest law firm, published an analysis from University of Minnesota economist Morris Kleiner that found that occupational licensing laws cost the state of Colorado over 57,000 jobs and over $5.6 billion dollars in economic growth. Occupational licensing reform would unlock a lot of economic benefits for the state.  
As another Institute for Justice-backed study pointed out, Colorado makes aspiring barbers and cosmetologists complete 1,500 and 1,800 hours of education, respectively. The state also imposes licensing fees on those professions of over $100. By contrast, Colorado grants a license for an emergency medical technician after just 150 hours of education, two exams, and a $98 fee. There's a lot of evidence that cosmetologist and barber licenses have few benefits, so they would be a good place for Polis to look if he wants to bring additional reforms to the state.

Colorado is not the only state currently pushing occupational licensing reform: Minnesota, Idaho, Oklahoma, and Pennsylvania are just a few of the other states rolling back these sorts of excessive and burdensome regulations. What is more, half of those states, including Colorado, have Democratic governors. This demonstrates that occupational licensing reform isn't a partisan issue.