Pirates, Pot, and Police: The Supreme Court Has Been Busy
Plus: intra-conservative culture war, Tulsi Gabbard on Snowden, and more…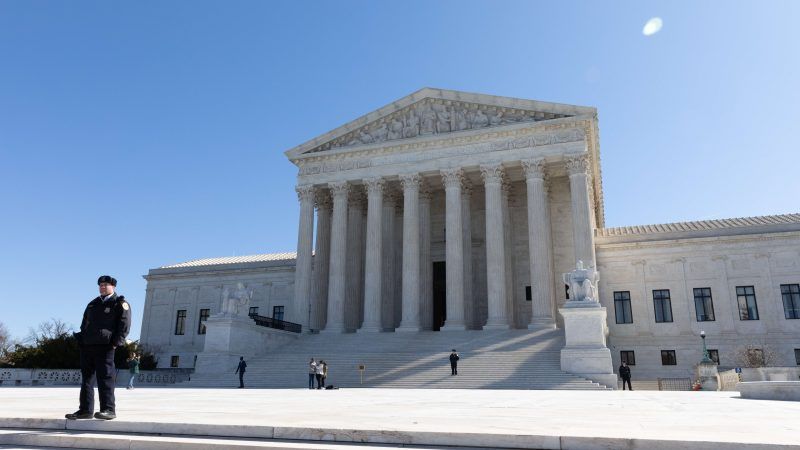 (Aurora Samperio/ZUMA Press/Newscom)
A flurry of recent Supreme Court activity. With just about a month left in session, the U.S. Supreme Court has been handing down decisions and issuing case rejections at a rapid pace. The past week alone has seen a host of court actions concerning issues we watch carefully at Reason, including police conduct, speech regulation, immigration policy, Medicare, and more. Here's a frills-free overview:
New Cases: Pirated Pirate Pics, Pot Sentencing, and Inflated IBM Stocks
The Court agreed this week to take three new cases, including one that involves pirates—actual pirates, as in those of Blackbeard's boat, the Queen Anne's Revenge, and those who "pirate" copyrighted material—in a case that pits state legal liability against artist and creator rights.
In that case (Allen v. Cooper), "the justices will consider whether Congress had the power to repeal the states' immunity from lawsuits for copyright infringement when it enacted the Copyright Remedy Clarification Act," as law blogger Amy Howe explains. Lawyers for plaintiff Frederick Allen—who copyrighted photos and videos he took of the Queen Anne's Revenge shipwreck and sued the state of North Carolina for allegedly violating that copyright—say that a decision in the state's favor would mean "creators of original expression will be left without remedy when States trample their federal copyrights."
The other cases SCOTUS just agreed to consider involve:
In the latter, plaintiffs allege that the fiduciaries of IBM's stock-ownership plans were amiss in continuing to invest in IBM stock they knew was artificially inflated, thereby violating federal securities law. A lot of powerful interests, including the U.S. Chamber of Commerce, are urging justices to side with IBM.
Cases Rejected or Delayed: DACA, Death Row, and D.C. Metro Ads
The court denied a Trump administration request to speed up consideration of cases involving the Deferred Action for Childhood Arrivals (DACA) program for children of undocumented immigrants.
The court also declined to hear a case (American Freedom Defense Initiative v. WMATA) involving the District of Columbia's right to ban issue-oriented ads on public transportation. The Washington Metropolitan Area Transit Authority (WMATA) ad ban was put in place in 2015, after Pamela Geller's "American Freedom Defense Initiative" attempted to purchase space for anti-Muslim ads. Last year, the Court of Appeals for the D.C. Circuit ruled that the WMATA ban was not a violation of the First Amendment.
And SCOTUS (again) declined to hear an appeal from an Alabama death row inmate, Christopher Price, who was found guilty of murder in 1991 and executed by the state last Thursday night. In a dissent, Justice Stephen Breyer wrote that the case (Price v. Dunn) "demonstrates once again the unfortunate manner in which death sentences are often—perhaps inevitably—carried out in this country" and said the "Court should reconsider the constitutionality of the death penalty in an appropriate case."
New Decisions
SCOTUS has issued new decisions recently in cases concerning Medicare, anti-discrimination lawsuits, pre-trial imprisonment, wrongful arrests, and debt collection.
Fort Bend County v. Davis In this unanimous June 2 ruling, the court ruled in favor of a former city employee from Fort Bend, Texas, who had sued over alleged discrimination. The employee said she was fired for reporting sexual harassment and out of anti-religious animosity. SCOTUS did not rule on the merit of her claims but disagreed with the city that the District Court lacked jurisdiction to hear the case. Full decision here.
Azar v. Allina Health Services: In this 7-1 ruling, the court struck a blow against an Obama Medicare rule. It held that a Medicare hospital reimbursement rule should be struck down because the Department of Health and Human Services had not properly followed the notice-and-comment rulemaking process. More here.
Nieves v. Bartlett: This case concerning a man alleging retaliatory arrest in Alaska has some folks worried about its implications for free speech, protest, and police brutality. With its May 28 ruling, the court "made it more difficult for people who say they were arrested for exercising their free speech rights to bring lawsuits against the officers who arrested them," suggests The Root. "This could include behaviors like throwing insults or refusing to talk to officers, or protesting and filming the police." Only Justice Sonia Sotomayor dissented on the outcome of the case.
Mont v. United States: In a 5-4 decision, the court held that "pretrial imprisonment on a new criminal charge puts a term of federal supervised release on hold," as SCOTUSblog explains. This relatively in-the-weeds sentencing ruling is notable for the strange alliances it produced among justices, as Reason's Damon Root points out:
Here's a fun 5-4 SCOTUS line-up. Thomas writes the majority opinion, joined by Roberts, Alito, Kavanaugh, and Ginsburg. Sotomayor dissents, joined by Breyer, Kagan, and Gorsuch. https://t.co/jJbkFnuLmk

— Damon Root (@damonroot) June 3, 2019
The Mont lineup is interesting "on multiple levels," suggests law professor Jonathan H. Adler, continuing:
At first the decision appears to have produced a traditional 5-4, conservative-liberal split, until one notices that Justice Ginsburg joined with the conservatives and Justice Neil Gorsuch joined the liberals. The resulting division is thus neither one we expect to see ideologically, nor is it readily explained on the basis of other common jurisprudential divisions, such as the formalist-pragmatist split we've often seen in other criminal justice contexts. Further, while we've seen Justice Gorsuch cross over to vote with the liberal justices in other cases, we have not seen this in a case in which one of the more liberal justices also 'switched sides.'
Taggart v. Lorenzen: In this case, the court unanimously held that "creditors could face civil penalties if their attempt to collect old debt that was canceled in bankruptcy is 'objectively unreasonable,'" The Wall Street Journal explains. More here.
And if you've still got an appetite for legal conundrums:
---
QUICK HITS
If it wasn't for Snowden, the American people would never have learned the NSA was collecting phone records and spying on Americans. As president, I will protect whistle-blowers who expose threats to our freedom and liberty. pic.twitter.com/AlQgC5dr0G

— Tulsi Gabbard (@TulsiGabbard) June 3, 2019
Here's a very good National Review piece on "the huge albatross to the conservative movement that few want to talk about."
"Granting states some authority to mint visas to meet their specific labor market needs would help dry up demand for undocumented workers, stave off depopulation, keep businesses in place, and fill in fiscal gaps," writes Will Wilkinson in The New York Times.
"The devil usually tells us we're saving others' souls when he's trying to convince us to sell our own," suggests Reason's Stephanie Slade, weighing in on the First Things/theocracy versus David French/classical liberalism controversy.
Migrant children between the ages of 5 and 12 years old were left on a bus overnight (after what was supposed to be just a 30-minute ride) in a botched family reunification attempt.
What happens when you reclassify independent contractors as employees? Reason's Christian Britschgi explores.
"Minutes later, police officers barged through the front door, and saw the young woman, naked holding a blanket wrapped around her body, and the man she had just been in bed with was walking toward them.
He was an undercover police officer" @sfmistresshttps://t.co/jap2R3Swoe

— Dominating My Reality (@DominateREALITY) June 4, 2019
My @reason cover story on Kamala Harris is now online! Check it out here: https://t.co/K0I38kxYER

— Elizabeth Nolan Brown (@ENBrown) June 3, 2019