D.C. Sex Workers Want Decriminalization—and City Council Members Agree
'We know what we want to do with our bodies, and we don't need government interference.'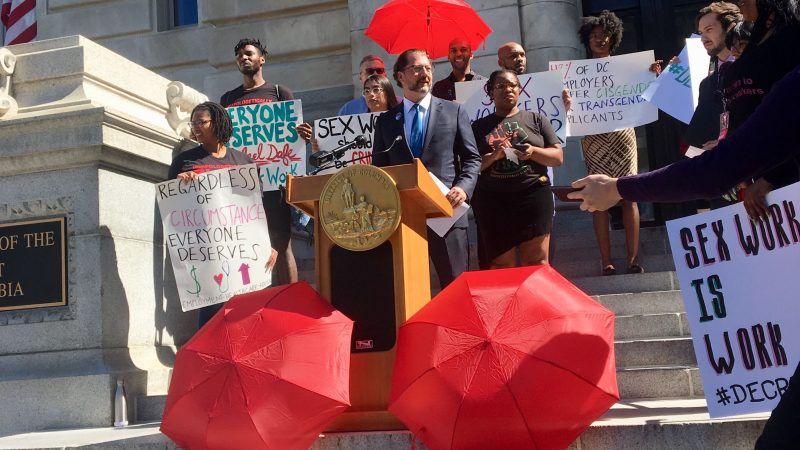 There was nothing novel about the demands that sex workers and activists voiced from the steps of D.C.'s city hall on Monday: They want an end to the stigma, the arrests, and the violence endured by people who sell sex. What's unusual is that they were joined by government officials who agree.
District of Columbia Councilmember-at-Large David Grosso has introduced legislation to end criminal penalties for paid sex between consenting adults. "It is long past time for D.C. to reconsider the framework in which we handle commercial sex and move from one of criminalization to a new approach that focuses on human rights, health, and safety," Grosso said yesterday.
Grosso's "Community Safety & Health Amendment Act of 2019" already has four co-sponsors, including Councilmember Robert White, who joined Grosso at Monday's press conference announcing the new legislation, and Councilmembers Anita Bonds, Brianne Nadeau, and Charles Allen, the last of whom chairs the Council's judiciary committee. It was drafted with the help of a coalition that includes D.C. sex workers, community health advocates, LGBTQ folks, feminists, racial justice advocates, and religious organizations.
Today @CMCharlesAllen came out as a co sponsor for the #DecrimNowDC Bill but that just shows that community support & direct action works, he still needs to bring it to a hearing within committee, take action now! https://t.co/Ij3KFZ5zM0 #DecrimNow #SexWorkisWork #Stonewall50 pic.twitter.com/lpONfj95M0

— No Justice No Pride (@NJNP_DC) June 4, 2019
"We have control over our bodies, we know what we want to do with our bodies, and we don't need government interference," said Nnennaya Amuchie of the group BYP100. "We're here today because we know that the criminalization of sex work is one of the main sites of violence [against] black women and girls and gender non-conforming folks. It's one of the main sites of police violence, because criminalizing sex work means that police officers have a legal right to go undercover and extort sex."
Transgender activist and artist Laya Monarez said the city needs "to focus on stopping trafficking and violent pimps." Decriminalizing prostitution between consenting adults helps with that by freeing up police time and resources and allowing sex workers to report violence against them and others in their communities without fear of being arrested.
As supportive speeches continued, two men holding a giant "Trump 2020" sign walked by with a few disruptive shouts. They stopped and lingered on the edge of the crowd, then continued on a few steps before something drew them back. They ended up sticking around and listening quietly for the rest of the press conference.
Across the street, two activists climbed tall telephone poles—for which they would later be arrested—to unfurl a banner about sex worker rights.
From the steps of the city building, Monarez stressed that "there are many different kinds of sex workers, but the passage of this bill will help marginalized communities like trans women of color the most."
Specifically, the bill would repeal the section of the D.C. Code that prohibits "engaging in prostitution or soliciting for prostitution," as well as sections that set out vehicle impoundment and asset forfeiture penalties for the same; the bill would also repeal a 5-year criminal penalty for "keeping a bawdy or disorderly house," and it would repeal a section making it illegal to "establish, continue, maintain, use, own, occupy, or release any building, erection, or place used for the purpose of lewdness, assignation, or prostitution."
Grosso's measure would also amend criminal-code sections concerning "pandering" and "procuring"—i.e., receiving "any money or other valuable thing for or on account of arranging for or causing any individual to engage in prostitution or a sexual act or contact." The new measure would add language that excludes from this prohibition any person arranging for prostitution "involving herself or himself" and anyone pandering or procuring for consenting adults, so long as "no force, fraud, coercion," minors, or violations of D.C. human trafficking law are involved.
A task force would be established to study "the positive and negative effects" and "any unintended consequences" of the changes.
"This is not something that we just took out of nowhere," Grosso said on Monday. "This is a policy that's been in place in New Zealand for a long time. This has also been supported by Amnesty International, by Human Rights Watch, by the World Health Organization."
On Tuesday morning, Grosso officially presented the decriminalization bill to the full D.C. Council. The District now joins a growing number of city and states where lawmakers are starting to embrace the idea of treating sex work like work.