Reviews: Rocketman and Ma
Elton John by the numbers, Octavia Spencer in a horror mood.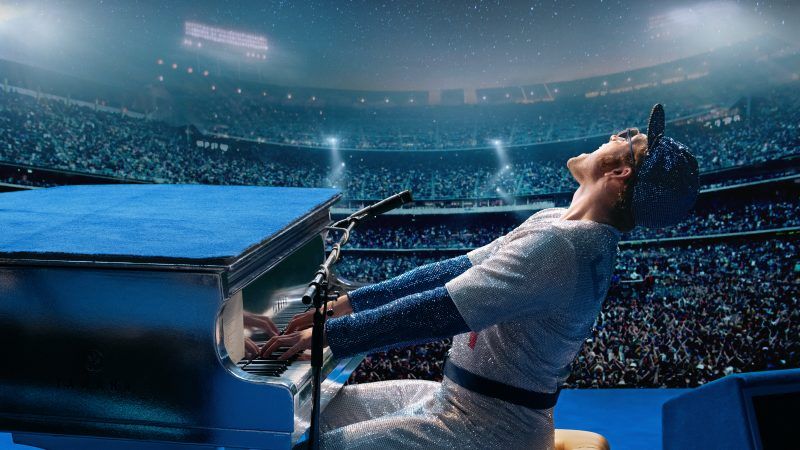 Rocketman is the kind of music-biz biopic in which the star of the show, Elton John (played by Taron Egerton), sings a duet with his nine-year-old self (Matthew Illesley)—a rendition of the 1974 E.J. hit "The Bitch Is Back." It's also the kind of movie in which this scene is set in the middle of a group-therapy session at the rehab facility to which Elton has come to battle his mid-career addictions to alcohol, cocaine, sex, and shopping. Later on, the nine-year-old Elton reappears, sitting at a little piano at the bottom of a swimming pool, singing the picture's title song. It's that kind of movie, too.
Although director Dexter Fletcher also worked on last year's Bohemian Rhapsody (he was brought in to take the wheel after original director Bryan Singer was chucked over the side), his star here doesn't manage to conjure up as much biographical soul as Rami Malek did in the role of Freddie Mercury. Despite the array of glam-tastic furs and spangles and winged stage boots in which he is bedecked, Egerton doesn't bear a strong resemblance to Elton (apart from a slight plumpness, maybe), and he's blocked by the hackneyed screenplay from creating much in the way of subtle character illumination.
Egerton does, however, bring considerable fire to the performance scenes, in which he actually sings the songs. This might be all that fans want from an Elton John movie: the hits. All of the big ones are here, to one extent or another: "Your Song," "Tiny Dancer," "Bennie and the Jets," "Goodbye Yellow Brick Road." Unsurprisingly for what is basically a jukebox musical, chronological rigor was not among the filmmakers' foremost concerns. We see an unknown Elton auditioning for London music publisher Dick James in the late 1960s with renditions of "Daniel" (which didn't appear in the world until 1973) and "I Guess that's Why They Call It the Blues" (from 1983). We see Elton meeting his longtime collaborator Bernie Taupin (an event that occurred in 1967) and then almost immediately we see Taupin (played by Jamie Bell) penning the lyrics to "Honky Cat," which actually dates from 1972. Most brazenly, the movie has Elton performing "Crocodile Rock" during his famous U.S. stage debut at the Troubadour in Los Angeles in 1970—a song that wasn't in his set list at the time because it wasn't written until three years later.
Egerton blows past some of these plot nits on a wave of sheer energy and determination. But Lee Hall's screenplay leads him into bogs of cliché. Obviously a place had to be found for the 1973 hit "Saturday Night's Alright for Fighting," but did it really have to be slotted into a big pub-fight scene? And did Elton's parents (Bryce Dallas Howard and Steven Mackintosh) have to be so stereotypically inadequate? (Dad's a disapproving cold fish, mom a martini-blurred airhead.) Then there's the gay thing. Apart from a passing put-down by his father when he catches his young son eyeing a fashion magazine ("Stop looking at that, you're not a girl"), we're shown that Elton doesn't begin to suspect his sexual inclinations until he's a teenaged backing musician for some visiting American R&B acts and one of the black men on the bill walks up to him, kisses him full on the mouth, and then walks away. Years later, at a party following the Troubadour show, a gay Scottish manager named John Reid (Richard Madden)—also a character in Bohemian Rhapsody—approaches Elton to coyly express his admiration. ("So you like the song?" Elton says. "Not as much as the singer," Reid replies.) There follows a bedroom sex scene of medium sizzle, but then, following that, we're presented with the sight of these two gay men making out…in a closet.
We know where Elton's debilitating enthusiasms ("I have fucked everything that moves and have taken every drug that exists") will lead, and we know that at the end the movie will dutifully fill us in on where the man stands today: clean and sober, happily married father of two, currently embarked on a three-year "farewell" tour, et cetera. None of this is quite as rousing, or as revealing, as one might expect. Elton John has lived most of his life on the pages and airwaves of the pop media. If Rocketman fails to answer any pressing questions about the man, it could be because there are none to ask.
Ma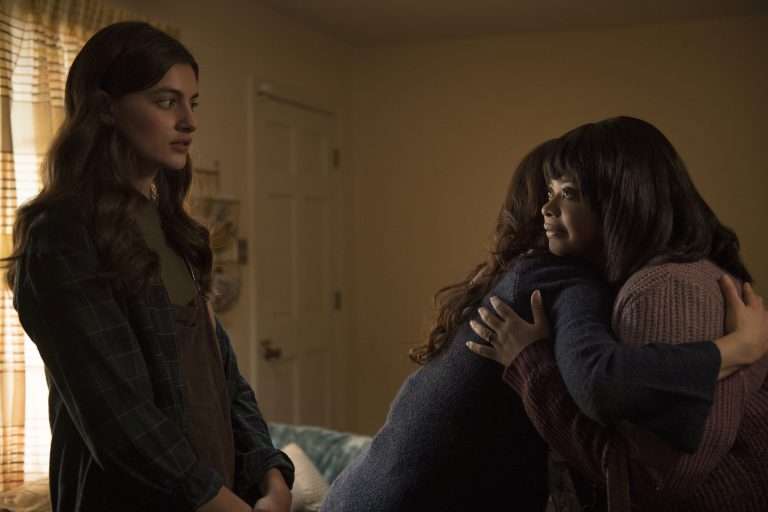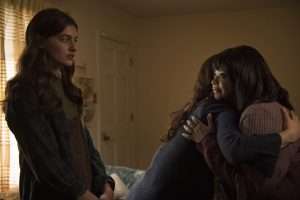 Ma is an almost-horror movie that almost works. It's basically an atmospheric creepfest enlivened by a few torture-porn jolts toward the end, and if Octavia Spencer seems oddly ensconced in it, we can probably credit her presence to a long friendship with director Tate Taylor, in whose 2011 hit The Help she earned a best-supporting-actress Oscar.
Whatever the case, we follow most of the story from the POV of a coltish high-school student named Maggie (Diana Silvers, of Glass and Booksmart), who has just moved to a dull and unidentified town with her bar-waitress mom (Juliette Lewis), a native of this nowhere burg. Maggie makes friends easily enough (the liveliest are party girl McKaley Miller and designated crush Corey Fogelmanis), and soon they're all making the acquaintance of a weirdly solicitous local lady named Sue Ann (Spencer). Before long they will regret this.
Sue Ann comes upon these kids loitering outside a liquor store hoping for a soft-touch grownup to come along and buy them some party booze. Sue Ann not only agrees to do this, she suggests they conduct their illicit revel in the basement of her house, which is of course remotely located. There are a few rules, though—no taking the Lord's name in vain on the premises…and no going upstairs, ever.
All seems fine at first. Sue Ann is happy to crank up the party music and serve the kids drinks, smiling eerily all the while. Even when she pulls a gun on one young guy and orders him to strip…well, she quickly apologizes and claims it was a joke, so she's immediately forgiven.
What the kids don't know, as they keep returning to Sue Ann's party pad for repeat frolics, is that their host has a very dark past in this small town, and that it involves some of their parents (Luke Evans chief among them). And only slowly do they become aware of this strange woman's expertise in tracking them through social media, and her access to powerful animal tranquilizers through her job working for town vet Allison Janney (another alumna of The Help).
The movie is a mid-level product of the Blumhouse horror factory. Spencer is agreeably sinister and the picture keeps you squirming through its first hour. But it never comes into focus—the gory conclusion feels stylistically unrelated to the rest of the film. There are worse things, of course, but that's not much of a recommendation.