Ben Carson's 'Oreo' Gaffe Highlights Acronym Madness at Federal Agencies
Plus: New York may ban 3D-printed guns and most Americans support Roe v. Wade.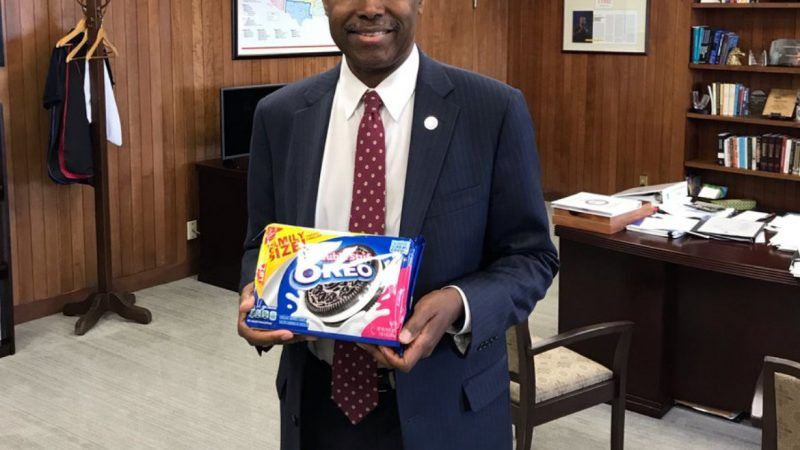 (@SecretaryCarson/Twitter)
"No, not an Oreo. An R-E-O. R-E-O." That's U.S. Rep. Katie Porter (D–Calif.) speaking at a Capitol Hill hearing on housing yesterday. For those unfamiliar with federalese, REO stands for "real estate owned." It's a term that refers to foreclosed upon houses now owned by the federal department of Housing and Urban Development (HUD). It's also a term with which HUD Secretary Ben Carson is apparently unfamiliar.
Asked by Porter about such homes—"do you know what an REO is?"—Carson replied, "An Oreo?"
It was not his only stumble yesterday, with Carson appearing alternately clueless and contentious throughout the hearing. Afterward, he attempted to make light of the Oreo/REO mistake:
OH, REO! Thanks, @RepKatiePorter. Enjoying a few post-hearing snacks. Sending some your way! pic.twitter.com/q4MMTBWVUI

— Ben Carson (@SecretaryCarson) May 21, 2019
But perhaps the gaffe doesn't speak as ill of the doc-turned-housing-policy-head as it may seem. "In Carson's defense the acronym soup of federal housing policy is indefensible and I don't use any of it in my writing it [sic] I can help it," tweeted Atlantic CityLab reporter Kriston Capps.
An REO means a foreclosed home repossessed by the bank. Just say that, it's clear and accessible to anyone reading.

— .@kristoncapps (@kristoncapps) May 21, 2019
Capps notes that there are 428 official departmental acronyms within HUD.
---
FREE MINDS
Roe v. Wade is just fine with a majority of Americans, according to a new poll from CBS News. In the survey, 67 percent of respondents said they did not want to see the landmark abortion case overturned. In addition, 48 percent said they would be angry if Roe is overturned, while 26 percent said they would be happy about it and 23 percent said it didn't really matter that much.
---
FREE MARKETS
New York may ban 3D-printed guns. A measure to this effect "passed the Senate earlier this month and breezed through the Democratic-led Assembly on Monday," reports USA Today. The bill would make it illegal to manufacture, sell, transport, or possess any "undetectable firearm."
---
QUICK HITS