With the Equality Act, Congressional Democrats Want To Redefine 'Sex' To Include Gender Identity and Sexual Orientation
Here's why that's a bad idea—and it has nothing to do with God's wrath, women's rights rollbacks, or locker-room predators.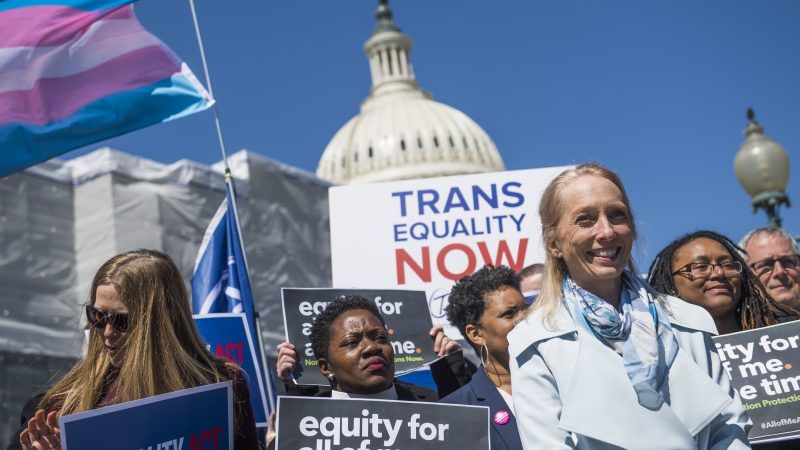 Dire warnings are circulating about the Equality Act—a piece of culture-war legislation scheduled for a vote this week in the U.S. House of Representatives. Its stated purpose, in brief, is "to prohibit discrimination on the basis of sex, gender identity, and sexual orientation."
The act would lead to "the death of women rights," suggested Missouri Republican Rep. Vicky Hartzler. "Religious freedom goes out the window if this bill becomes law," wrote Star Parker in millennial conservative outlet The Daily Signal, which titled the piece "Equality Act Is About Civil Tyranny, Not Civil Rights." In a Washington Post op-ed, three former elite athletes suggested that it would obliterate women's sports.
Pro-Equality Act factions have pinned high stakes on this bill, too. "In 30 states, LGBTQ Americans do not have the freedom of full equality," but "the Democratic House will take a big step forward this week by passing the bipartisan #EqualityAct," tweeted Sen. Tammy Baldwin (D–Wisc.)
The bill was introduced by Rep. David Cicilline, a Rhode Island Democrat. It has 240 co-sponsors, including every Democrat in the House except for Rep. Dan Lipinski, and no Republicans except Reps. Brian Fitzpatrick (R–Pa.), John Katko (R–N.Y.), and Jenniffer Gonzalez-Colon of Puerto Rico, who can vote in committee but not on the House floor.
But what does the equality act actually do?
The Equality Act works by modifying the federal Civil Rights Act of 1964, the Fair Housing Act, the Equal Credit Opportunity Act, and other federal statutes concerned with discrimination and segregation.
Its reach includes public accommodations, public education, lending, housing, federal assistance programs, Medicare and Medicaid, employment, housing, public facilities, and more. It would insert into all of these laws and existing programs a prohibition on discrimination or segregation based on "sex (including sexual orientation and gender identity)."
The bill defines sex to include not just biological "sex characteristics, including intersex traits," but also "a sex stereotype; pregnancy, childbirth, or a related medical condition;" and "sexual orientation or gender identity." It then stipulates that:
"Pregnancy, childbirth, or a related medical condition shall not receive less favorable treatment than other physical conditions."
"An individual shall not be denied access to a shared facility, including a restroom, a locker room, and a dressing room, that is in accordance with the individual's gender identity."
The U.S. Attorney General can institute civil actions against schools (which is what we saw a lot of with Title IX under Pres. Obama).
The U.S. Attorney General may intervene "whenever an action has been commenced in any court of the United States seeking relief from the denial of equal protection of the laws under the fourteenth amendment to the Constitution," if the A.G. says the "case is of general public importance," in which case the feds "shall be entitled to the same relief as if it had instituted the action."
The House bill also expands covered public accommodations and facilities to include any:
"establishment that provides exhibition, entertainment, recreation, exercise, amusement, public gathering, or public display;"
"any establishment that provides a good, service, or program, including a store, shopping center, online retailer or service provider, salon, bank, gas station, food bank, service or care center, shelter, travel agency, or funeral parlor, or establishment that provides health care, accounting, or legal services;" and
"any train service, bus service, car service, taxi service, airline service, station, depot, or other place of or establishment that provides transportation service."
Establishments are specifically "not to be construed to be limited to a physical facility or place."
Will It Pass?
With a Democratic majority, the House is likely to pass the Equality Act. But its passage in the Senate is unlikely.
Even if it does get through Congress, President Donald Trump may refuse to sign it. Earlier this week, a White House statement said that while "the Trump administration absolutely opposes discrimination of any kind and supports the equal treatment of all," the Equality Act is full of "poison pills" that threaten "to undermine parental and conscience rights."
The Battle Lines
Conservative activists and others are trotting out all the old bogeymen in service of riling up the opposition. Evangelical entertainer Pat Robertson said it would lead to the "judgment of God on this nation" and the Lord "vomit[ing] us out." A time-tested coalition of socially conservative women and radical feminists warn that it would endanger girls at school, lead to sex predators in bathrooms, encourage abortion, and enable people pretending to be transgender for athletics purposes.
Supporters are casting opposition to the measure as indicative of raging homophobia, transphobia, and a desire for LGBTQ Americans to be second-class citizens. "Passing the act would be a major step forward in stopping the Religious Right's aggressive agenda to redefine and weaponize 'religious freedom,'" reads a statement from Americans United for Separation of Church and State.
Moral Majority holdouts like Pat Robertson aside, the issue for most opponents seems to have little to do with the sexual orientation elements of the measure. The bit that's drawing criticism from mainstream conservatives, radical feminists, and others is the part about "gender identity," a fuzzy concept from a legal or scientific perspective and one that provokes strong reactions on all sides.
There are non-panic lines of opposition, too. Libertarians who don't fear fading gender norms and who fully desire to see social equality for all people can still see some causes for concern in the legislation, which would drastically extend the federal government's prerogative to intervene in college life, micromanage private business exchanges, and punish disfavored groups or companies, among other things.
The mandate to monitor "equality" and civil rights across the nation has experienced some alarming mission creep. In addition to investigating corrupt police departments, the feds in recent years have started policing how college kids can talk to each other, launched lengthy investigations of professors whom students disagree with, targeted adult sex workers with stings under the guise of going after human trafficking, and sporadically demanded that businesses owners violate their own religious beliefs.
The Real Stakes
"Every American should be treated with dignity and respect, but our laws need to protect the Constitutionally guaranteed rights that we have," the Alliance Defending Freedom's Greg Baylor said on the Christian Broadcasting Network. If this bill passes, "we will see a proliferation of instances where Christians and others are being coerced to violate their beliefs in order to comply with such a law," he warned.
At least that much is exceedingly likely. The bill specifically states that the federal Religious Freedom Restoration Act "shall not provide a claim concerning, or a defense to a claim under" the Equality Act, nor "provide a basis for challenging the application or enforcement" of it.
While the worst and most paranoid interpretations of this bill are pure culture war pageantry, there are definite threats to religious and academic freedom. And there are legitimate uncertainties about what legislation like this would mean for the sorts of sex/gender-segregated spaces, services, programs, opportunities, and the like that people of all political persuasions support—the Girl Scouts and Boy Scouts, women-only co-working spaces, scholarship opportunities that exclude men, and so much more.
Perhaps most worrying is that with the provisions extending to the internet, the bill could potentially serve as a backdoor to regulating social media.
Discrimination and harassment are fuzzy legal terms. The Obama administration interpreted them to mean activity that was neither severe nor pervasive. That sort of logic applied to online arenas, with a concept as nascent and shifting as gender identity, could lead to some serious censorship problems. And not just for those who think only bigots and Nazis have anything to fear.
We've seen similar policies from digital platforms and from schools come down hard on people fighting against oppression by failing to consider context, sarcasm, hyperbole, or any of the other elements that power online speech. Remember the "men are trash" fiascos? Remember every other day on Twitter?
Do you think that Trump and his Justice Department wouldn't relish opportunities like those?
Then again, maybe this is all for show.
"The Equality Act has the feel of a get-out-the-vote effort aimed at LGBT voters," as Reason's Scott Shackford put it. He suggests Democrats rallying behind the bill may not be "about changing the law so much as getting Republicans on record about LGBT issues in advance of a heated general election."
Politicians may really and truly care about equality, but they tend to care about politics more. A less expansive bill, aimed at things like employment and housing discrimination, "very well could be passable," Shackford noted in March. Instead, we've got the 2019 Equality Act, which seems almost deliberately written to provoke widespread opposition.
Ultimately, the House's Equality Act bill contains too many loopholes that give authoritarians on either side too much room to grow.