Uber Drivers Cannot Unionize, Says National Labor Relations Board
A memo says the drivers are contractors, not employees.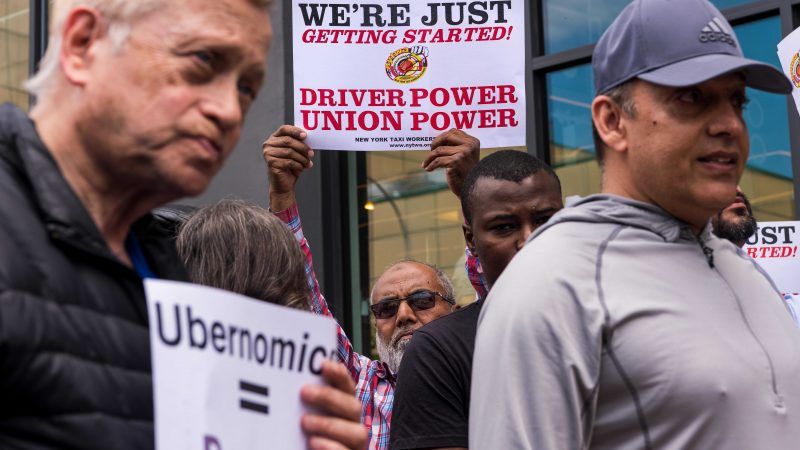 (Gabriele Holtermann-Gorden/ZUMA Press/Newscom)
Uber drivers are contractors, not employees, according to a memorandum from the National Labor Relations Board (NLRB), striking a blow to union organizing efforts among ride-hailing operators.
The memo, written by NLRB General Counsel Peter B. Robb, states that drivers are free to set their schedules and work for competing companies, which means they are not employees under federal labor law. While the ultimate decision falls under the purview of the NLRB's regional director, they typically adopt the advice of the board's general counsel.
Robb's memo concurs with a letter the Labor Department released last month that classified gig economy workers similarly.
The NLRB's final ruling will apply only to union rights. It will not affect the slew of lawsuits brought against ride-hailing companies in pursuit of higher wages and overtime protections, among other demands. And it likely won't placate the Uber and Lyft drivers across the country who went on strike last week, urging that companies provide the benefits they grant to employees.
"Drivers are at the heart of our service─we can't succeed without them─and thousands of people come into work at Uber every day focused on how to make their experience better, on and off the road," said a statement from Uber in response to last week's driver strikes. The company added that it is committed to providing "more consistent earnings, stronger insurance protections, [and] fully-funded four-year degrees for drivers or their families."
Experts estimate that labor costs would increase between 20 and 30 percent if ride-hailing companies were forced to reclassify all of its workers as employees and provide them with health care and adhere to minimum wage laws. Those costs would likely be passed on to riders, upending a business model centered around providing affordable alternative methods of transportation. It would also trigger driver layoffs, making ride-hailing work an exclusive profession.
The popular companies are facing increased pressure to cut costs as they court investors with their recent public offerings. Currently, Uber and Lyft are hemorrhaging money; the former lost nearly $2 billion in 2018, while the latter lost $1 billion. Those numbers won't improve with mandatory employee benefits for millions of workers.