Labor Department: Gig Workers Are Contractors, Not Employees
It's a common sense but crucial indication of how federal regulators classify workers who earn money through online platforms like Uber and TaskRabbit.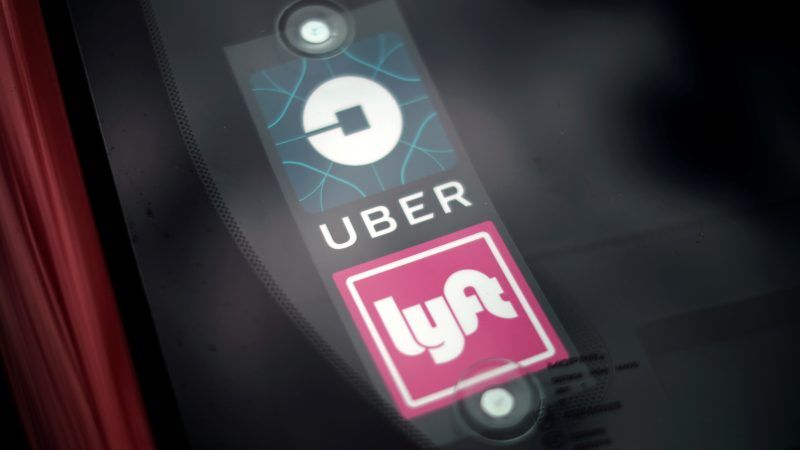 (Lucy Nicholson/REUTERS/Newscom)
In a letter issued Monday to an unidentified sharing economy platform, the federal Department of Labor clarified that gig economy workers are independent contractors, not full-fledged employees.
That seems like a common sense reading of the relationship between those workers and the platforms—like Uber, TaskRabbit, and dozens of others—that connect them with potential clients. Someone who drives for Uber, for example, gets to set their own hours and is responsible for their own vehicle. That certainly doesn't look like a typical employer-employee relationship, but some activists have been trying to get courts and state governments to identify sharing economy workers as full-fledged employees.
Defining gig economy workers as employees would make the platforms responsible for providing health insurance and other benefits, and would force them to follow federal minimum wage laws. In all, employees can be 20 to 30 percent more expensive than contractors. It's a designation that would potentially jeopardize the business model that has allowed the gig economy to grow and prosper—and one that would likely limit workers' ability to exercise the independence that those jobs offer.
The Labor Department's letter only applies to a single company—an unnamed firm that "connects service providers to end-market consumers to provide a wide variety of services, such as transportation, delivery, shopping, moving, cleaning, plumbing,
painting, and household services"—that had asked the department to determine whether workers using its platform were employees or contractors.
Still, the ruling is an important indication of where it stands on the broader question of how gig economy workers should be classified.
"Today, the U.S. Department of Labor offers further insight into the nexus of current labor law and innovations in the job market," Keith Sonderling, acting administrator of the department's Wage and Hour Division, said in a statement.
The ruling is also an important break with previous Labor Department guidance. Under the Obama administration, the department had issued official guidance advising that Uber and Lyft drivers would likely be classified as employees if the department was asked to make a determination about their status. Shortly after taking office, the Trump administration removed that guidance from the Department of Labor's website, prompting the unnamed company in the letter issued Monday to seek a specific ruling from the department.
In making its determination, the department considered six factors: the degree to which employers have control over workers, the permanency of the workers' relationship with the employer, the employer's level of investment in workers' equipment and facilities, the level of skill required for the work, the workers' potential to earn profit, and the integration of the workers' services into the employer's business.
While the latter four are more technical in nature, the first two categories are probably the most important. Gig economy platforms have very little control over their employees, who typically can log in or log out of the systems as they please.
"A business may have control where it, for example, requires a worker to work exclusively for the business; disavow working for or interacting with competitors during the working relationship," the Department of Labor letter states.
But that is not at all how gig economy platforms operate. Drivers can work for both Lyft and Uber—often switching between the two apps during a single shift—and completing other odd jobs on TaskRabbit does not mean a worker can't also deliver food on DoorDash.
Indeed, research from JP Morgan Chase, an investment bank, shows that most gig economy workers are active only a few months out of the year. Rather than being full-time jobs, the data indicate that workers are likely to use the gig economy to earn extra income when needed or when time allows.
Similarly, there is very little in the way of permanence to the employer-worker relationship within the gig economy. For an Uber driver, for example, ending that relationship is as easy as deleting an app.
Defining that relationship at all is "inherently difficult," the Labor Department letter reads, in part, because "as a matter of economic reality, [workers] are working for the consumer, not [the platform]."