Abortion Ban in Alabama Designed 'To Directly Challenge Roe v. Wade'
Plus: Twitter team pushes back against Devin Nunes lawsuit, candidates stumble on Medicare for All, and more...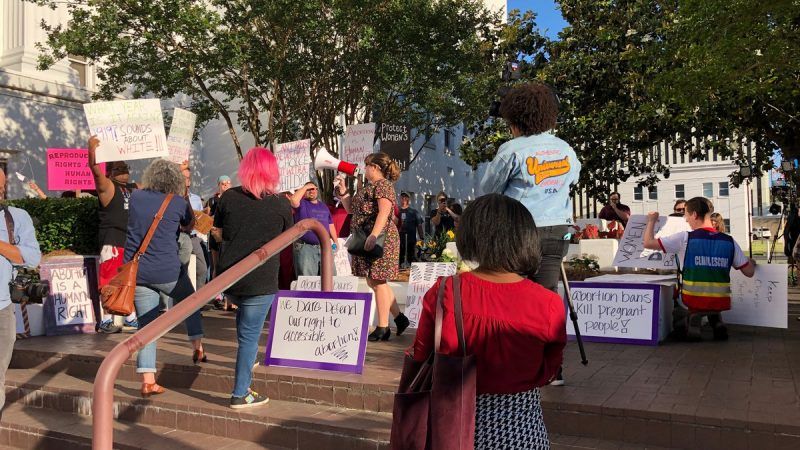 (@BrockBooneACLU/Twitter)
"It is important that we pass this statewide abortion ban legislation and begin a long overdue effort to directly challenge Roe v. Wade," Alabama Lieutenant Gov. Will Ainsworth said last week. A vote on the measure had been temporarily tabled after the state Senate broke out in "chaos" debating an amendment to make exceptions in cases of rape and incest.
That bill passed the Alabama Senate 25-6 yesterday, without the rape/incest exceptions (which failed 21-11).
It not only bans abortion at any point in pregnancy but also makes it a felony for doctors to perform them, with exceptions only when the mother's life is in danger. It's now headed to a sympathetic state leader, Republican Gov. Kay Ivey (though Ivey said yesterday that she would "withhold comment until she has had a chance to thoroughly review the final version of the bill that passed").
Bill sponsor Sen. Clyde Chambliss, a Republican, specified that the law would not prohibit the destruction of fertilized eggs used for in-vitro fertilization, only those conceived within a woman's body. "The egg in the lab doesn't apply. It's not in a woman. She's not pregnant," Chambliss said, in floor debate with Democratic Sen. Rodger Smitherman.
Just in case anyone missed this, Alabama senator championing abortion bill differentiates between fertilized egg that is deserving of protection under the law and one that isn't: https://t.co/2T9G9QM9Dq

— Anna Claire Vollers (@acvollers) May 15, 2019
"Alabama paid nearly $4 million to ACLU since 2013, after losing or settling lawsuits on gay marriage, immigration and yes, abortion," noted Alabama Media Group reporter Anna Claire Vollers yesterday, calling the latest legislation "another costly test case."
But that's the point, as Alabama's lieutenant governor directly said in the quote up top.
And it's the point in other states—Georgia, Ohio, Kentucky, and Mississippi—where legislatures have also passed near-total bans on abortion (though unlike in Alabama, these have allowed it up to six weeks gestational age).
"While these 6-week abortion bans may not ever take effect, anti-abortion advocates believe they can use them to ban abortion nationwide," writes Ema O'Connor at Buzzfeed. "The anti-abortion movement sees this current court as the most friendly in decades, and they hope getting these laws in front of it will result in them overturning Roe v. Wade."
Yesterday, Reason Editor-in-Chief Katherine Mangu-Ward, Managing Editor Stephanie Slade, and I talked about the abortion ban that recently passed in Georgia and libertarian debate around abortion more generally. You can listen here.
---
FREE MINDS
The Twitter team pushes back against would-be censorship from Devin Nunes. Twitter and political consultant Liz Mair filed a motion to dismiss the lawsuit that Republican Rep. Devin Nunes (Calif.) filed against them in federal court in March. Their objection is on procedural grounds, not the (rather ridiculous) content of Nunes' lawsuit. The May 9 motion "takes issue with where the lawsuit was filed," reports The Sacramento Bee. "Twitter contends Nunes does not have standing to file the lawsuit in Virginia. Twitter is based in California, Nunes is from California and the work his complaint says was impacted occurred in Washington, D.C., the motion argues." More here.
Related—Jane Coaston corrects a common misunderstanding about Section 230:
Last week, I wrote a story about Facebook + Section 230. Problem was, I was super, duper wrong. So I've updated the piece to reflect what's actually going on — and in so doing, hopefully showed how I (along with a host of others) got Section 230 so wrong. https://t.co/huFKn9HKmg

— Jane Coaston (@cjane87) May 14, 2019
---
FREE MARKETS
"In theory, Medicare for All is more popular than ever," writes Reason Features Editor Peter Suderman, in a post about Sen. Kamala Harris (D–Calif.) eluding specifics when asked about her support for the idea. "Medicare for All," the brainchild of Sen. Bernie Sanders (I–Vt.), refers to a single-payer system of delivering health care with the government footing the bill. "Polls show that a majority of the country favors" it and "some surveys have even found that a surprisingly large percentage of Republicans are open to the idea," notes Suderman. But:
Those same surveys consistently reveal that support for Medicare for All falls apart as soon people hear that it would raise taxes, result in delays for care, and eliminate private insurance—all of which are likely outcomes of a transition to single-payer. The public, in other words, favors the non-specific, cost-free idea of Medicare for All, but not the practical reality and the many trade-offs that it would necessarily entail.
More here.
---
QUICK HITS
Yesterday we conducted weapons sweeps,dealt with a person injured from a van reversing on them, reported a burglary and collected all these from @scope charity shop who diligently didn't want them to get into the wrong hands & disposed of correctly & safely pic.twitter.com/GNfxZd6iGd

— Regents Park Police (@MPSRegentsPark) May 14, 2019