Movie Review: All Is True
Kenneth Branagh, Judi Dench and Ian McKellen—three great Shakespeareans—in a glowing tribute to Shakespeare himself.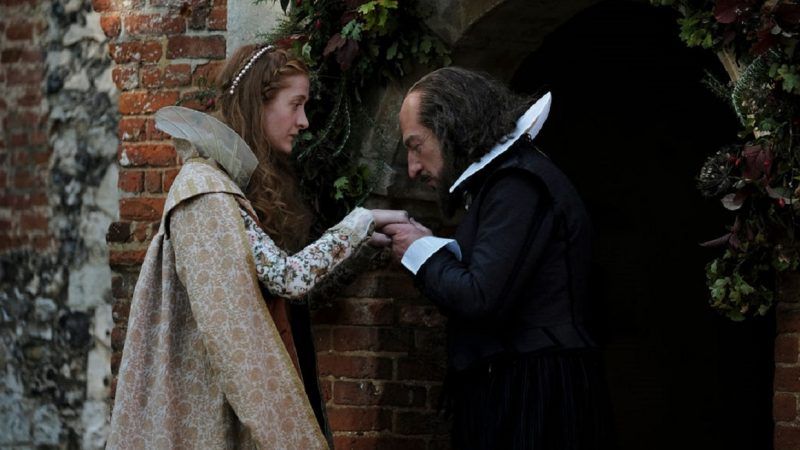 You know you're watching a different kind of Shakespeare movie when it begins with the great man's London theatre, the Globe, burning down in 1613. A standard biopic might have ended there, or likely earlier. But Kenneth Branagh, the director and star of All Is True, uses that conflagration to launch a moving, minor-key account of the last three years of Shakespeare's life.
In the wake of the Globe fire (sparked by a malfunctioning prop cannon during the maiden performance of the Bard's new play All Is True, later retitled Henry VIII), Shakespeare returned to his home town of Stratford-upon-Avon, a hundred miles distant from London, to re-insinuate himself into the chilly bosom of the family he'd neglected during most of his 20 years of fame and fortune in the big city. After arriving back in Stratford, he never wrote another play.
To illuminate this seldom-dramatized area of Shakespeare's life, Branagh recruited his old friend, the novelist and standup comic Ben Elton, to create a script. Elton, well-known as a writer on such hit BBC TV comedy series as The Young Ones and Blackadder, was ideally positioned for this project: the BBC show he was currently writing was a Shakespeare sitcom (brilliant by definition) called Upstart Crow.
What Elton and Branagh have come up with is a fond hybrid biography. Known facts about Shakespeare's life during this period are dutifully assembled—his comfortable prosperity (he owned more than one home); his wife Anne's illiteracy; the two family scandals by which he was buffeted (a public denunciation of his elder daughter Susannah as an adulteress and the shaming of his other daughter, Judith, when her new husband was revealed to have impregnated another woman). This armature of fact is fleshed out with plausible and therefore tantalizing speculation—about what really killed Shakespeare's 11-year-old son Hamnet (his father, who was absent at the time of the boy's death, was told he'd died of plague); about the status insecurity that compelled Shakespeare to pay money to buy a fake family coat of arms; and about the possibility—one of the great staples of literary gossip—that Shakespeare was bisexual.
Adorned with an enhanced nose and facial hair that gives him, at some angles, the beardy mien of Jethro Tull singer Ian Anderson, Branagh generously underplays the part of Shakespeare, allowing the movie's other two key performers—Judi Dench, as Anne Shakespeare, and Ian McKellen, as the Earl of Southampton—to shine brightly. Dench, who directed Branagh in a 1988 stage production of Much Ado About Nothing, presents Anne in a fog of melancholy. ("Then you went to London and became this great writer, with a wife at home who couldn't read.") And McKellen, another great theatrical Shakespearean, all but twinkles in his luxuriantly bewigged cameo as the purported object of Shakespeare's onetime infatuation—the "fair youth" of the Sonnets. (Lauding Shakespeare as the greatest of poets, and deriding a pretentious fop who has mocked him, McKellan's Earl says, "All his pride and strut comes from no greater achievement than having been spat from the dick of a previous nonentity.")
Shakespeare's relationship with Southampton is probed with uncommon delicacy in a beautiful candlelit scene in which Branagh and McKellen trade lines from one of the Sonnets, with the Earl appearing to gently acknowledge their onetime attraction, but to still deny it further expression. It's a small-scale but luminous showcase for two great actors.
Branagh also has a wonderfully steely scene of his own with the above-mentioned mocking fop (Thomas MacQueen), who has disparaged Shakespeare's preoccupation with literary trivia by comparison with his own more heroic business accomplishments. Shakespeare stiffens with fury as he explains the difficulties of building, owning and operating London's greatest theater, feeding and tending 3000 patrons every afternoon, and giving a total of 170 royal command performances: "Have you ever considered the logistics of mounting the Battle of Shrewsbury in the banquet hall at Hampton Court [Palace]?"
All Is True is a movie about Shakespeare made by people who have devoted much of their lives to worshipping at the altar of his work. Is it actually all true? "I've never let the truth get in the way of a good story," Will says, clearly coining a line for the ages.