The 'Largest Gang Takedown in New York City History' Mostly Swept Up Non-Gang Members
More than half of the 120 defendants in a notorious 2016 police raid were never even alleged to be gang members.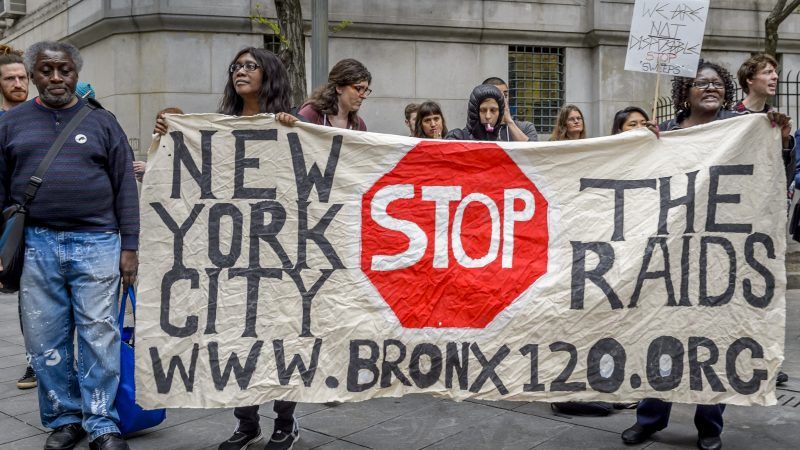 (Erik McGregor/Sipa USA/Newscom)
On April, 27, 2016, roughly 700 federal and city law enforcement agents swept across the Eastchester Gardens housing projects in Bronx, arresting 120 people in what officials declared the biggest gang takedown in New York City history.
At a press conference the next day, New York officials said the raids targeted two rival Bronx gangs, the 2Fly YGz and the Big Money Bosses, that had plagued their neighborhood with shootings and violence for years.
Preet Bharara—now a podcast host, then the U.S. attorney for the Southern District of New York—said the charges included allegations of "multiple murders, attempted murders, shootings, stabbings and beatings committed in furtherance of federal racketeering conspiracies."
"These gang members do not belong on our streets," then—New York Police Commissioner Bill Bratton said. "Instead, they belong exactly where they are going: to federal prison for many years, where they won't be surrounded by their buddies, they won't be close to their families, and they'll no longer be free to terrorize the neighborhoods in which they grew up."
Of the more than 100 people eventually prosecuted, only two pleaded not guilty and took their cases to trial. They both lost. This was not unusual. At the federal level, 98 percent of cases end in plea deals, thanks to the enormous leverage prosecutors enjoy over defendants.
But a study released last month—three years after the initial raid—found something that may be more surprising. Despite the rhetoric of Bratton, Bharara, and New York Mayor Bill de Blasio, most of the prosecutions of the Bronx 120, as they became known, were for nonviolent crimes, and more than half of the defendants were never even alleged to be gang members at all. Dozens of the "worst of the worst" as they'd breathlessly been described by public officials, are already out of prison and trying to piece their lives back together.
"I was pretty stunned that what masqueraded as a prosecution of violent crime was actually a prosecution of almost pure association," says CUNY School of Law professor Babe Howell, one of the co-authors of the report. "There were people who [admitted to] violence in connection with the pleas they eventually took, but essentially those all seem to be individual acts and not actually part of any sort of enterprise."
The report's findings are an indictment of the "precision policing" gang sweeps, as Bratton started calling them in 2014, that the New York Police Department began to turn to after it drew down its infamous stop-and-frisk program. Specifically, federal court records show that:
In 35 cases, the most serious predicate act underlying the conspiracy charge was selling marijuana.

Two-thirds of defendants weren't convicted of violent crimes.

More than half of people charged were not even alleged to be gang members.

Of the more than 90 that were originally charged with firearm offenses, only 22 were convicted of the charges.

Eighty of the defendants had no prior felony record.
Federal prosecutors relied on the RICO Act to charge the Bronx 120 with conspiracy. This is an incredibly powerful tool. It was originally intended to take down mob bosses who insulate themselves behind layers of underlings and capos. Instead, prosecutors used it to tie dozens of young men who had grown up together in the same public housing projects to five murders and other violent acts. The ties in question were often as thin as social media postings, text messages, and YouTube rap videos. "In some of these cases," the report says, "a photo of a defendant with friends who were alleged to be gang members, or a post about an alleged gang member was used to show proof of gang allegiance."
Most of the violent crimes had already been tried in state courts. For example, federal prosecutors re-prosecuted a man who had already been convicted in state court on manslaughter charges for killing an elderly woman in 2009 with a stray bullet. Because murder was only the underlying act of the conspiracy charge, the normal rules against double jeopardy didn't apply.
The use of RICO charges to tie the defendants together, Howell's report says, "created a juggernaut that resulted in the mass denial of bail…and compromised basics of due process that safeguard both individual defendants and the public's interest in speedy, fair, and public proceedings."
In some cases, those prosecuted were classified as "associates" of the gangs—small-time drug dealers who had permission to sell on the gangs' turf.
The eventual sentences that many of the Bronx 120 defendants received also belied officials' rhetoric. Twenty-two defendants were released on time served after their convictions, while another 18 received sentences of less than two years. Not exactly worst-of-the-worst treatment, though still enough to radically disrupt their lives.
The case of Kraig Lewis, one of the Bronx 120 defendants, is instructive. Lewis was nowhere near Eastchester Gardens when he was arrested. He was 40 miles away in Connecticut, studying for a statistics final, nine credits away from an MBA, when the police arrived at his apartment.
"I was supposed to graduate, get my masters, but all of that was taken away from me," Lewis tells The Intercept.
As The Intercept's Alice Speri reports:
Lewis spent 22 months in jail before pleading guilty to conspiring to distribute marijuana and once having owned a gun. There was no physical evidence against him—just text messages he had exchanged with friends from his neighborhood, social media photos that showed him socializing with other co-defendants, and the word of an unnamed witness. Prosecutors offered him a 12-year deal, which he refused. By the time they came back and offered him five years, life at the Metropolitan Detention Center had taken its toll. One of his friends there had been stabbed, and Lewis wanted out. He accepted the five years but the judge in the case thought that was too much, calling what had happened to him an "injustice" and releasing him on time served.
Instead of entering the job market with an MBA, Lewis, who had no prior criminal history before his arrest, has a felony record, works odd jobs when he can, and lives back at his mom's house in the Bronx.
"We have our federal prosecutors going after poor black and brown kids, charging dozens with other people's acts, and also promoting a narrative of black gangs and immigrant gangs and thuggishness that really feeds into problems that our whole country faces with conflating race and poverty with violence," Howell says. "Most of these kids were not violent."
Watch The Intercept's short documentary on the case here:
The Appeal also has a short documentary on the subject, featuring other defendants and community members critical of the raid: