San Francisco Votes To Outlaw Cashless Businesses
The city's Board of Supervisors said that no-cash policies discriminate against the poor.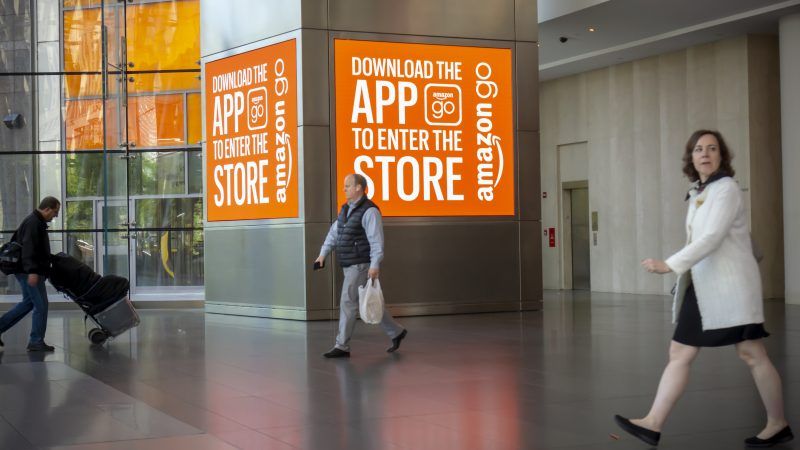 (Richard B. Levine/Newscom)
Cash is king in San Francisco.
The city's Board of Supervisors unanimously voted to outlaw cashless businesses on Wednesday, citing the effect that such establishments have on the unbanked population.
"The future may be cashless," Supervisor Vallie Brown, who introduced the legislation, tells the San Francisco Examiner. But until we get there, the current landscape is "excluding too many people" with a select group of retailers that forego cash transactions.
"This legislation will go far in ensuring all San Franciscans have equitable access to the city's economy," she said—an ode to those without bank accounts, many of whom are impoverished. The bill applies to brick-and-mortar spots, and thus excludes ride-hailing services, pop up shops, and food trucks. Repeat violators would be subject to a $1,000 fine.
But cashless businesses—most notably Amazon Go—say that a no-cash policy helps trim operating costs, like the armored vehicles required to transfer cash to the bank, as well as closing hours spent counting greenbacks. Sweetgreen, the popular salad chain, saw a plunge in burglaries after they ditched cash. (They recently scrapped their cashless policy after an unrelenting public outcry, and Amazon Go said it will pilot a cash model for the first time at its New York City store.)
Yet lawmakers argue that the benefits to businesses are outweighed by the message sent to the poor, namely that those customers are not welcome. Philadelphia and New Jersey have also outlawed cashless businesses in recent months, and New York, Washington, D.C., and Chicago are considering similar pieces of legislation.
San Francisco is perhaps most known for its massive wealth gap: Rent prices there have the unenviable distinction of being the highest in the world. But while the cashless ban attempts to make living conditions more palatable for the less fortunate, it will have no such effect. Only a small cohort of businesses shun cash, the majority of which are in the city's upscale Financial District and South of Market neighborhoods.
In that vein, San Francisco's legislation is a solution in search of a problem. There will always be businesses that benefit from cash transactions—particularly as more expensive fast-casual restaurants opt for plastic only.
Approximately 6.5 percent of households are unbanked, according to a 2017 survey by the Federal Deposit Insurance Corporation, which is far from ideal. City officials could do more good by helping these people prepare for a future which even Vallie Brown concedes is coming.