Tariffs Left His Distillery on the Rocks. Now He Wants To Know: What's Trump's Trade Endgame?
Is Trump using tariffs as a negotiating tactic? That's the most generous reading of his trade policy, but it's unsupported by the facts.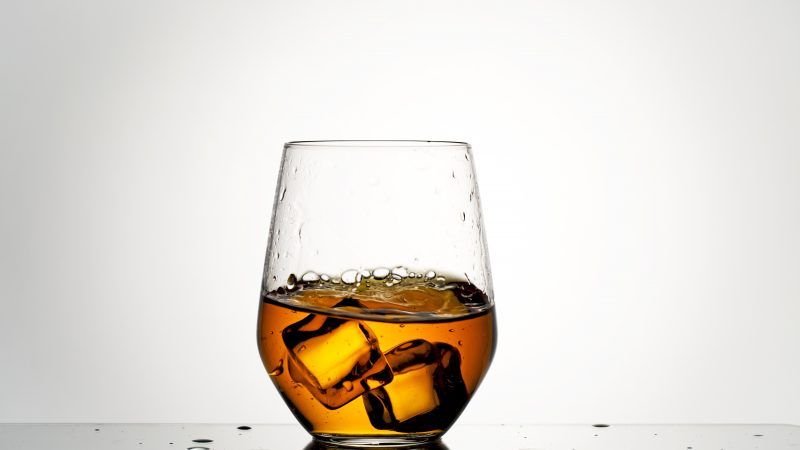 (Michael Interisano/Newscom)
Last year, President Donald Trump's trade war left Tom Lix's distillery shut out of European markets.
Now, as Trump threatens to escalate the trade war with another round of tariffs on Chinese-made goods, possibly before the end of the week, Lix says he doesn't understand where the president is going with all this.
"My morning coffee is from South America. I drive a Honda that's partially Japanese but was built here in the States," Lix, founder and CEO of Cleveland Whiskey, said Monday afternoon, as he spoke at an event organized by several groups opposed to tariffs and hosted at his downtown Cleveland distillery. "For me, I happen to make bourbon, and bourbon is something that's in demand around the world. We should be encouraging those types of trades. I just don't get it. I'm flabbergasted by it."
Prior to Trump's decision to slap tariffs on steel and aluminum imports last year, Lix says, about 15 percent of his sales were to Europe. When the tariffs took effect on June 1, the European Union responded by hitting American-made goods like blue jeans, motorcycles, and, yes, whiskey with retaliatory tariffs. From that point on, Lix says his distillery didn't sell a single bottle to the far side of the Atlantic.
At the time, the assumption was that both sides would quickly reach an agreement to roll back those tariffs and open up trade again. But months have passed, the Trump administration's attention has turned to China, and no trade deal has emerged with Europe. The tariffs remain in place—and, if anything, Trump seems more likely to hit European auto imports with a new set of tariffs than remove the ones already in place.
The most generous reading of Trump's trade strategy is that he's using tariffs as leverage to bring other countries to the table to sign trade deals that will, in the long run, allow for freer trade. That's certainly a more favorable argument than the nonsensical claim made Monday by Steve Bannon, former Trump advisor, who told Fox News' Lou Dobbs that the tariffs were necessary for the "self-empowerment" of the working class. Try imagining how Dobbs or Bannon would react to a Democrat saying higher taxes would be empowering.
Still, the evidence doesn't really back up the claim that Trump is using tariffs to get to freer trade. The only trade deal that's been completed under Trump's watch—a rewrite of the North American Free Trade Agreement (NAFTA)—is more protectionist than the old version. And the Trump administration apparently wants to keep the current tariffs on Canadian and Mexican steel and aluminum imports in place, even after the deal is finalized. It doesn't look like the administration is using tariffs to extract concessions, but rather that Trump wants them to be a permanent part of trade relationship among the three North American neighbors.
On other fronts, trade deals have not emerged as a result of the administration's bellicose strategy. Cleveland Whiskey—like many other businesses—is still waiting for European markets to open up again. Meanwhile, Chinese trade officials are heading to Washington this week to continue hammering out a potential deal—but Trump may have damaged the chances of finalizing an agreement this week after tweeting a threat to hike tariffs on Chinese imports.
"That just made my head spin. I think it's still spinning a bit," is how Ed Brzytwa, director of international trade for the American Chemistry Council, an industry group, described his reaction to seeing Trump's Sunday afternoon tweet. Speaking at the same event Monday afternoon, Brzytwa said any deal with China has to include the elimination of the tit-for-tat tariffs both countries have levied on one another's goods since last year.
"I think for the average business in the United States, they're probably having a hard time understanding what the endgame is here," he said. "Is it just a negotiating threat, or is this real? And it's really hard to plan around that."
Even if it all is nothing more than a complex negotiating tactic, is the pain worth the potential gain? A paper published in March by economists from the Federal Reserve Bank of New York, Princeton University, and Columbia University found that Trump's tariffs were costing American consumers and businesses about $1.4 billion each month. The costs of the tariffs "were almost completely passed through into U.S. domestic prices, so that the entire incidence of the tariffs fell on domestic consumers and importers," they found.
Trump continues to claim that China is paying for the tariffs, but even the president's own Council of Economic Advisors admitted in its year-end report that the estimated $14.4 billion in tariff revenue sent to the U.S. Treasury during 2018 was due to "costs paid by consumers in the form of higher prices."
If Trump follows through with his threat to slap more tariffs on Chinese-made goods, it could jeopardize as many as 2 million American jobs, according to The Trade Partnership, a pro-trade think tank. And, if implemented, they would make the United States far more protectionist than the rest of the world's top economies, according to CNBC economics reporter Steve Liesman.
There are other costs that can't be counted. On Monday, Lix highlighted the fact that his distillery was in negotiations to export their products to China before the trade war started. "The discussions we were having—which were taking years to get agreements in place—they all shut down because people said 'let's just wait until this is over. There's too much uncertainty,'" he said Monday.
That uncertainty created by the trade war rattled stock markets in both the U.S. and China on Monday. If Trump is truly using tariffs as nothing more than leverage against China, he might want to take a closer look at what that leverage is costing Americans.
"The idea that we would manipulate this and use this as, I believe, a political tool is just absurd," Lix says, "and it hurts a whole lot of people."